Sarees are the new in. Every woman, of whatever age, wants to wear a saree and be able to carry a saree gracefully and elegantly. Saree is nothing new in the clothing industry, however, the evolution in the saree style and the blouse design has been a huge surprise to the fashion consumers.
Want to wear a saree to a meeting, farewell, graduation ceremony, family gathering, wedding function, etc.? You best option could be a silk saree. Why a silk saree?
Silk is a traditional Indian fabric that itself is rich looking and could be a classy choice, if worn properly. Silk sarees are highly common in South India, however, North Indians, too, are big fans.
Stereotypically speaking, pink is a feminine colour. Practically speaking, the right shade of pink would look absolutely stunning on both, male and female. Each women should have at least one pink silk saree in her closet, because irrespective of the occasion, a pink silk saree is always a saviour!
If you have a pink silk saree that is plain, embellished, printed or embroidered and don't know what colour and style blouse to carry it with, then this article will provide you the answers to all your questions!
#1.Metallic grey
1) A pink silk saree is a graceful choice, specially a plain one with a simple border. Metallic grey shade blouse will make for the best blouse, which is both modern and matching. The combination is a risky choice, however, if carried with the right style and design, can win you hundreds of compliments.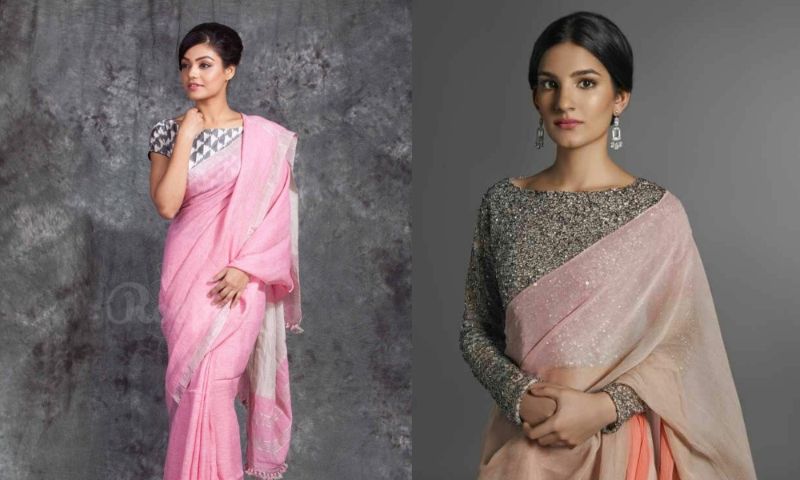 #2.The border colour blouse
This is one of the most basic choices but is evergreen and a smart choice. If your pink silk saree has a border, which it usually does, then go for the same colour as the border of the saree. The border can be a single colour, or floral or embroidered, in that case you must go for the colour that is most dominant, apart from the overall shade of pink itself.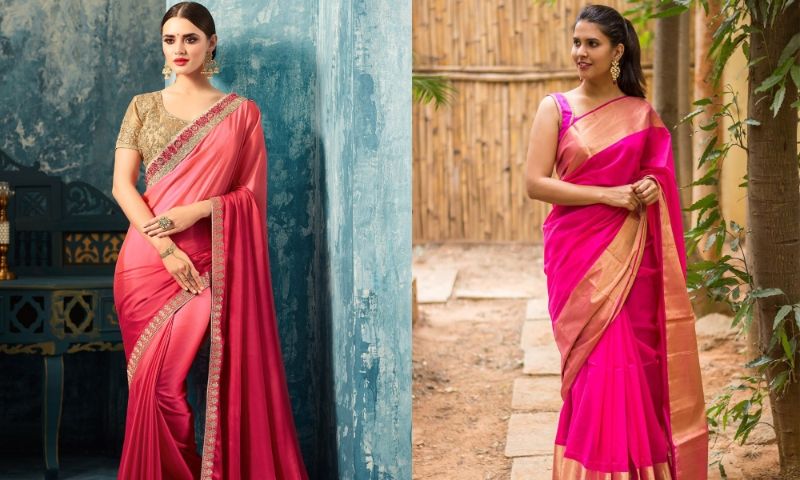 #3.Mustard yellow
Pink is a summer shade and to maintain the brightness and the coolness of your saree colour, you could choose an equally bright shade. An the most popular summer shade in today's time is mustard. A mustard base blouse, which a floral print (not necessarily), could work as the best option for a daytime event.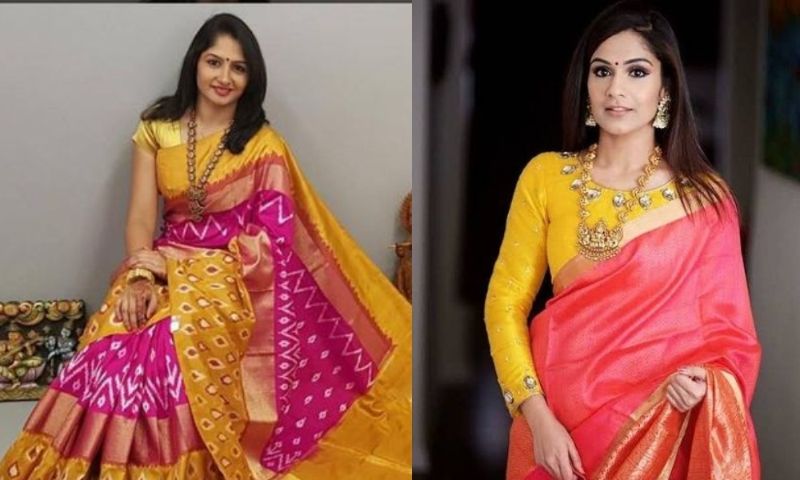 #4.Pink color blouse
The one colour fashion trend is back in the frontiers. You want to make a fashion statement? Make it with an all over plain pink silk saree with the same shade of an embellished pink blouse. To add to the combination, choose a design of the blouse that is chic, much like a V- neck step blouse.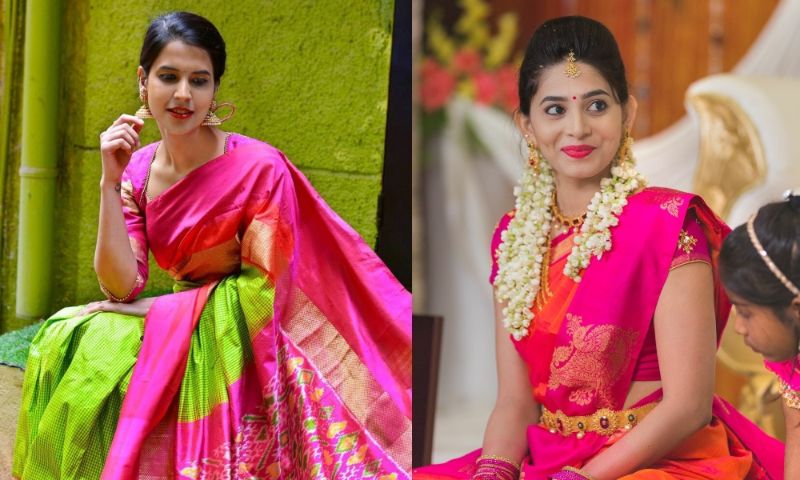 #5.Mauve colour Blouse
Mauve colour is somewhere in between pink and purple, therefore makes for a great combination for any pink colour saree. The light colour with a poppy pink makes for a perfect combination. The colour adds subtlety to the saree. This colour, too, could be a very risky choice, however, the right design, style and print, could make your attire a trendsetter.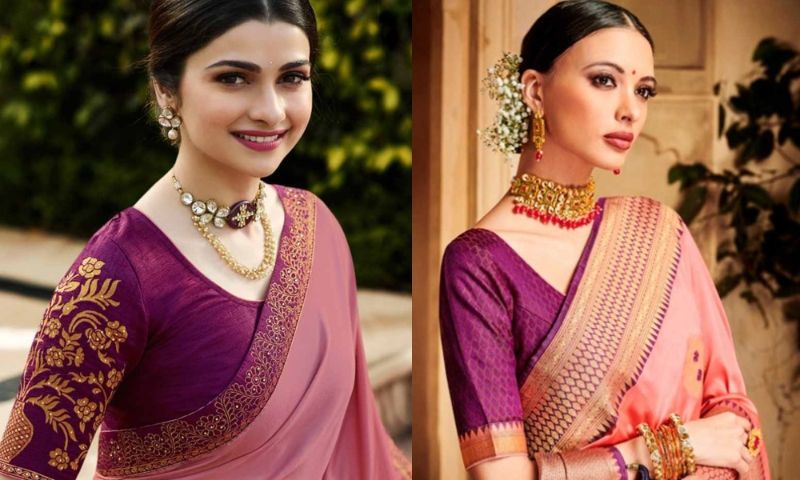 #6.Copper golden Blouse
Copper shade print, border or reflection is highly probable in any pink silk saree. At times, the saree is made with two cross threads of golden and pink which gives it a slight reflection of golden. Therefore, one of your options could be to choose a copper golden colour blouse, which will make for a traditional vibe.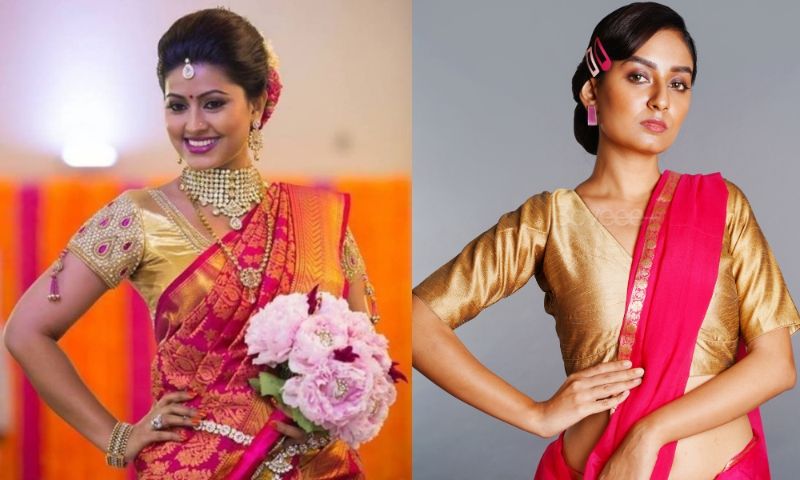 #7.Shades of green
A contrasting colour blouse makes for a funky, stylish and trendy attire. Confused about how to match a blouse with your pink silk saree? Don't match it at all. The contrast ensures a unique combination. Green is a colour that uniquely contrasts yet matches with the colour pink. Any shade or green, from parrot green to bottle green could go with your pink silk saree.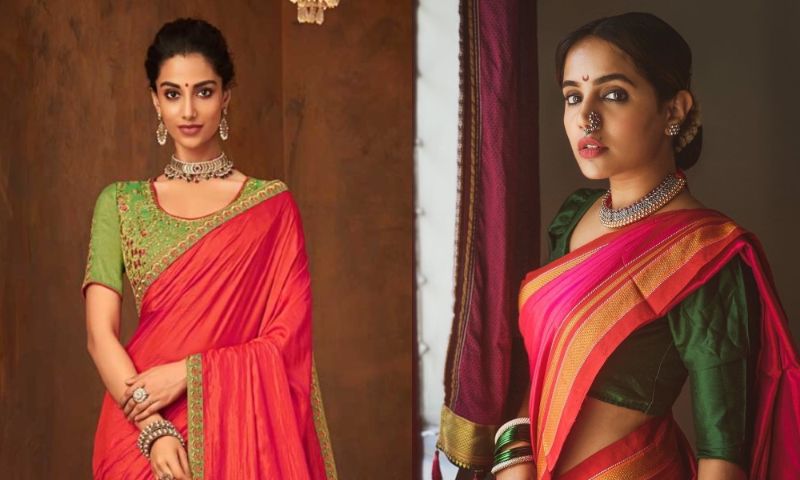 #8.Ink blue color Blouse
Pink and Blue have always been a classic combination. Ink blue itself is a classy shade, which when paired with pink, makes for an attractive combination. A classic ink blue, golden embellished elbow sleeves, backless blouse, could save the day and your look at any event!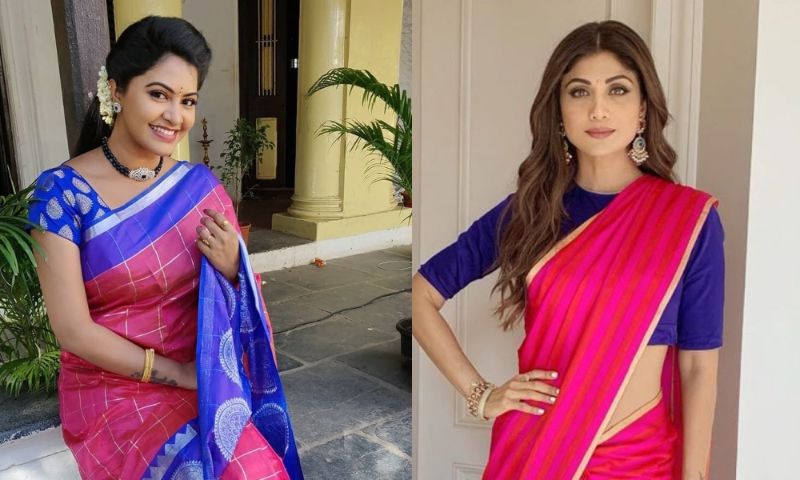 #9.Light Grey Colour
If you own a rose, magenta, bubblegum or hot pink silk saree, then this is probably the best option for you. A light grey color blouse will help brighten and enliven the shade, while maintaining the subtlety and the elegance of the pink color at the same time. The colour goes with almost all shades of pink, dull or bright and therefore could be the right choice for you.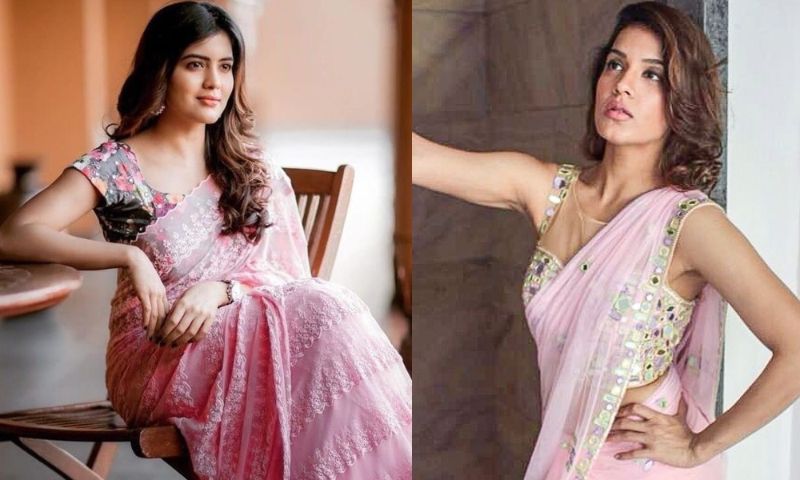 #10.A Black Colour Blouse
Black is a classic choice for your pink silk saree. The colour is highly in contrast with all shades of Black, which thereby makes it a trending choice to go for. A classic Black colour blouse paired with a pink silk saree will only embrace and enliven both the colours, especially when paired with gold or gold colour jewellery.