Kerala sarees are made up of handwoven fabric and found in off-white colour. It has a golden border that makes women look traditional and beautiful. This South Indian saree has everything that women need in their wardrobe. But you think you can wear your saree without a blouse? It's impossible. It defines the overall look saree and showers the perfection on you. But somethings you may get confused while deciding the right blouse with your Kerala saree. We understand that problem. And that's why we have come out with 20 trendy Blouse designs that will look perfect with Kerala sarees. Scroll Down and have a look!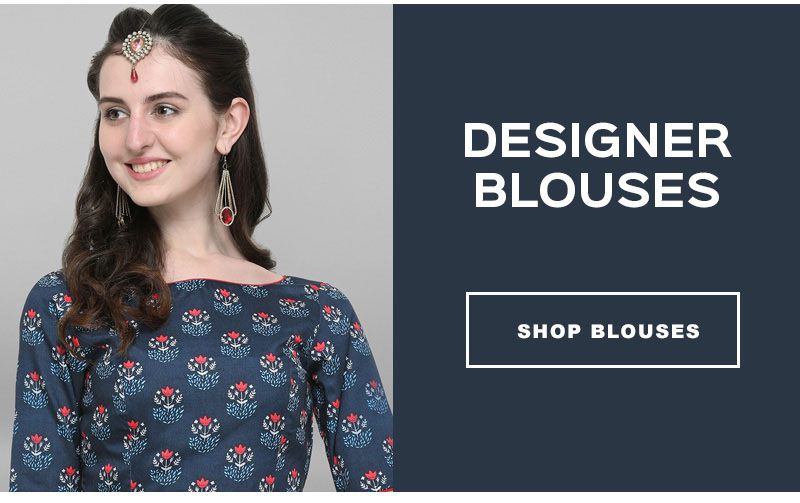 1.Blouse with Funky Colours:
The colourful blouses look trendy and cool when it is paired with the Kerala Saree. The primary colour of this saree is light, therefore the colourful blouses will create a great balance. You will admire its lively and fun-loving nature. You can choose and colour combination according to your wish.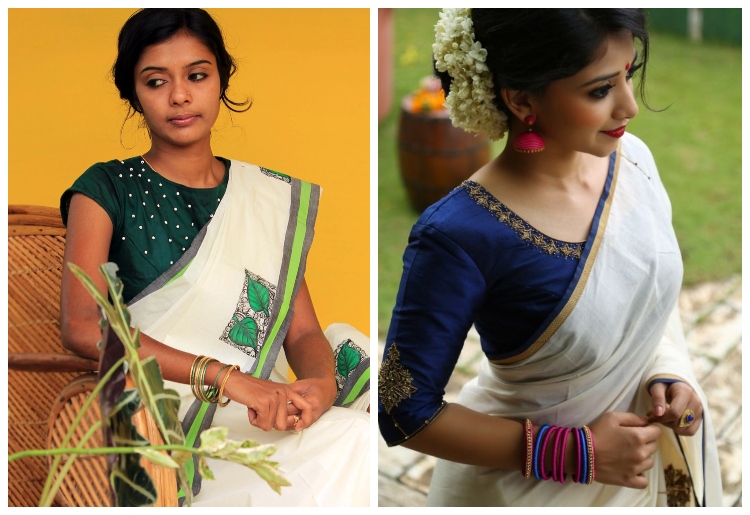 2.Black and Silver Blouse:
Many women want to enjoy the traditional look with a modern touch. If you are one of them then go for a bold black blouse with silver attachment. It will look great with Kerala saree with Silver border. It will give a modish touch. Complete this blouse look with silver or oxidised silver jewellery.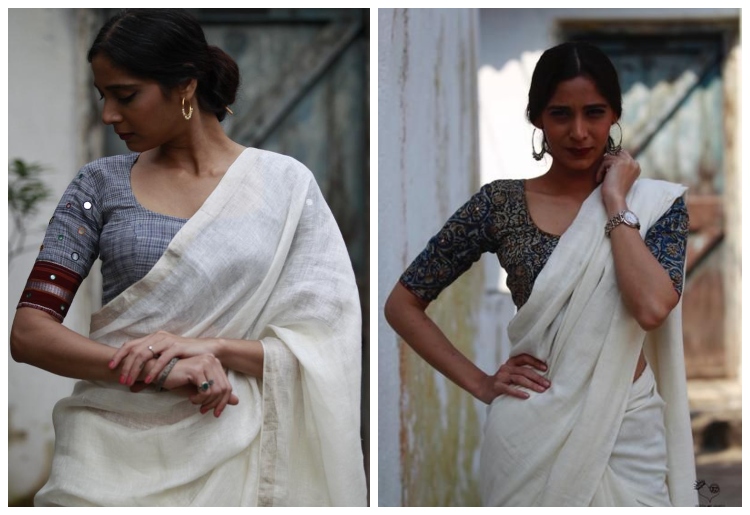 3.Floral Motif Blouse:
Red blouse again goes well with the sleek Kerala saree. You can get it with floral, butterfly or any nature-based motif work on the blouse as it will give it an unusual touch. Choose its work it golden or silver colour as these two colours combine well. Complete your look with red bangles and jhumkas.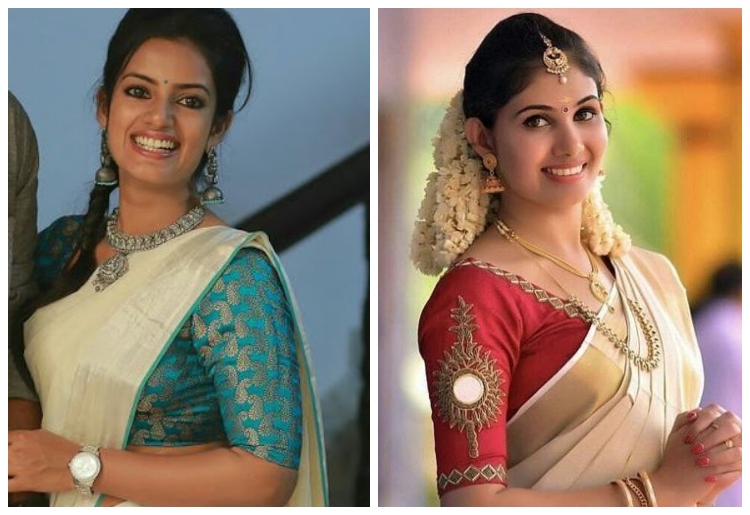 4.Blouse with Pretty Polka Dots:
Again, Polka Dots looks simple, elegant and feminine on the blouse. It goes well with the Kerala saree and looks well at formal occasions. Keep the colour of the blouse light and Polka dots colour as per the border of the saree. The mirror accessories look well with this combination.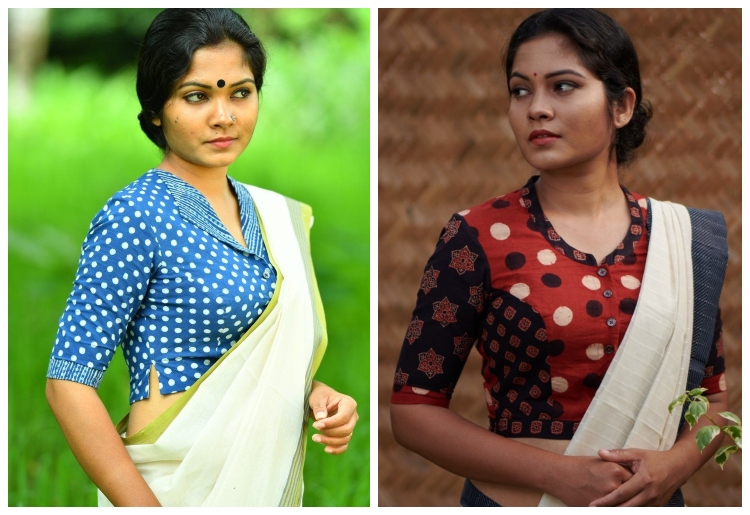 5.Adorable Floral Pattern Blouse:
If you want to enjoy the sweet and soft look with your saree, then combine it with the floral blouse. Try to match it with the saree border and trust us, it will make your Kerala saree look impactful in every sense. It will define the modernity by maintaining the prettiness of the saree. Match your accessories with the blouse or border.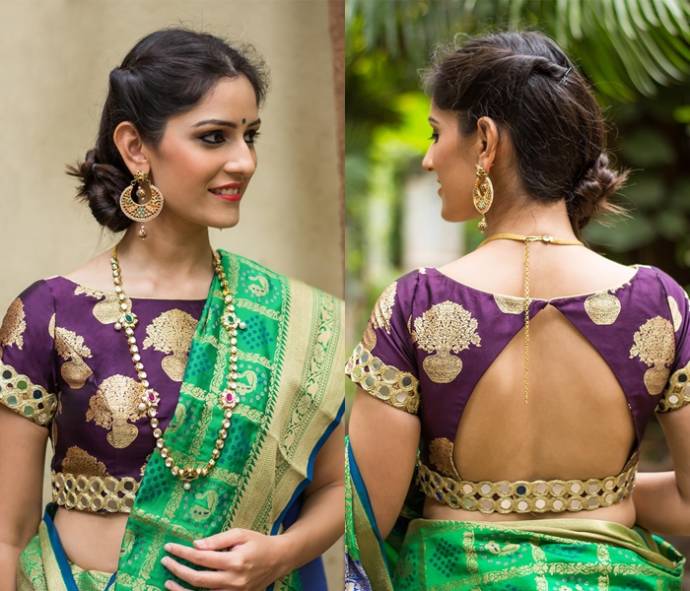 6.Simplicity is the best policy:
The Simple though matching blouses merge well with the Kerala sarees. You can choose the same off-white blouse with quarter sleeves, golden border on the sleeve and high neck design. The smoky eyes and basic makeup compliment well with this saree look. Choose the simple golden jewellery with it.
7.Golden Glow:
The golden blouse is the best piece to combine with Kerala saree. And no doubt, every women have it in their wardrobe. Whatever design is on your saree, the golden blouse will make everything simple and straight and highlight the authenticity of your saree.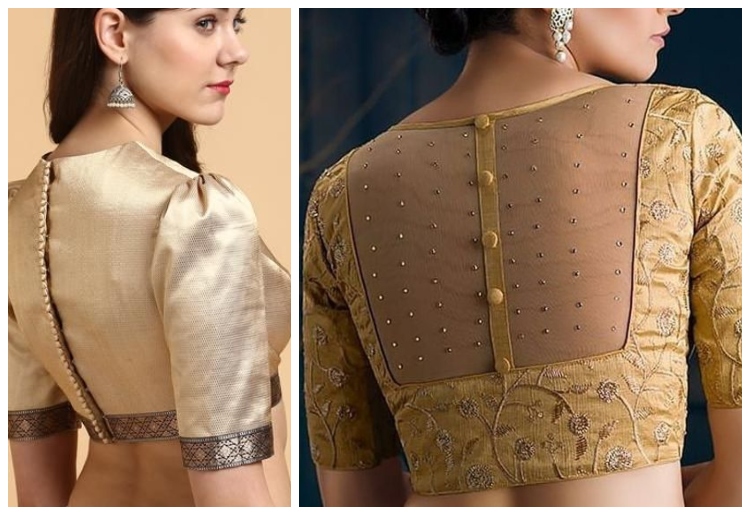 8.Charming Blue Blouse:
The Blue blouse will give attention to the women that she is always seeking for. The Kerala saree looks perfect with the blouse colour blouse. Define its work, shade, sleeve design and neck patter according to your choice and enjoy its grand look. Pair the golden Kada and a golden necklace with this combination.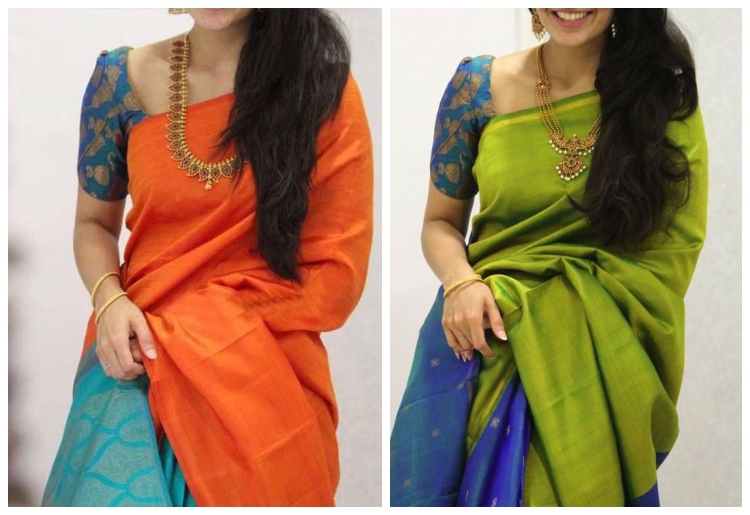 9.Yellow Blouse with Mirror work:
Just like blue, the yellow blouse also merges amazingly with the Kerala saree. It will look great with a saree with green, blue, golden or yellow border or print. The mirror work will create a great balance to look while maintaining its simplicity. You can choose it with normal sleeves and tie effect on the back.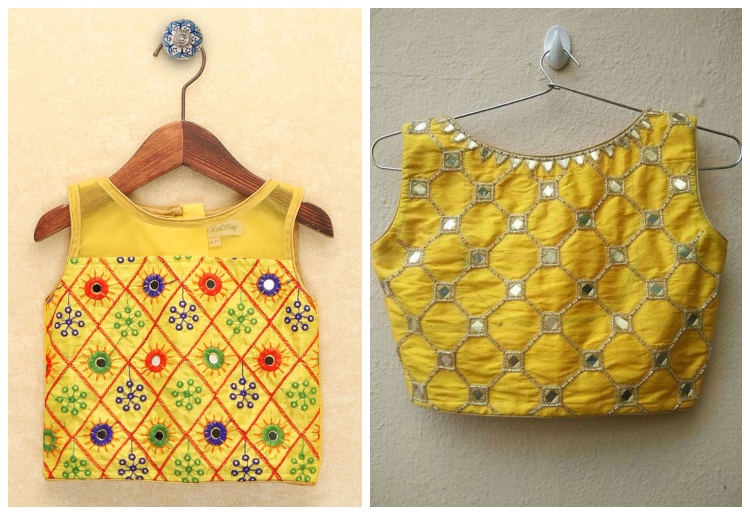 10.Elegant Purple Blouse with Golden Neckline:
Purple blouse and simple Kerala saree make a great combination. You can choose it with golden embellishment on the neck side as it will look as it has an attached necklace. Also, the golden colour creates a balance for a bold purple blouse. Try this combination and brighten up your day.