The kurtas happen to be an essential part of ladies' every day wear. Kurtas are quite versatile as they can be mix-matched and go quickly with jeans, skirts, Patiala, Salwars, and leggings. There are lots of designs and patterns available in the market. And you can choose easily. A kurta with a new neck design can change your appearance and create a high impact on your personality too.
The listed neck designs give you variations in the neck designs that will help you to choose the right one for you. Let's find here the top 21 different kurti neck design popular in the market.
New Neck Design and Patterns for Kurti With New Trend And Style
1.Boat Neck Kurta Design:
As per its name, these collar kurti neck designs like a boat, similar to a U-shaped neckline; But its smaller cut makes your shoulder look wider. Smoothly goes with all kinds of face shapes. Suitable for women with small bust size. Ideally, it is not ideal for those having broad shoulders or a short kurti neck designs.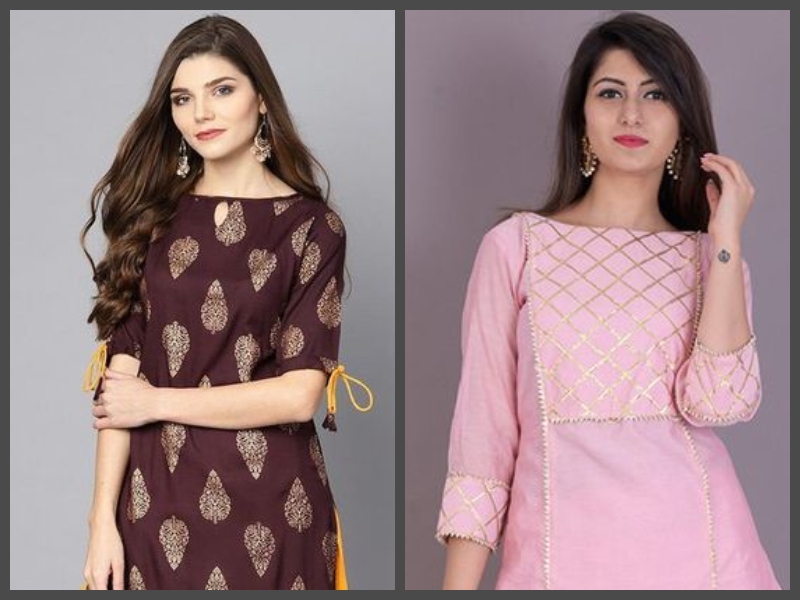 2.Sweet Heart Neck Kurta Design:
As the neck looks like a heart, it is called a Sweet Heart Pattern. Suit all women irrespective of shape, size and body type. Women with a small bust line look more curvaceous in this kurti neck designs.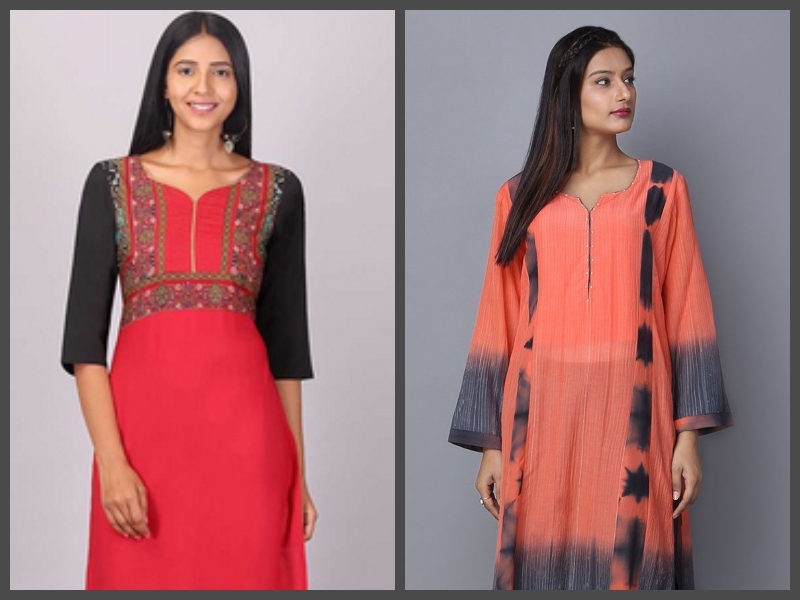 3.Square Neck Designs For Kurtis:
Square Neck is a beautiful neck design for Kurtis, go well with palazzo pants. The design elongates a short neck and narrows the shoulders. Women with a square face should avoid this kind of design.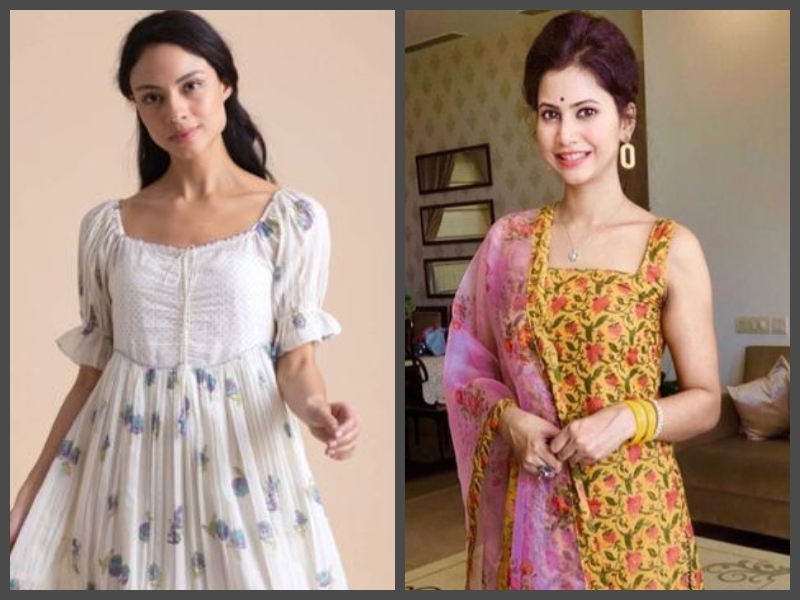 4.V Neck Design For Kurtis:
This kurti neck is "V" shaped and the length may differ from a short "V" to a board "V" which creates a very luxurious look. The neck appears a bit longer, giving a slimming effect. This kind of Churidar neck designs goes perfectly with a small collar and round or square face. "V" neckline suits both small and large bust size. Persons with a long look should avoid this neck Pattern.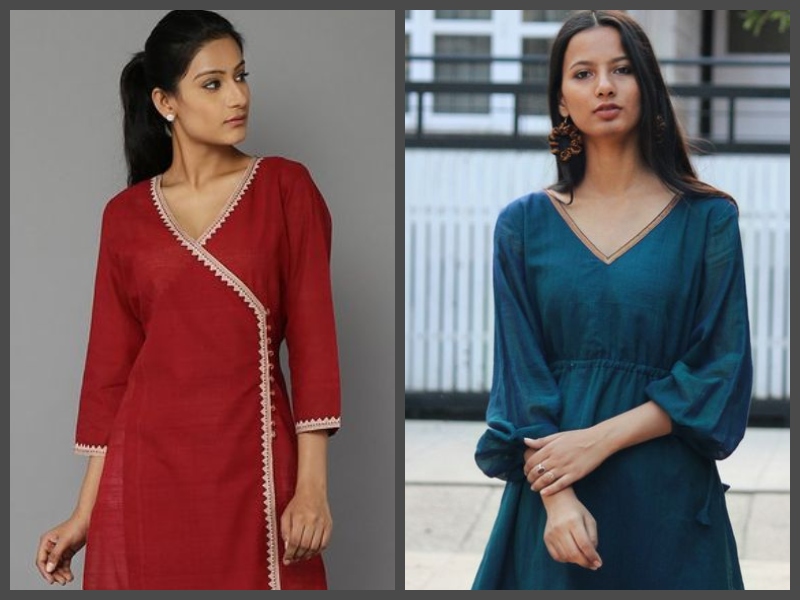 Latest Designer Kurti Neck Designs
5.Scoop Neck Pattern Kurta Design:
A Scoop-neck is just a deep "U". The kurti neck designs has a full curve with a deep and large width. It suits persons with narrow shoulders and a small bust. It also looks better on persons with a short neck having a long face.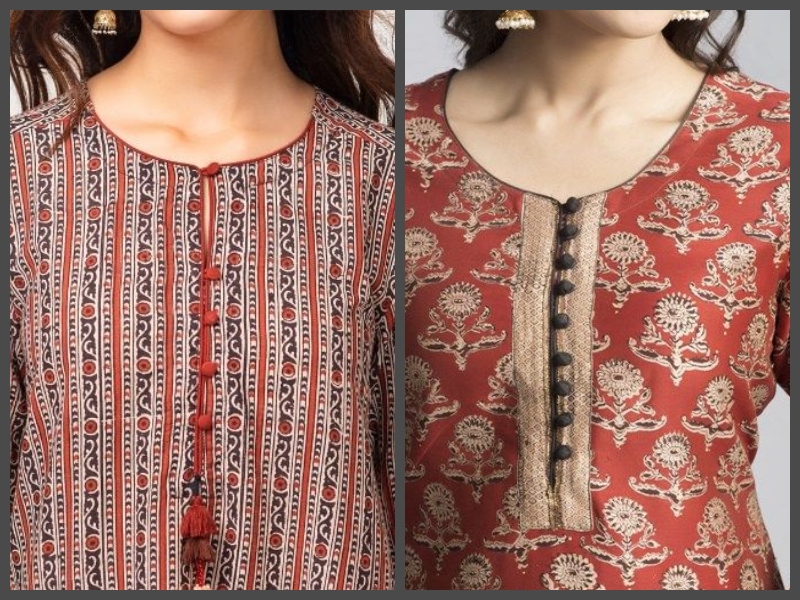 6.Keyhole Neck Pattern Kurta Design:
This pattern has a hole just near the collar bones, making a distinct style to choose frequently. The Pattern meets at the centre, creating a hole just below the collar bones. This style is unique and a perfect choice for women with tender necks.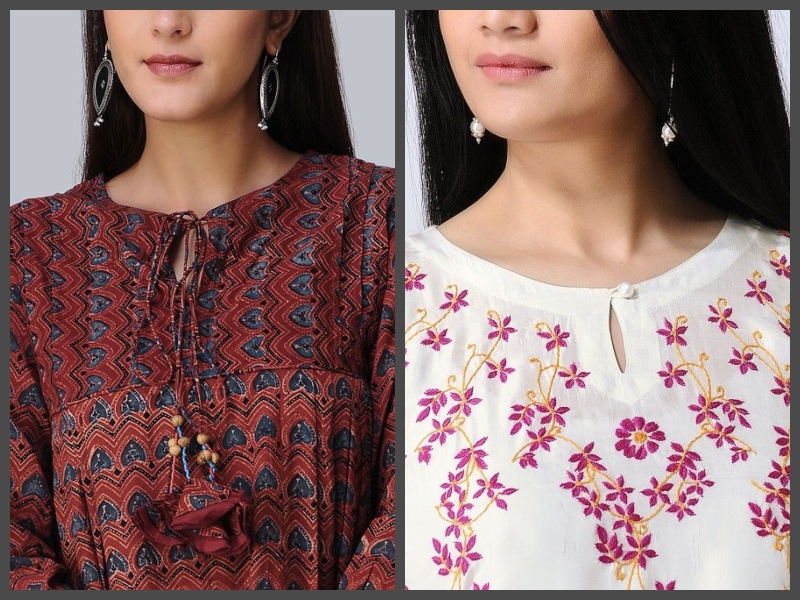 7.Neck Designs For Kurtis With Collar:
A collared neck Pattern is famous for shirts and jackets. These kurti neck designs are suitable for heavy persons as they have worn with short Kurtis and Patiala or Dhoti salwar.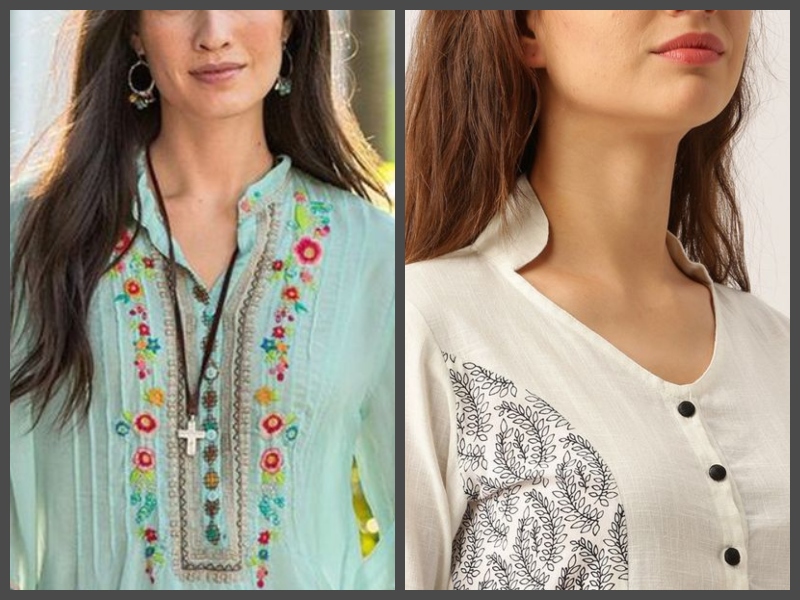 Kurti Neck Designs with Lace
8.Off Shoulder Pattern Kurta Design:
An excellent kurti neck designs for all women irrespective of shapes and sizes, but best suits with a medium built an average bust size women. For an outside party with a high profile, statement, try this one using a stole or shawl to cover your arms.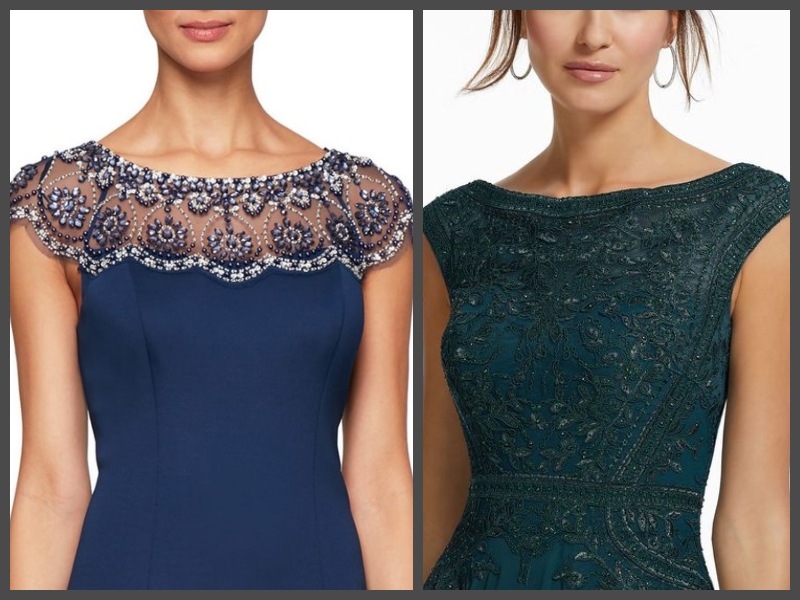 9.High Neckline With Lace Kurta Design:
This neck designs kurta with lace mainly used during winters to wade off the cold but now it becomes a hit as a regular outfit as well. A high neckline with lacework makes you look much younger and of course, stylish.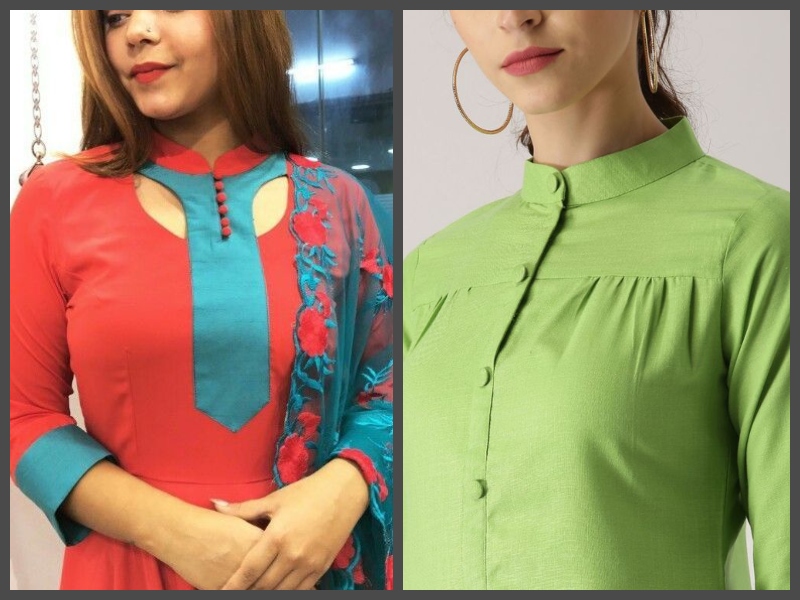 10.Collared Scoop Salwar Kurti Neck Designs:
A very stylish combination of both mandarin collar and a Deep U-Neck. You will find Mandarin collar in all ethnic dresses, Kurtis and salwar suits. This kind of neckline is suitable for broad shoulders, ideal for casual wear and office wear both.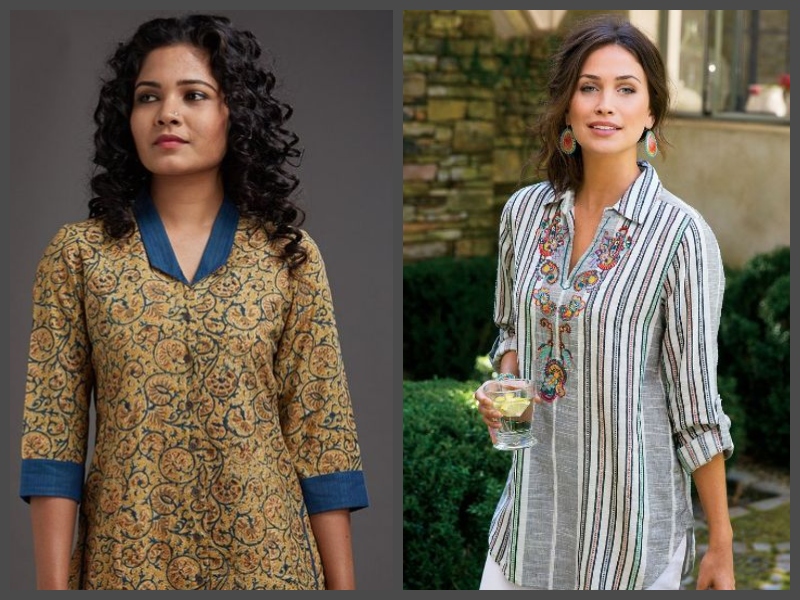 Kurti Neck Designs Images and Kurti Neck Pattern
11.Asymmetric kurti neck designs:
The asymmetric Pattern is very well known nowadays, especially for designer pieces. You have a lot of variations and combinations of many designs like embroidery, button work, patchwork etc. into one Pattern. But take care not to overdo the combinations on one piece. One has chosen a design that will suit best on the material and complement your bust size.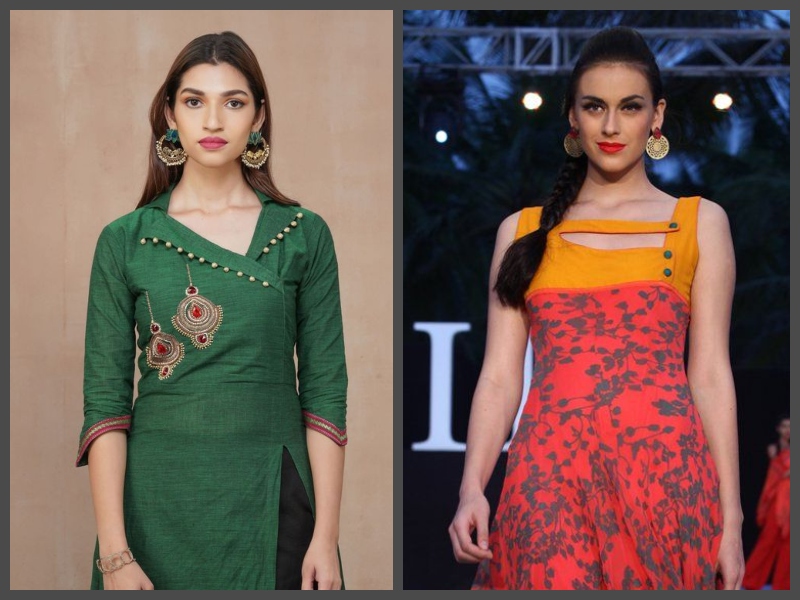 12.Peter Pan Printed Kurti Neck Designs:
These are the best neck designs Kurtis with delicate and petite look get the amazing sweet 16 looks. It has a flat collar, rounded edges, western long, kurti neck design. Avoid wearing it with salwar and dupatta.
13.Crew Neckline Kurta Design:
A T-Shirt neckline inspires this kind of neckline. This neckline can go with Kundan and Zardosi work or even everyday embroidery work. And Indo-Western styled kurta look fantastic style for women having long, slender necks. Make sure you wear the dupatta on one side to avoid hiding the neckline.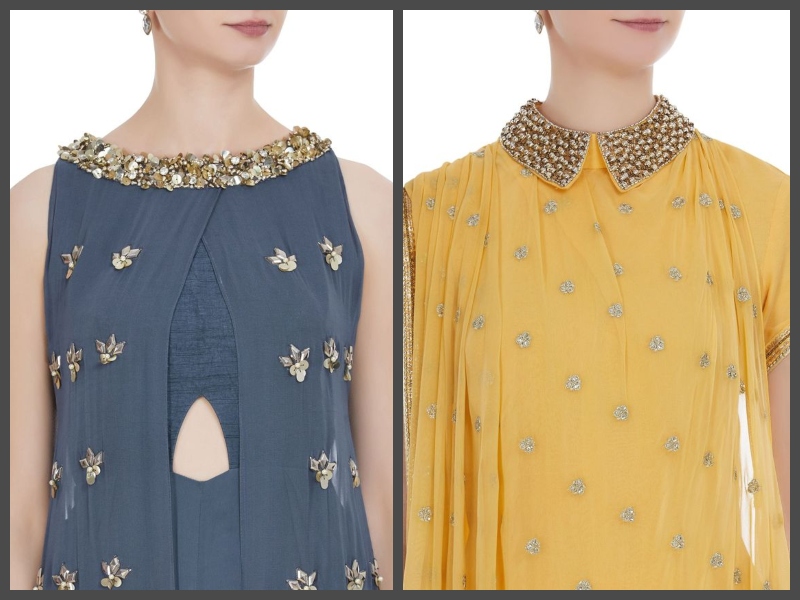 14.Halter Neck Kurta Design:
Highly elegant neckline meet at the back of the shoulder with the help of straps. Itis styled to show off the shoulders. You have a choice to cover your back fully or half. Don't take dupatta as it spoils presentation. Tie your hair tightly or a French knot to enhance the beauty.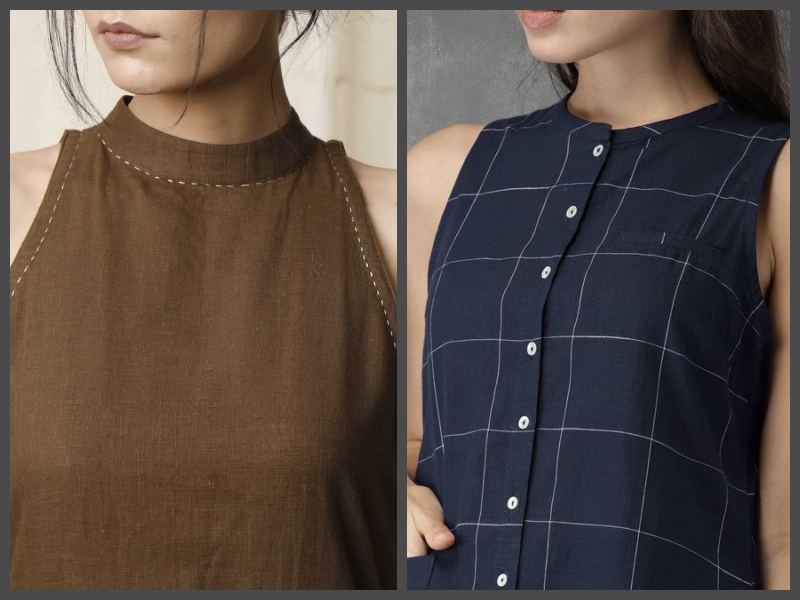 15.One Shoulder Neck Line Kurta Design:
The neckline leaves one shoulder bare to give importance to shoulders and collarbones. You can wear notable necklaces to show off its beauty. Broad shouldered women should avoid this neckline.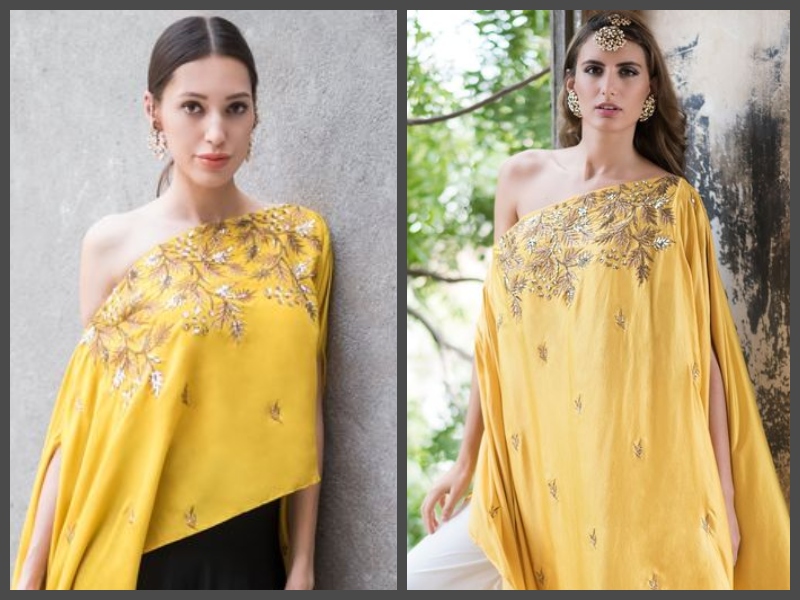 Latest Neck Designs for Kurtis/Kurta with Collar
16.Pentagon Neckline Kurta Design:
A deep, pentagon-shaped neckline combines a mandarin collar running into a pentagon neckline with a classy look as it goes fantastic with dupattas. Women with a small bust-line avoid pentagon neckline as they look flat.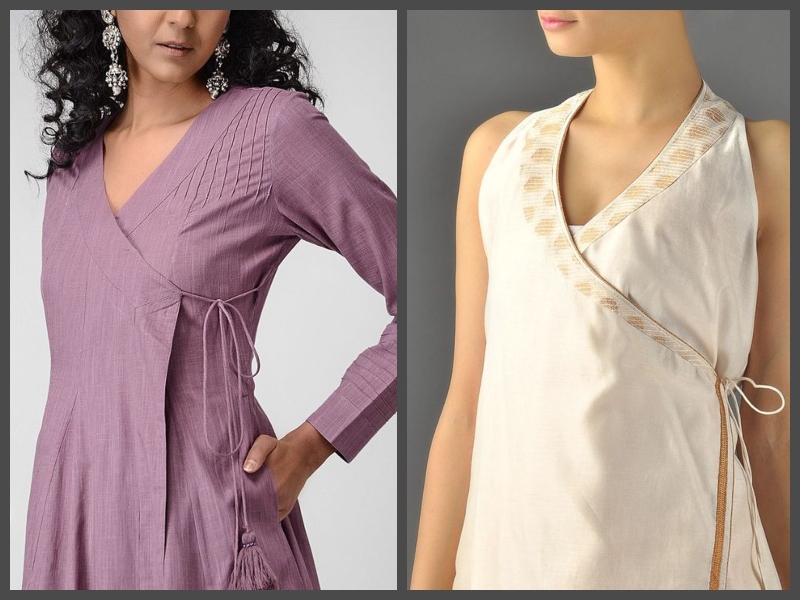 17.Queen Anne V Neck Designs For Kurtis:
It is a trendy neckline for bridal gowns. However, it tends to show cleavage having Pentagon or Deep V. A person carrying this type of neckline should be extra careful about her inner-wear.
18.Cowl Black Kurti Neck Designs:
Earlier sweaters used to come with a Cowl Neckline. But now this kind of neckline has evolved in kurtas. The extra fabric draped around the neck looks like a scarf around the neckline makes it highly suitable for women with large busts . It goes well for small busted women also as it adds volume. Just wear only earrings .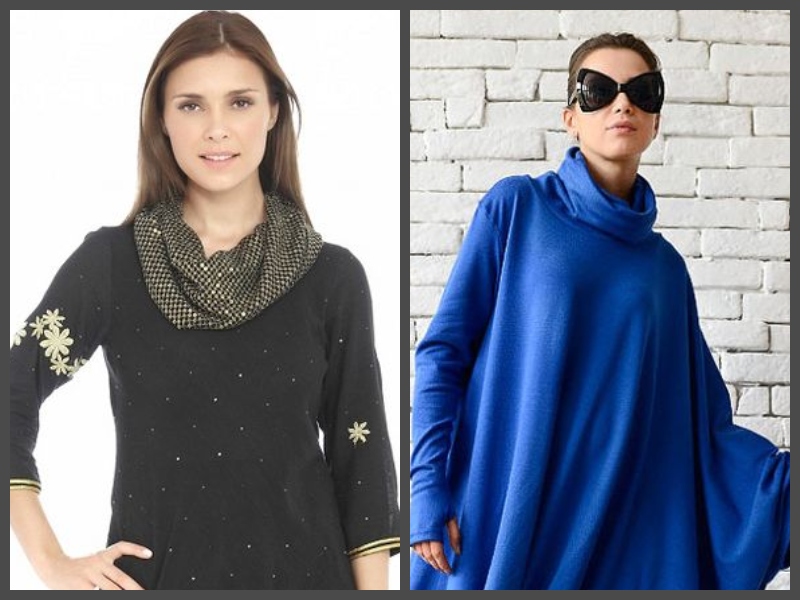 19.Bertha Collar Kurti Neck Design:
Bertha Collar comes during the Victorian period and revived in the 1940s. It is a vast, round collar with a low neckline. Nowadays, thick fabrics like jute or khadi . You can try out this collar with your Anarkali pairing with lace leggings.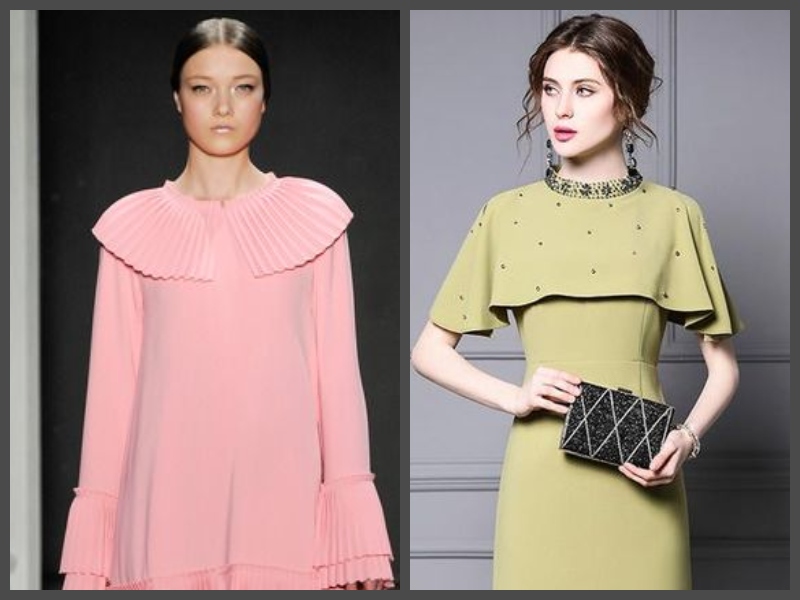 20.Angrakha Sleeveless Kurti Neck Designs:
This one is an ideal piece to rock on the fashion world A it has an overlapping neckline that flaunts your feminist. It looks very good with two-toned colours . It is casual wear makes you comfortable and trendy.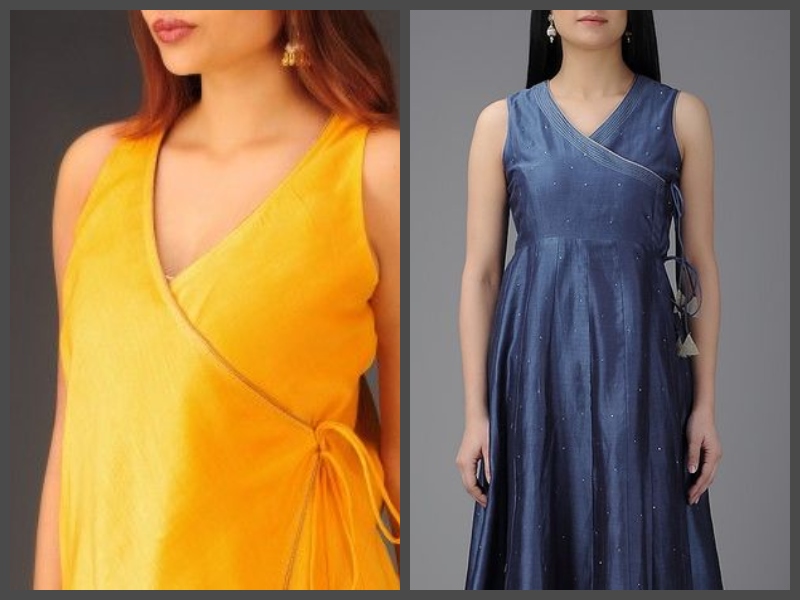 21.High Neck Kurti Design:
High neck and back neck design are pretty stylish giving you a sophisticated look. It adds a western touch and suits well during official meetings and parties.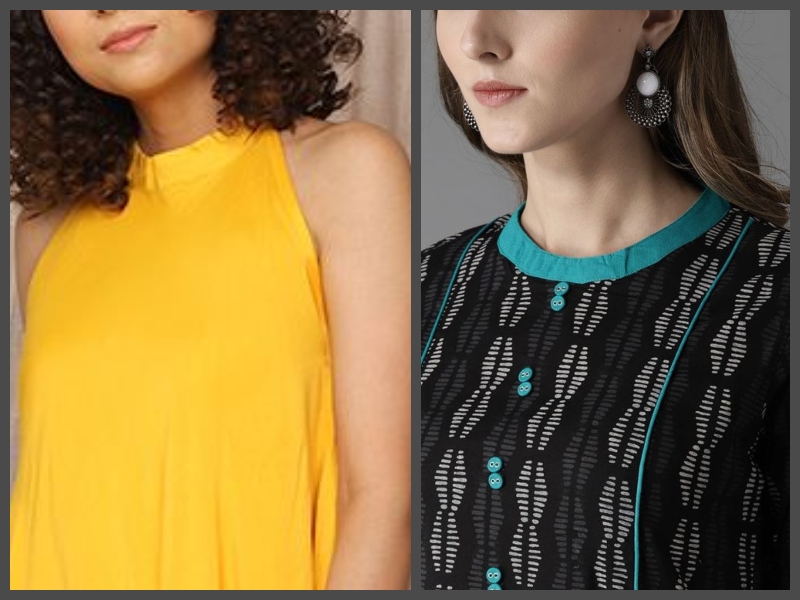 22. Ruffled Collar Kurti Neck Design
Bring an all-new hint of femininity and new-world charm with a ruffled collar kurti neck design that brings a lot of volume and texture to your desired Kurti style.  The ruffled pleats offer a very appealing and fashionable touch. Ruffled neck design kurtas can be paired up with jean or leggings to make the indo-western fusion wear work flawlessly for you.
23. Round Neck With Cold Sleeves
A round kurti neckline peeks beautifully with cold sleeves. It looks even better when the neckline is high-rise. This kurti neck design is very modern and looks stunning on all colour kurtas.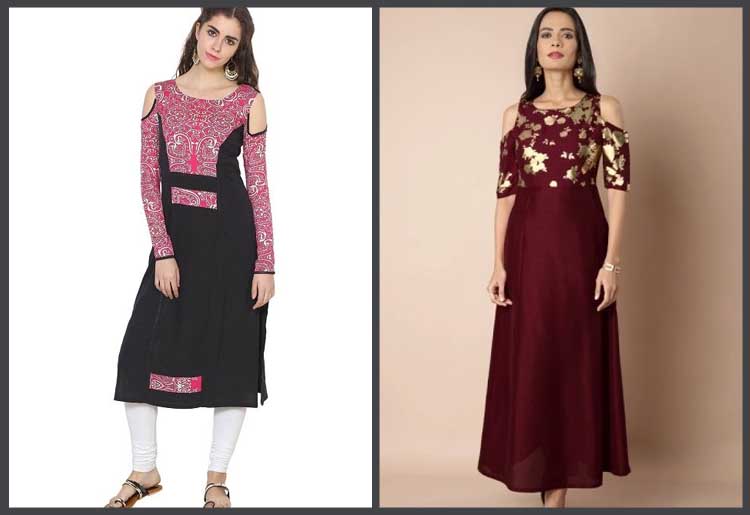 24. String Neckline Design for Kurta
The string neckline design for the kurta has a very unique appeal to it as the upper layer is a shrug with a round neck with a string. You can pair this shrug with a round-neck kurti. This style looks undoubtedly gorgeous and it offers a perfect fusion look. These designs are very trendy and stylish and can also be used for office wear kurtis. This kurta neck design can also work amazingly well for for your silk kurtas and kurtis.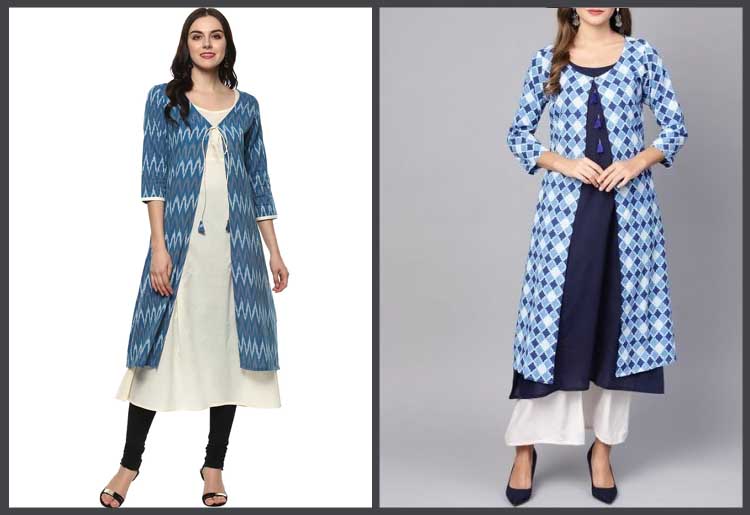 25. Deep-cut neck Kurti design
Do you want all eyes on you kind of neck design? Are you someone who absolutely loves to have attention? Then this neck design for a kurti is certainly for you. The deep cut bring is here to bring all the spotlight on you while looking extremely elegant.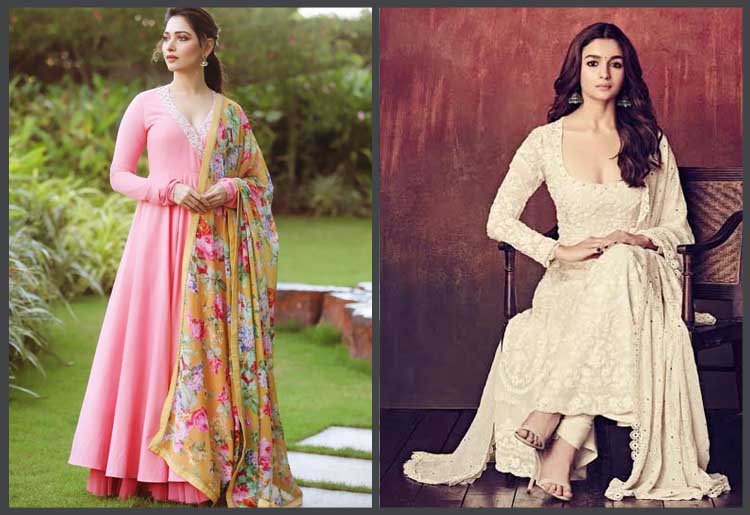 26. Angarkha Neck Kurti Design
An Angarkha wrap kurta neck design has its roots in the Mughal era and we adore it! This design is subtle and looks chic as it enriches your feminine charm. You can opt for a whole Angarkha pattern or design just the neckline to end it precisely at your waist. Flex your gorgeous neck and beauty bones!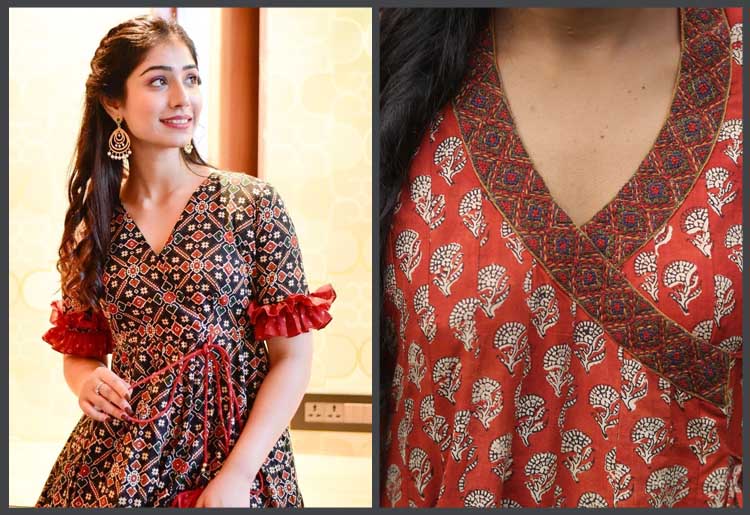 27. Scooped Neck Kurti Design
Describing in simple words, a Scoop-neck design is nothing but a deeper 'U' pattern neck. This neckline has a complete curve that is deep and has a broad width. Carrying the primary 'U' shaped neck design a notch higher, the scooped neck design adds a lot of magnificence to your kurta outfit. Moreover, just like all of the above best kurti designs, this one is again one of the top trending kurti neck design ideas.