TWINING! You must have seen many people posting their photos with this word written under it. So what does it mean? In this era, couples love to wear matching attires, and the best part is that they can do the same on their wedding day. Of course, they can't go for the same attire, but they can definitely go for the same material,couple wedding dress designs. But do you think it is fine to take a risk on your D-day? Maybe yes, Indian weddings are known for their amazing style, which never leaves a chance to make anyone fall in love with it. So here some handpicked Indian couple wedding dress that you can choose for your D-day:
1.Matching the Hues wedding dresses :
From hues, we mean colours and shades. There are many couples who love to go for the same hues, and it looks really cute. Even few go for the balancing tones like a bride goes for red whole groom go for the while red combination. It helps them to get the best photographs and compliments.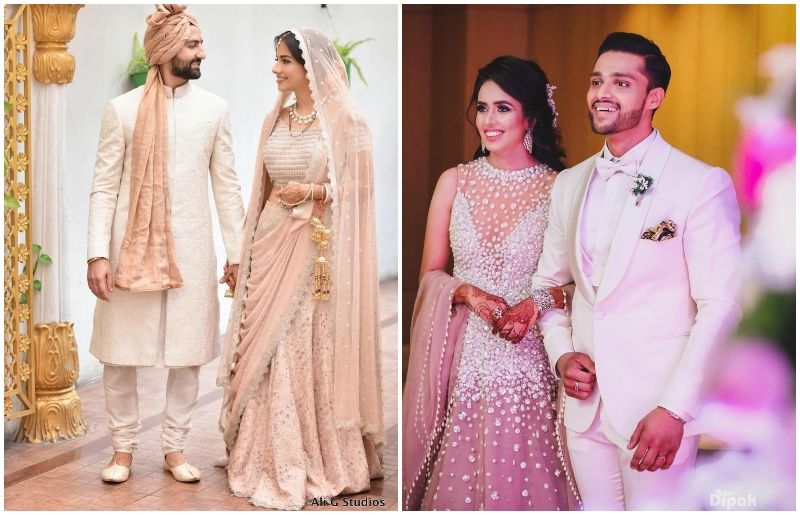 2.Pinch of Colour wedding dresses :
There are some couple wedding dresses who want to go for a mix and match theme but don't want to do too much. So, these types of combinations are perfect for them. Here, a bride can wear the couple wedding dress she wants to and the groom can complement her look with a matching stole or pagdi. They are not doing too much but still matching with each other.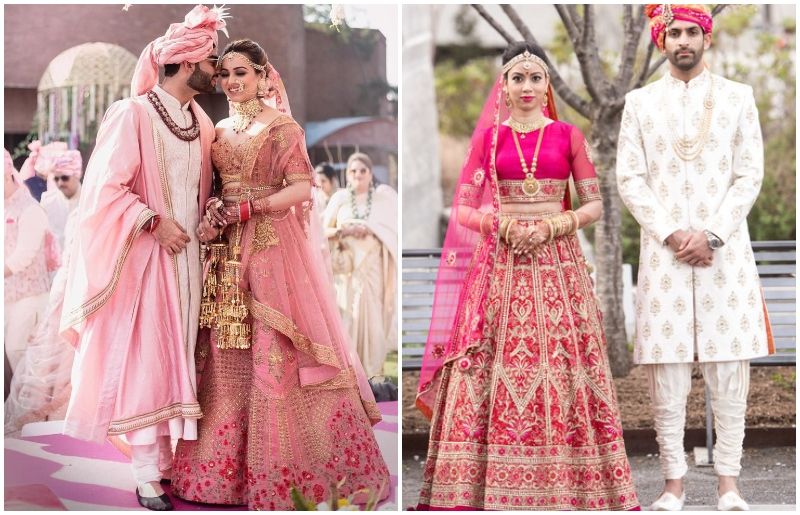 3.Moving in Synchronization wedding dresses :
Some couples compliment each other in a different way. They go for the matching way but by picking the different shades of it. Ex. A bride is wearing a pink lehenga, while a groom is wearing a lighter shade of it. This slighter change looks really elegant and perfect. No one can go wrong with it.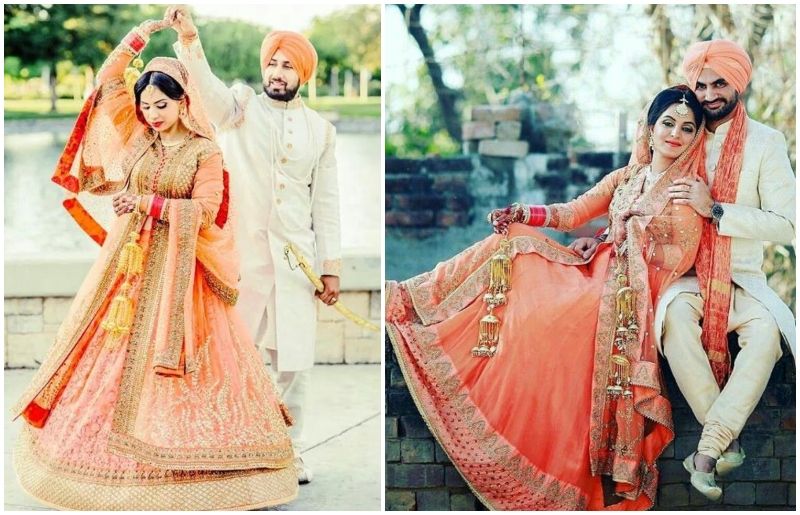 4.Reversing the hues:
As you know, hues stand for colours and shades. But you are thinking to do something different than others? Simply reverse the colour game. A bride can go for a light lehenga and a bride can go for a darker colour like red or pink. They both choose the matching detailing.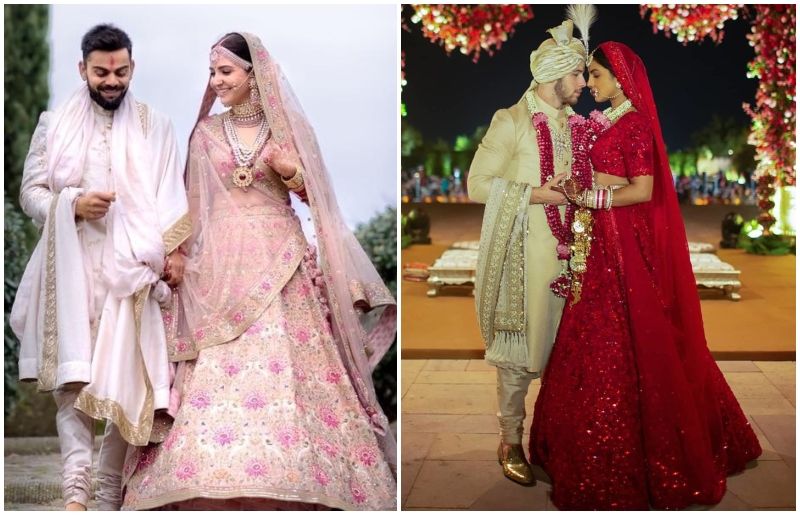 5.The Bold Gold:
The wedding day is only for the bride and groom, so they have to shine. And what can be shinier then going for the Gold colour attires? Get golden attire and to add a little contrast to it, choose different colours of dupatta, pagdi and stole. It will balance out both looks in the most complimenting way.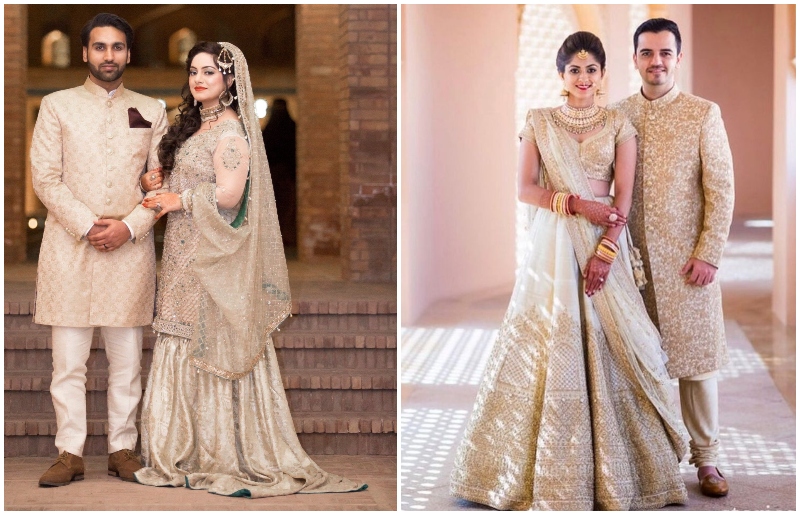 6.Playing with Prints:
A little matching touch can add power to the whole bride-groom look. The couples can go a little matching like a woman can have the same print in her lehenga as the groom's Sherwani, or vice versa. It is easy to done and looks amazing on the wedding day. Don't do too much but don't forget to do a bit.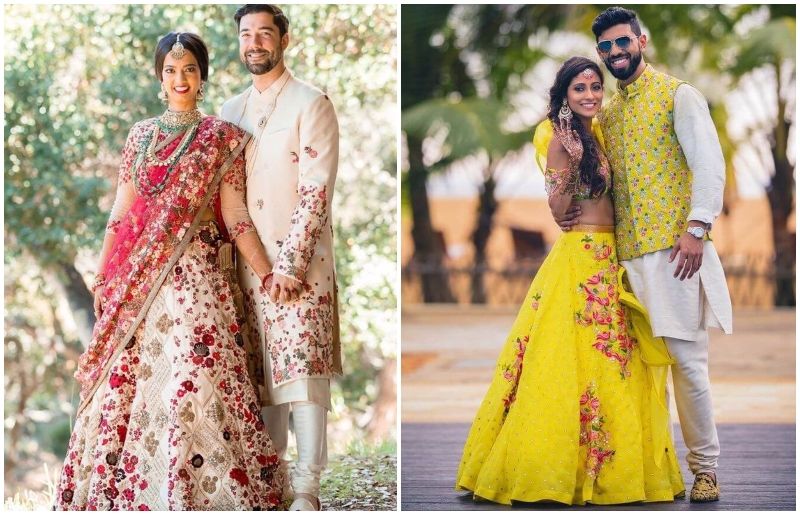 7.Gentleman look:
If a groom is not fond of Sherwani, he can go for Western suits. Now you must be thinking how to will mix and match with his outfit. Right? They can match the tie, pocket squares and accessories with the bride. It will maintain a balance and still compliment the bride's couple wedding dress.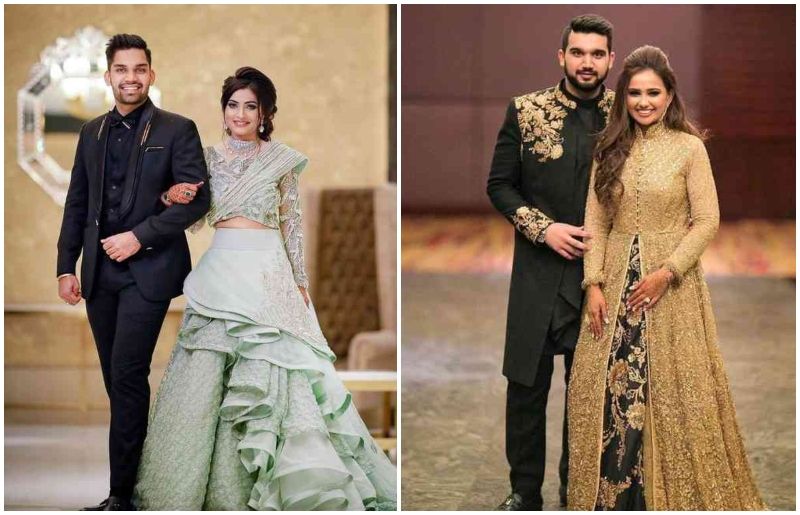 8.Try matching the Embroideries:
Okay! So, this time forget the colours, simply match the embroideries of the two attires. The market is full of different types of embroidery options. So, you just have to tell your designer that you want the same type of embroideries on both attires and he will do it for you. It will look really beautiful and graceful.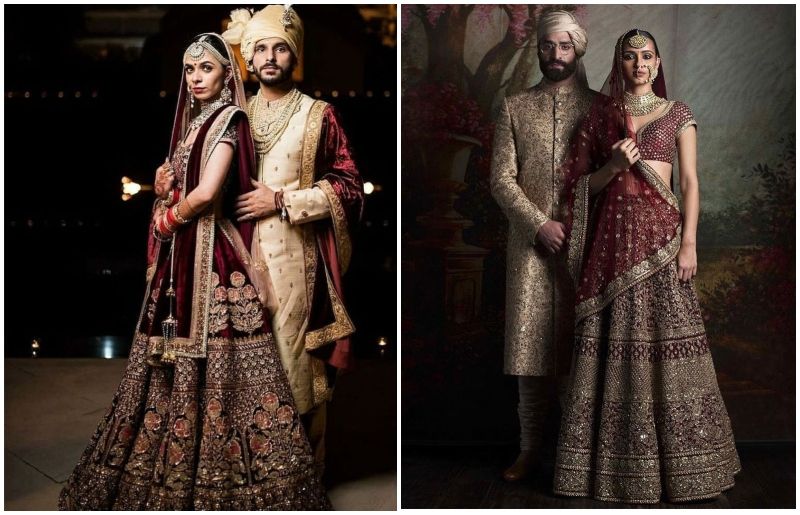 9.Choose the colours from the same tree:
Here, we don't mean to go for the same colours but different shades, we simply mean to choose the different patterns of pastel colours. Nowadays, pastel colours are very in. They are light and looks amazing. So, do one thing, two different pastel colours and ask the designer to make your attires in that colour. These will complement every skin colour.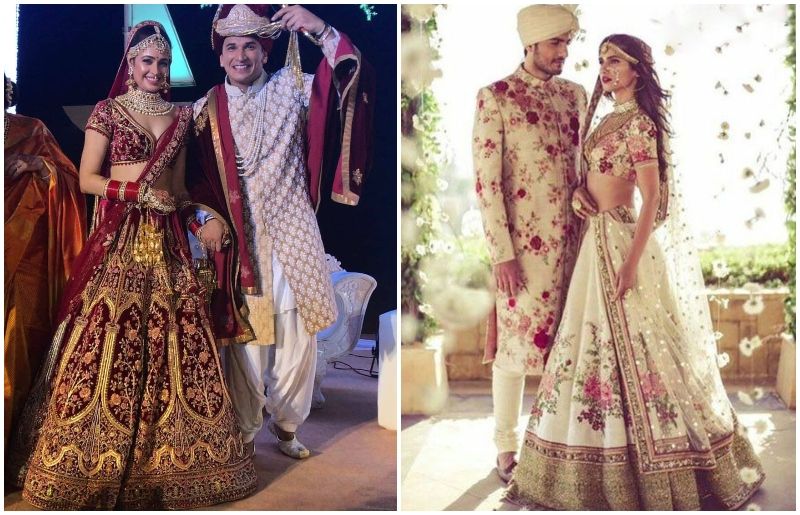 10.Be the sunshine:
If your wedding is in the day time, get yourself some beautiful shades of Sun. Choose yellow, orange and red. You can also go for blue and white, as these are the colours of the sky. All these colours complement each other in the perfect way. Such combinations look great with the different embroideries.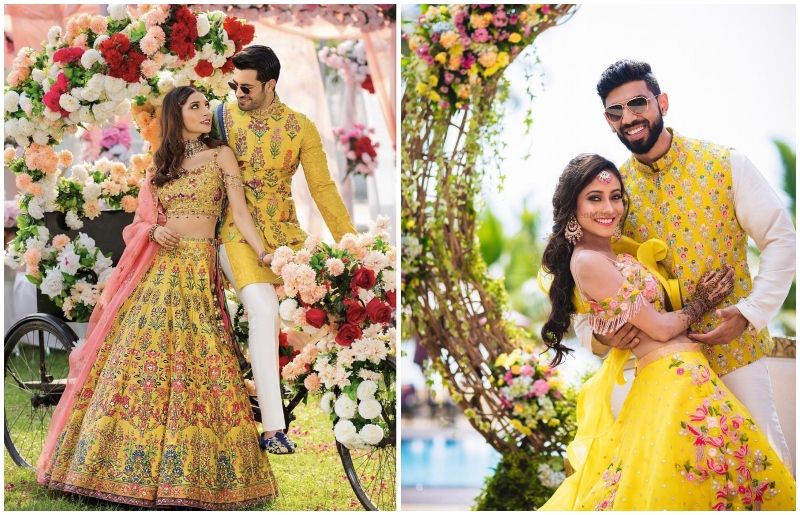 11.Play with colours:
Have you ever think of going for multi-coloured attires? If you are bold enough then go for this type of prints. The colourful effect will look great in day wedding. Here, a bride can pick up a colourful lehenga, while the groom can complement her attire by wearing a matching waistcoat. The whole combination will look perfect.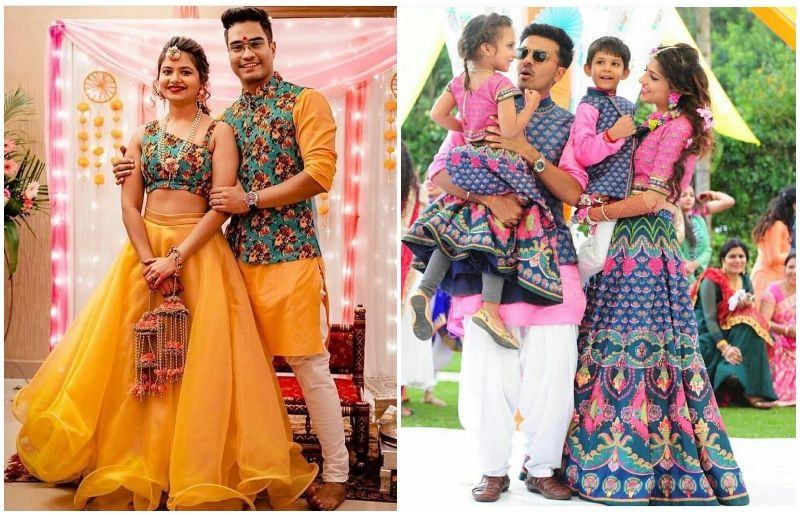 12.Matching the Tops:
One of the best ways to compliment the couple wedding dress is to wear the exact same garment on the top. It will add a matching effect while making it differentiable. This type of matching looks vibrant, cool and eye catchy. Try to go for the bright colours if you want to go for this type of coordination, as will give you the perfect vibe that you want.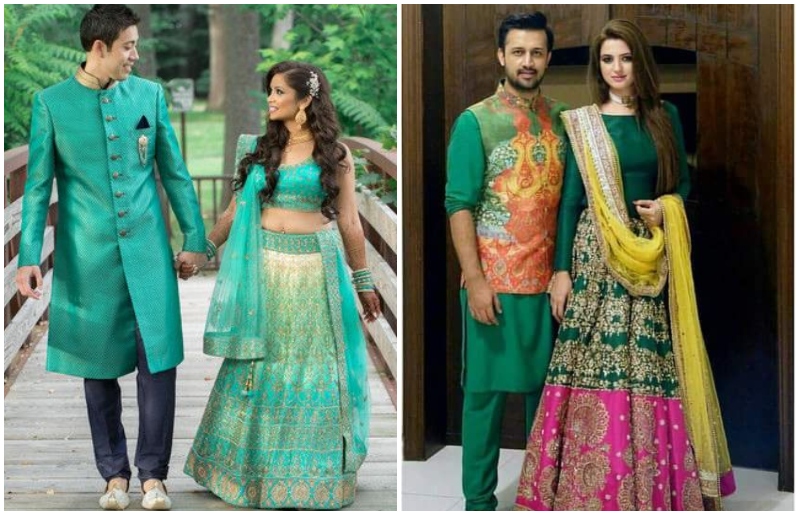 13.Extremely Contrasting Attires:
Do you know there are some colours that are totally opposed to the other? For eg, blue and red. Blue is cool while red is hot, but when these two meets they make an amazing pair. So, try to pick such colour combinations. You will love the way such contrasting colours come out with each other.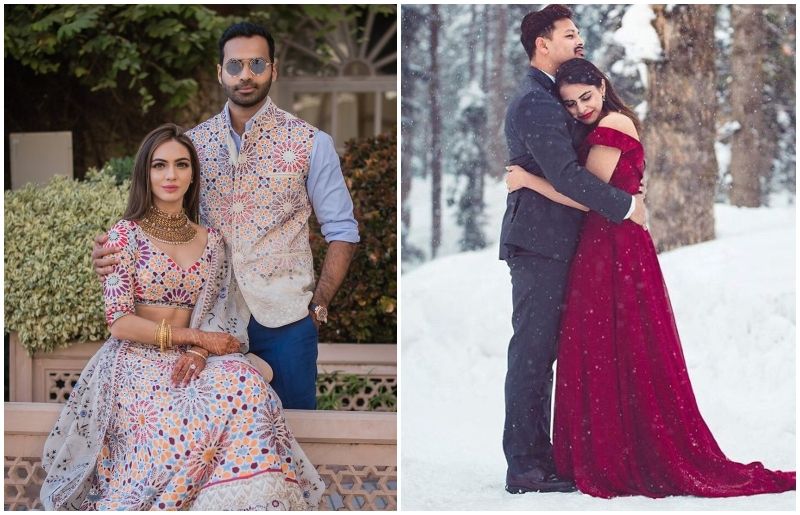 14.Same Story, but different Bands:
One coordination that will look great on any couple is specifically this one. Bride and groom can go for the same colour but different prints. You can go for this style and mix match the pattern, but don't forget to pick up the same colour and material. The same material will maintain a balance between the two extremely different outfits.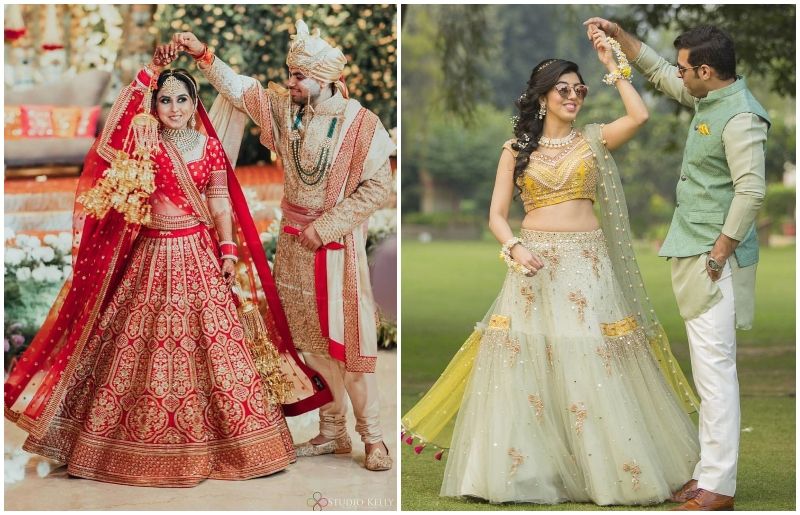 15.An outfit that looks similar but Distinct:
This is one of the most eye-catchy couple wedding dress combinations. Here the attires looks quite similar but they have their own different effect on it. Also, these are mostly found with the ombre effect. Just like Yuvraj and Hazel's attire in their reception, you can enjoy this type of dramatic look.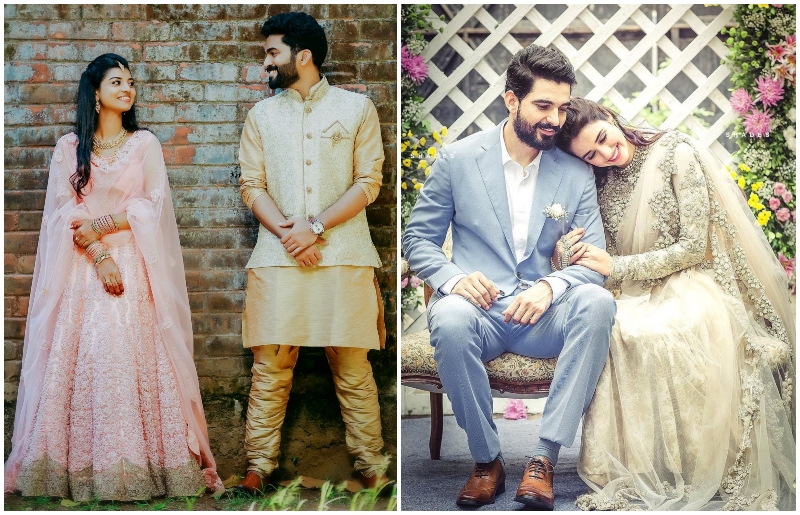 These were 15 Indian couple wedding dress that each couple should follow. It will add a flavour to your wedding look and help you to get the perfect photographs. You will love the way these looks will turn out. So, don't think too much. Pick up your favourite look and do something boundless on your Wedding.