Kurtis are a forever companion of Indian women. The fashion industry remains on a constant move. There is no place for the ones who lag behind and if you do dress to impress then lagging behind or choosing outdated trends is not an option.
But in this constantly changing industry, how are you supposed to keep up, especially when you are an outsider, that is, a fashion consumer and not a producer?
Well, the answer is simple. You keep yourself updated with the fashion trends through Internet. This blog will help you ace your fashion game when it comes to Indian Kurti fashion and given below is a list of top 15 trending neck Designs of kurtis for the year 2019:
#1. Round Neck Kurti Design
1)There is a big difference between old/ outdated and classic/ evergreen. This one is an evergreen neck design which never goes out of fashion. The small round neck design goes with all styles of kurtis- A line, anarkali,straight fit, centre slit, etc. A round kurti is a basic style which will be a perfect fit for every occasion, if and when paired with matching jewellery.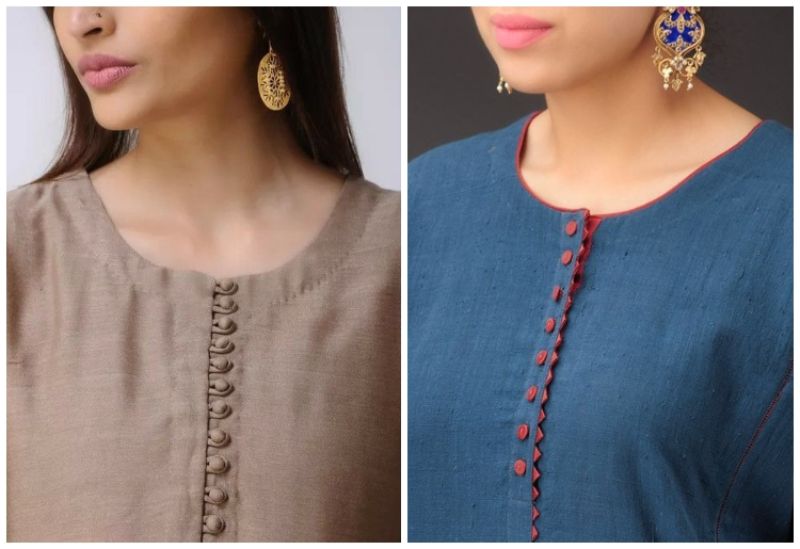 #2. Step Sleeves V Neck Design
While talking about the neck Designs, one cannot skip out on the sleeves, especially when they are step ones and influence the shape of the neck. A v neck is a basic one and does not suit everybody. However, step sleeves are a game changer, that give a smart outlook to the kurti.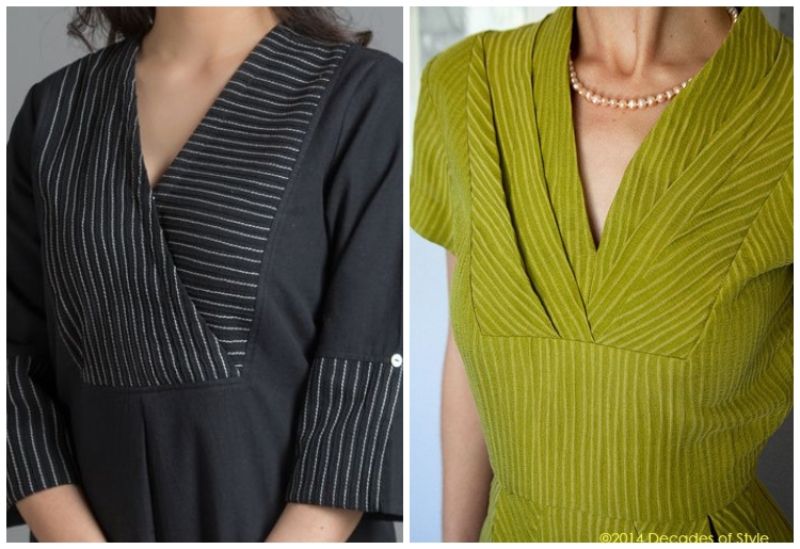 #3. Chinese Collar Kurti
This trend continues to hold a special place in the hearts of fashion consumers. Chinese collar kurtis give out a smart look, especially when they are front open or go along with a centre slit. These kurtis make for a perfect attire for any formal occasion or purposes like daily office wear, meetings, conferences, etc.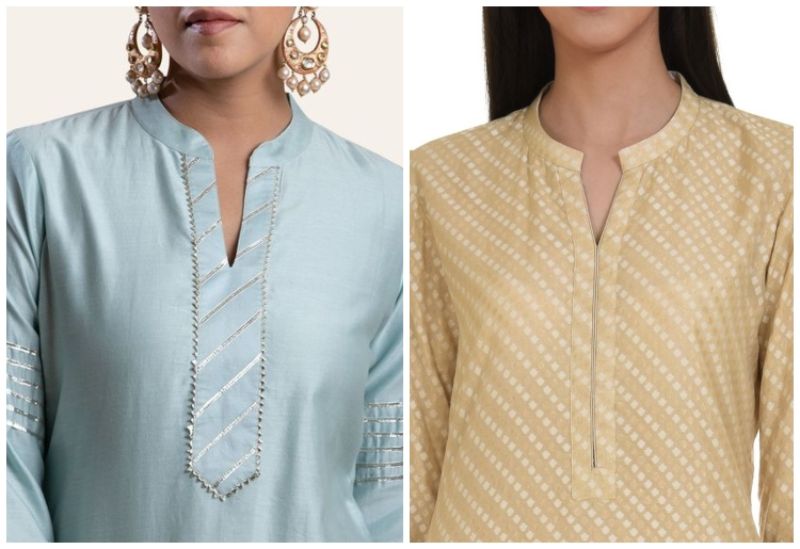 #4. Boat Neck Kurti Design
This trend had risen in around 2016 and still continues to be a rockstar within the kurti fashion industry. No Indian woman's closet is complete without a boat neck kurti. These kurtis look best when paired with a dupatta. Boat neck A line kurtis are extremely fashionable and stylish.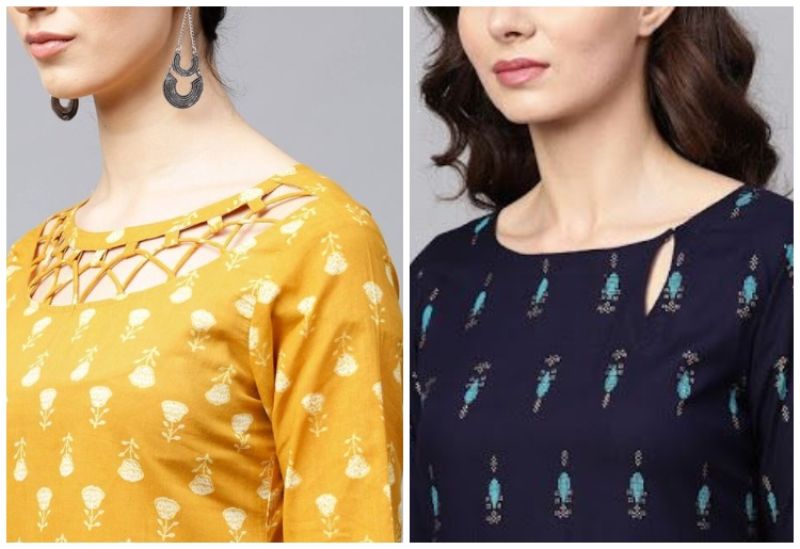 #5. Closed Neck Kurti Pattern
This style is a little uncommon, however a trend that sets the mood. Closed neck is basically a style that surrounds the neck in a circle, quite closely and without a collar. The neck generally has a hook on the back and the back design could be really deep. Closed neck, full sleeves kurtis are a royal look that you don't want to miss out on.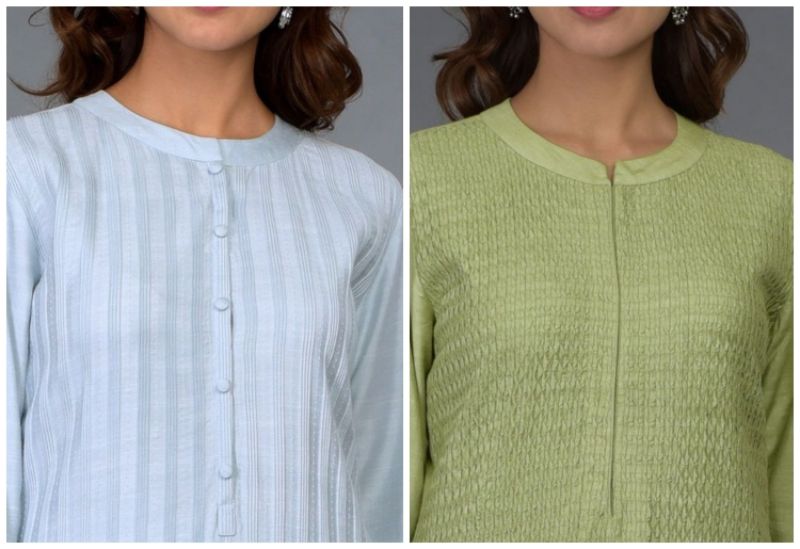 #6. High Neck Kurti Design
This design has secured a high position is all the clothing styles, may it be blouses, kurtis, cholis, tops or t-shirts. High necks look extremely elegant, smart and sassy. All kurtis, light or heavy, can have high necks and the design only adds to the kurti. A high neck kurti can be worn at any occasion.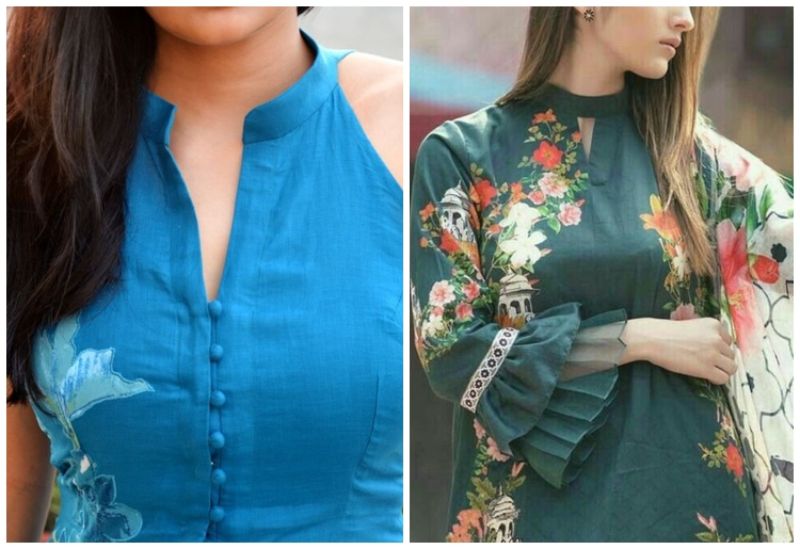 #7. Collar Paan Shape Neck Design Kurti
This is an old trend that seems to be again gaining popularity within the fashion industry. The kurti has a Chinese or a stylish collar, however that's not it. The neck is further cut out in shape of a pan, giving the kurti a deep and stylish front.
#8. Angrakha Style Kurti
This one is another classic style that you must not miss out on. Angrakha look good in all shapes and styles of kurti, may it be a short kurti, a full length kurti, A- line, Anarkali, straight fit, etc. Angrakha is a style in which the neck is in shape of a sidelined V and the neck is tied together on the sides.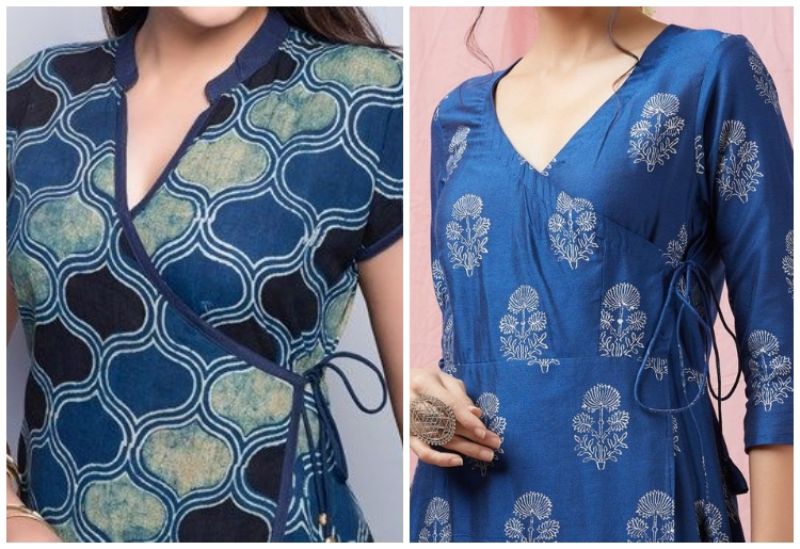 #9. Collar Neck Kurti Design
Collar neck kurtis are generally in shape of an elongated shirt. Extremely smart and popular style is a type of a formal kurti that can be of any length, from waist to the ankles and paired with bottoms accordingly. A simple collar might seem to be a basic and a very common design, however, a coloured collar kurti might do wonders to express your confidence and charm in a meeting.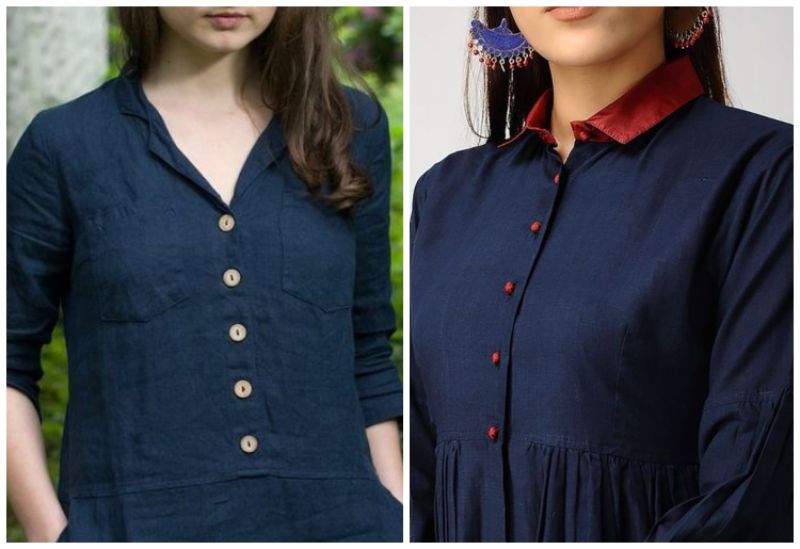 #10. Halter Neck Kurti
Want to be experimental and stylish and traditional at the same time? Then choose this style. The Halter neck is a smart look that is tied around Yeh neck through a strap. A perfect fusion of modern and Indian, this design makes for a great formal and/or party wear.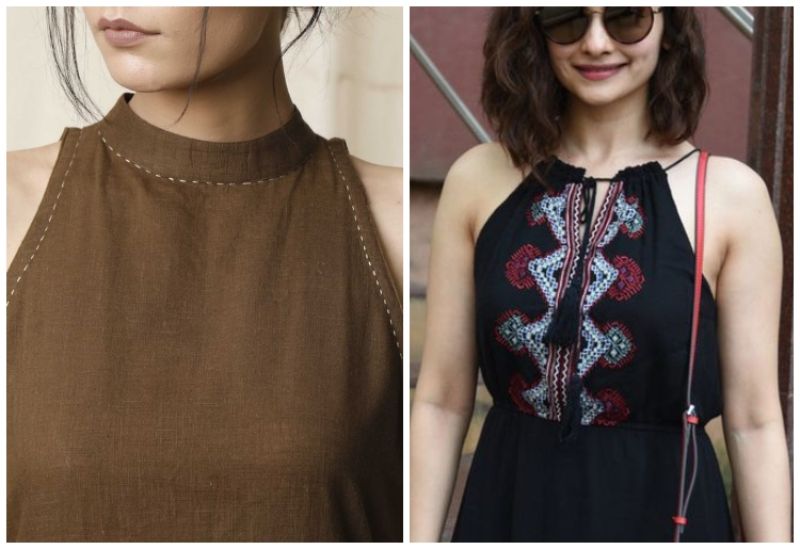 #11. V Neckline Kurti
This one is an option if you don't want collar and yet want a similar look. The V neckline is a great choice. The neckline forms a V line and the strap may go further down. In such kurtis, the entire look may be held together by the neck itself with added embroidery, beads, embellishments, etc.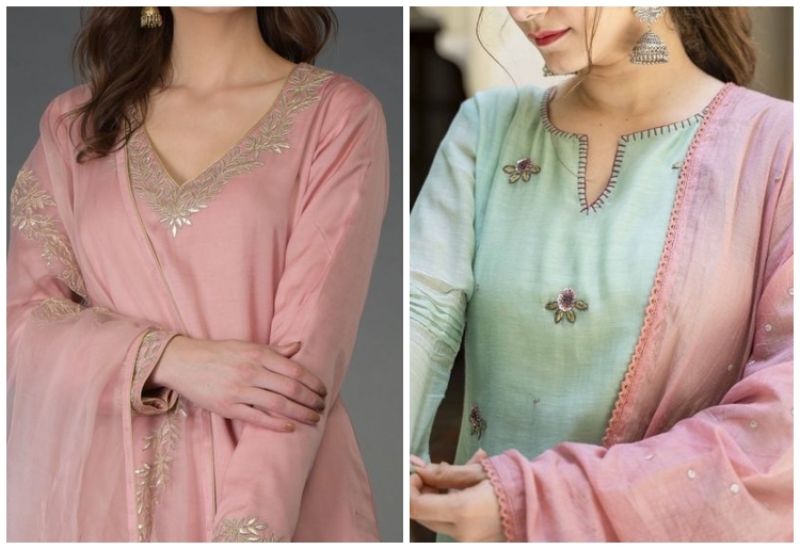 12. Rectangle Neck Design Kurti
A style that is often seen to be worn by the celebrities, however, not many people wear it on a regular basis. If you want to make a statement, then you got to go for this look. The rectangle look is a classy design that provides enough space for elegant jewellery thereby making it a perfect wear for occasions like weddings, family gatherings, etc.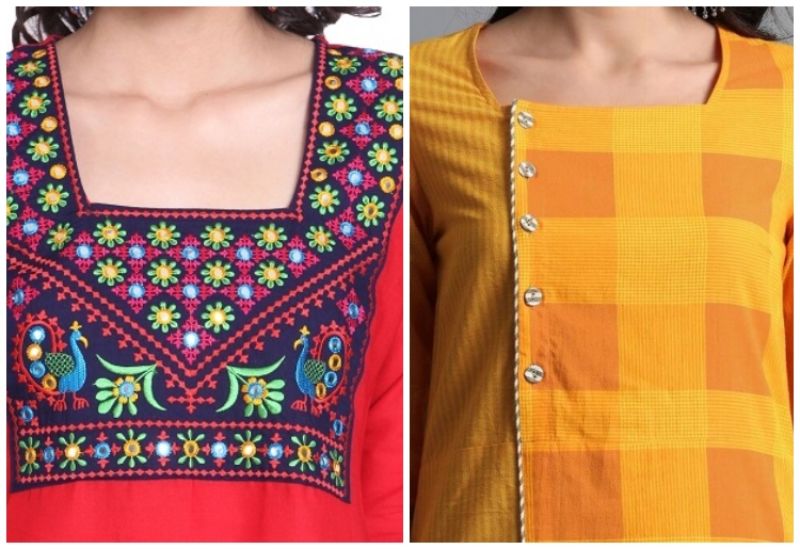 #13. Keyhole Neck Kurti
A keyhole neck is an evergreen style that makes for a beautiful front. The neck in this case could be made from two contrasting colours and such kurtis can be worn for both party and casual wear.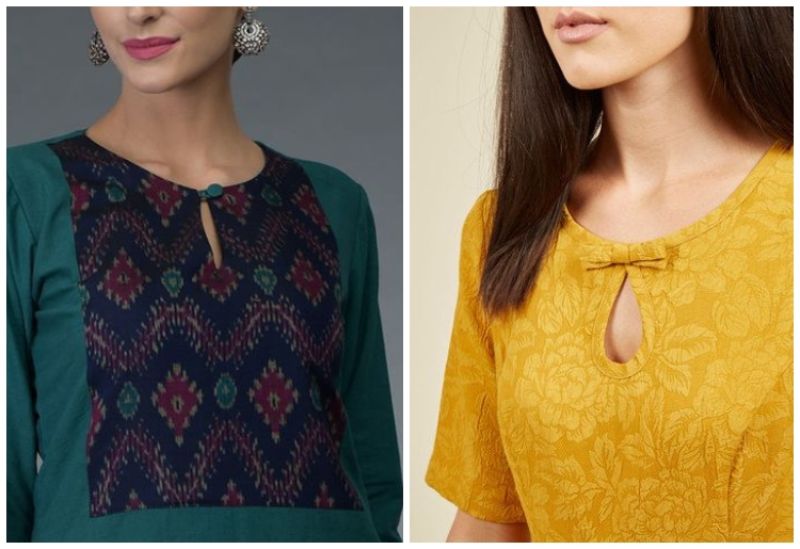 #14. Choker Neck with V Cut Kurti Design
The choker style came into fashion in 2018, and has continued to flourish in 2019. The choker neck is a strap or a circular band that goes around the neck and the remaining neck is cut out in a V shape.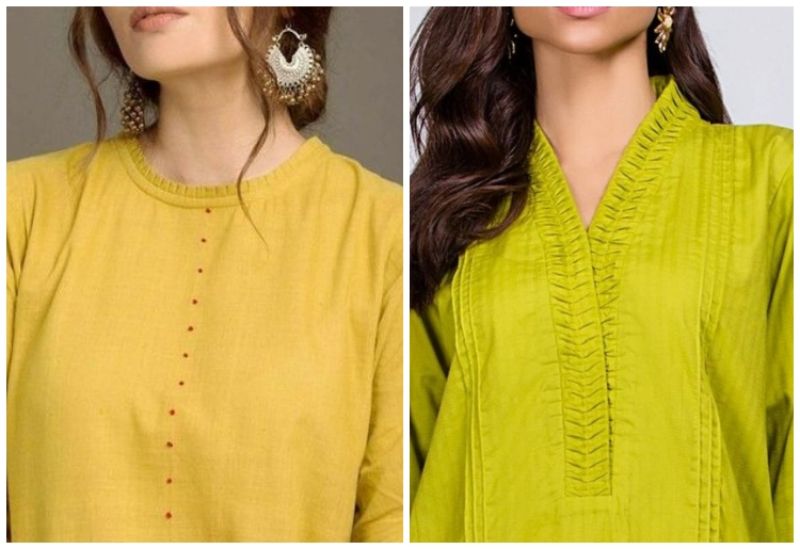 #15. Ruffle Neckline Kurti
Ruffle is a western style that has secured a high place in the Indian fashion Industry. Earlier common in western style clothes, ruffle necks and sleeves have become highly popular in Indian Kurti styles. The ruffle neck are layers of attached cloth pieces that could be cut out in any shape like V neck, angrakha, plunge, high neck, etc.