A tattoo is another way to make your body look beautiful and artistic. And the best part is that you can choose any style of tattoo for yourself. One of the socialist, unique and priceless tattoos is found with number codes or alphabets. It is famously known as Barcode and give a quirky touch to your body. This is vogue and believes to add an amazing aspect. Some of the barcode tattoos are for designing, while some can be scanned in the best way. They require a lot of detail. You can choose the best kind of barcode tattoo for yourself and rock it. If you are also looking for these tattoo designs for yourself, then here are 8 ideas for you. Have a look!
1.Code 3 of 9 Barcode:
This barcode tattoo is perfect for someone who wants to define their personality. It allows people to write a name, quote or number under it. These are usually designed using black colour, but many people do use colours in it. However, this is all about designing and can't be scanned. The people from medium to fair skin tones can go for it.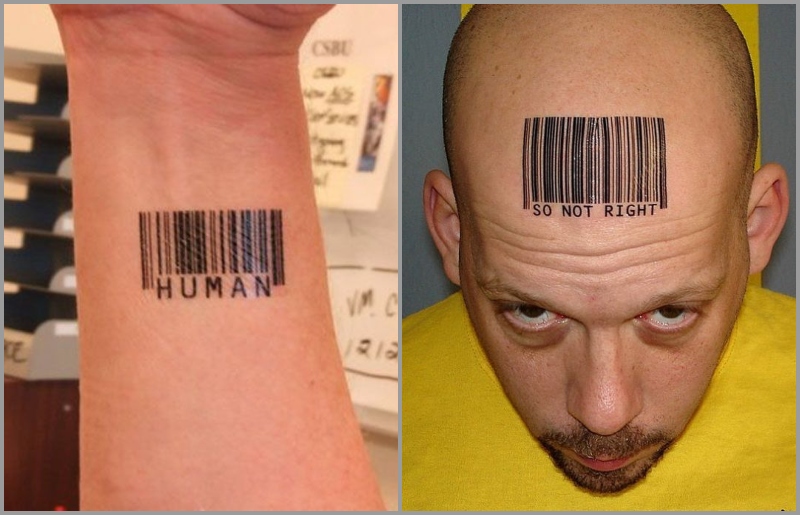 2.ISBN Barcode Tattoo Design:
The ISBN stands for International Standard Book Number and it is another very popular type of Barcode. It is used to identify the product and you can use it as your tattoo. The 13 digits under can be anything to you want. It will give the unique and creative vibes. It will be simple though noticeable. The people with Dusky to Fair skin tones can go for this tattoo.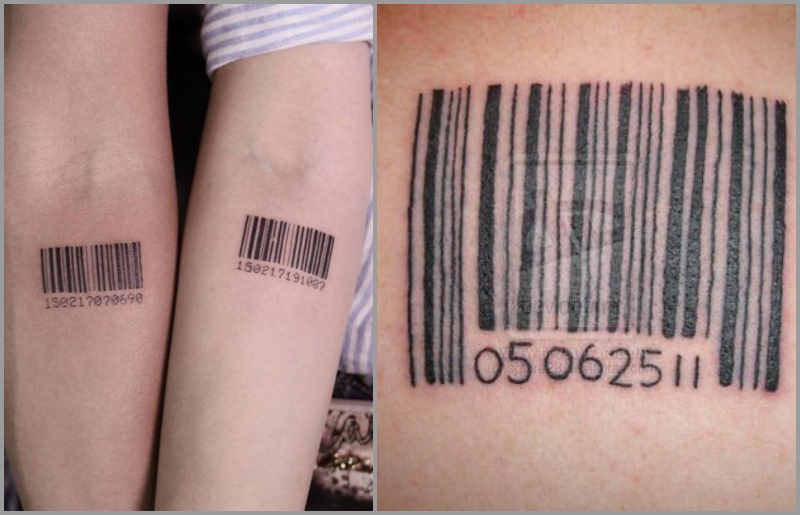 3.UPC Barcode Tattoo Design :
Another type of Barcode tattoo that will give you a funky look is UPC. This is usually found in the CD's and books and is very sharp. You can add bold and simple detailing to it and shine in it. Additionally, a sarcastic message below the barcode will make it quirky. You can get it in medium size with the black colour. The wheatish to fair skin people can try this UPC barcode tattoo.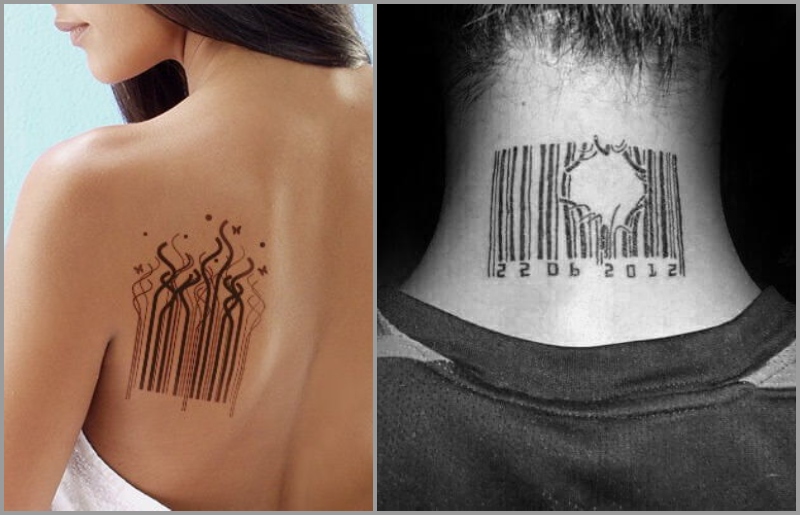 4.Zip Code Barcode Tattoo Design :
The Zip Code barcode tattoos has the unique vibes and comes with a particular number. Most of the men and women will go for it and give personality to yourself. It is gaining a lot of popularity in the market. You can go for birthplace printed by this tattoo. It can be medium to large in size and women of dusky to fair skin tone can try the Zip Code Barcode tattoo.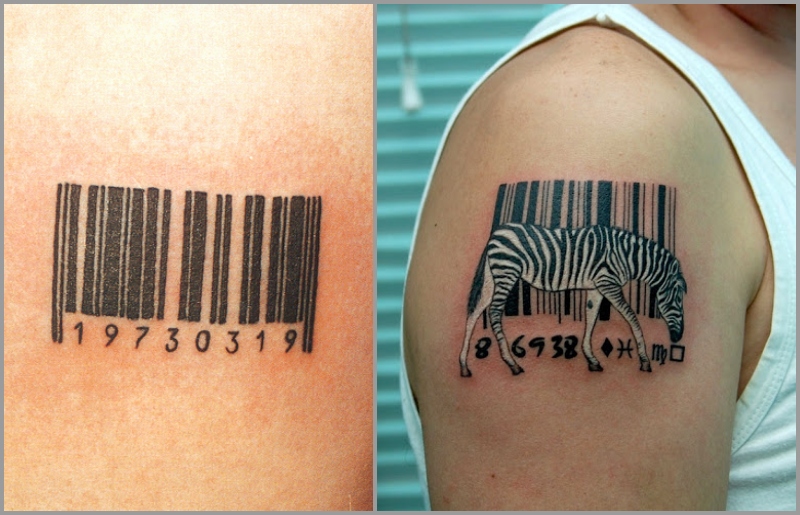 5.Describing Barcode Tattoo:
Just like your name, some barcode tattoos will describe you in the best way. It can be drawn using bold letters and clear font. You can choose small and descriptive words like Smile, love, human, etc., for these tattoos. These will look the best in neck, wrist and arm. The people of dusky to fair skin can go for it and choose its size from large to medium.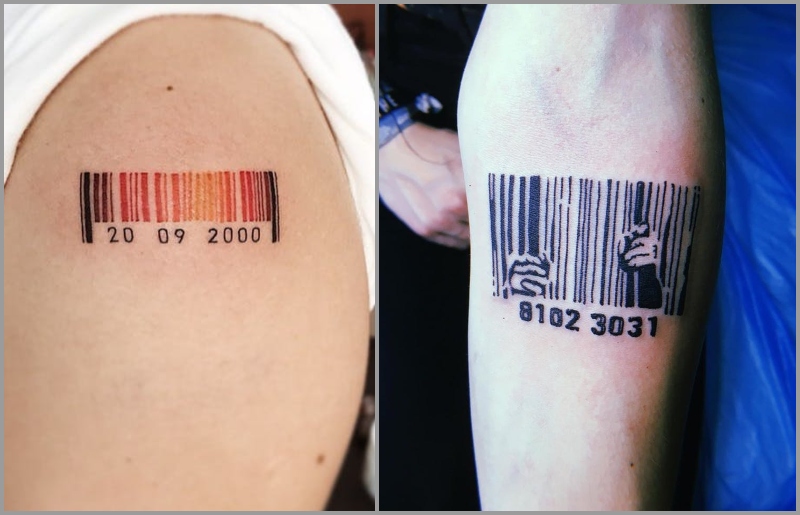 6.Let Barcode Tattoo Grow:
You can add some original touch to the Barcode tattoo by choosing the growing lines for it. This will look eye-catchy look even better with small flowers, butterflies, birds and other small designs. These will be more on the creative side. The black colour tattoo in the larger size will look the best. The people of medium to fair skin tone can go for it.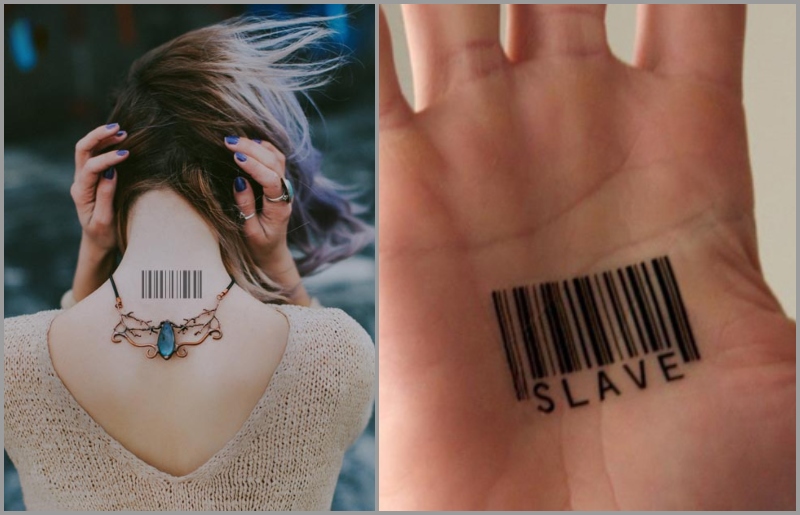 7.Musical Barcode Tattoo Designs:
If you are a fan of colours, then Musical Barcode Tattoo will be the best for you. It is gaining a lot of attention and is very popular among youngsters. The instrumental vibes using the codes will add the etched look on the fair tone people. You can even add colours to it. The medium to large-sized tattoos will look the best in the musical barcode design.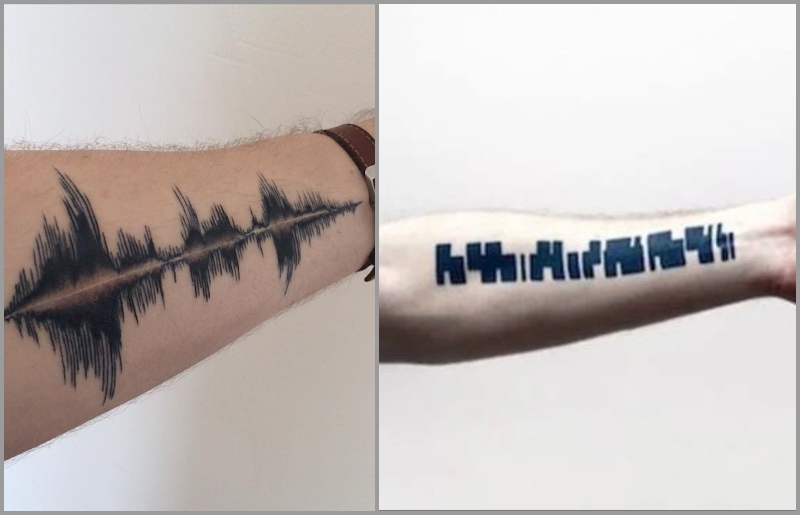 8.Rainbow Barcode Tattoo Design:
If you want the Barcode tattoo with some colours, the Rainbow Barcode will be the best for you. It will come with seven colours and the black lines will be replaced by them. In total, it will look colourful, trendy, innovative and stylish. These are not blurry and look perfect on the fair skin tones. You can choose its shape from Medium to large and enjoy it.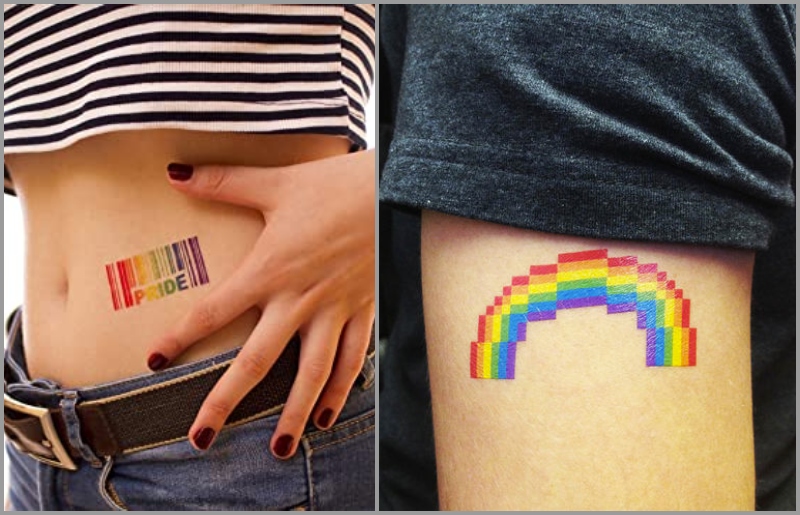 Barcode Tattoos are Modern and you can choose its design as per your choice. You can either go for simplicity or go for creativity, this tattoo will always help get unique vibes.