Nowadays, the trend of saree has taken over all the fashion industry. Every Indian woman prefers to wear saree on special occasions, festivals, events and gatherings. However, the question arises, why woman are insanely in love with saree? Well, answer is quite simple and clear because fashion designers of traditional sarees are crafting it in enormous variety of styles, designs and colours. However, when it comes to styling the saree, the majority of women ruin the saree look with their inappropriate hairstyles.
Therefore, it becomes necessary to go with the perfect hairstyle for saree with the saree without any mistake. So, here is the amassed list of the 20 distinctive hairstyle for saree to complete your saree look on every occasion without any dilemma.
Hairstyle on Saree for Wedding
1. Braided Bun
To style your traditional and conventional saree but with a stunning hairstyle for saree look, then you should prefer to go with this braided bun hairstyle for saree. The braided bun can easily be made within few simple steps to complete the ordinary saree look. As braided bun hairstyle is quite trendy, therefore, you can miss it while styling your saree.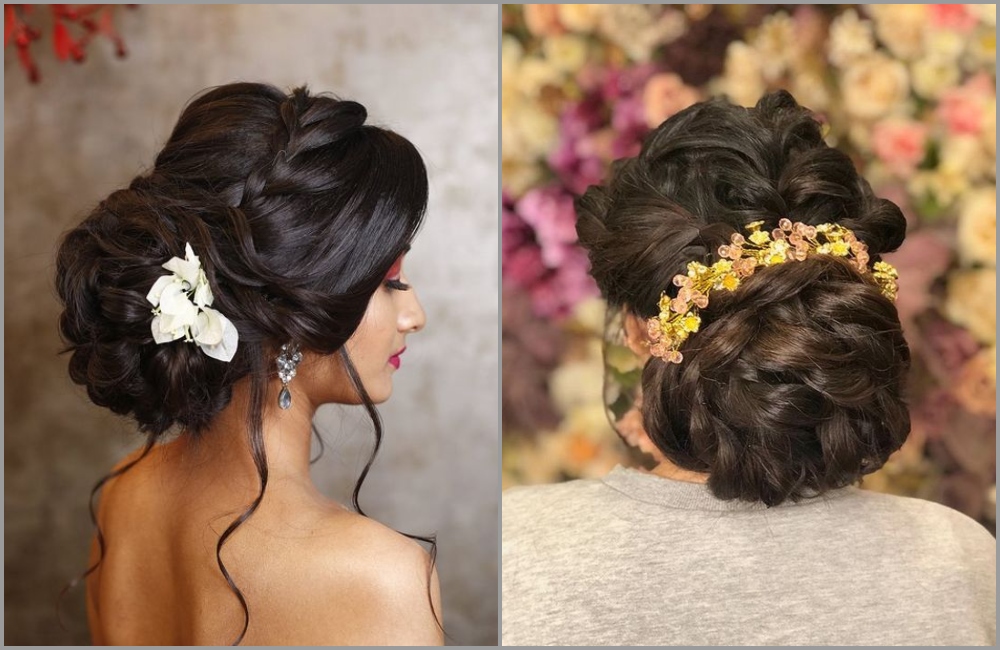 2. Chinese Style Top Knot Bun
If you are college girl and searching for a sophisticated hairstyle for saree to style your saree look, then Chinese top knot bun is definitely a befitting option for you! The sassy top knot bun will make your entire appearance bold and beautiful on college parties and events.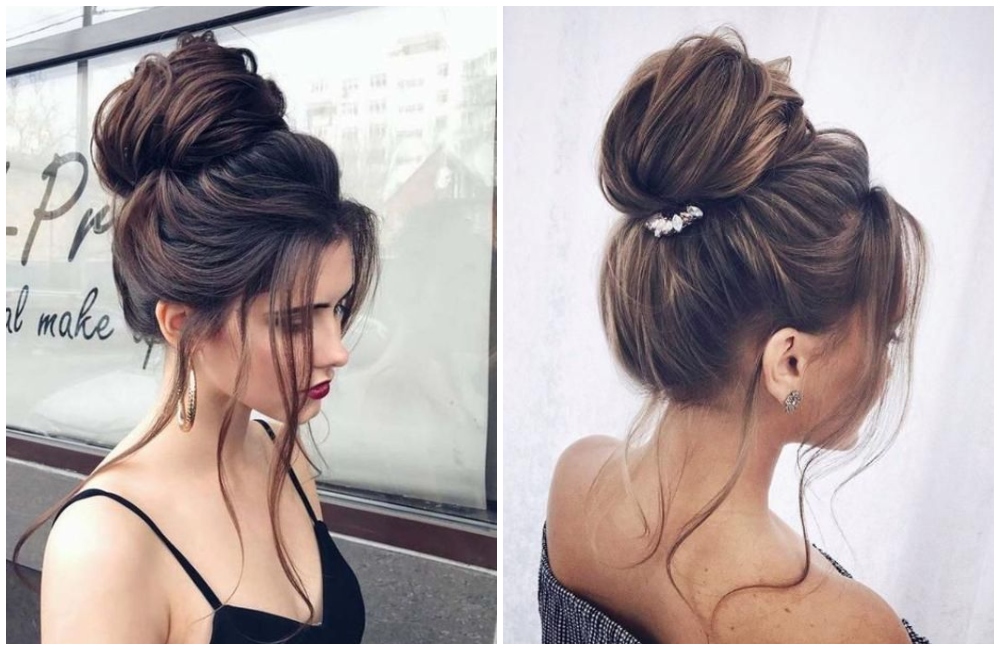 3. Low Style Ponytail
Nowadays, low ponytails are extremely popular and every young woman prefers to try such hairstyle for saree with the traditional attires like saree. For a super cool chic look, you should try this sleek low ponytail to complete your saree outfit.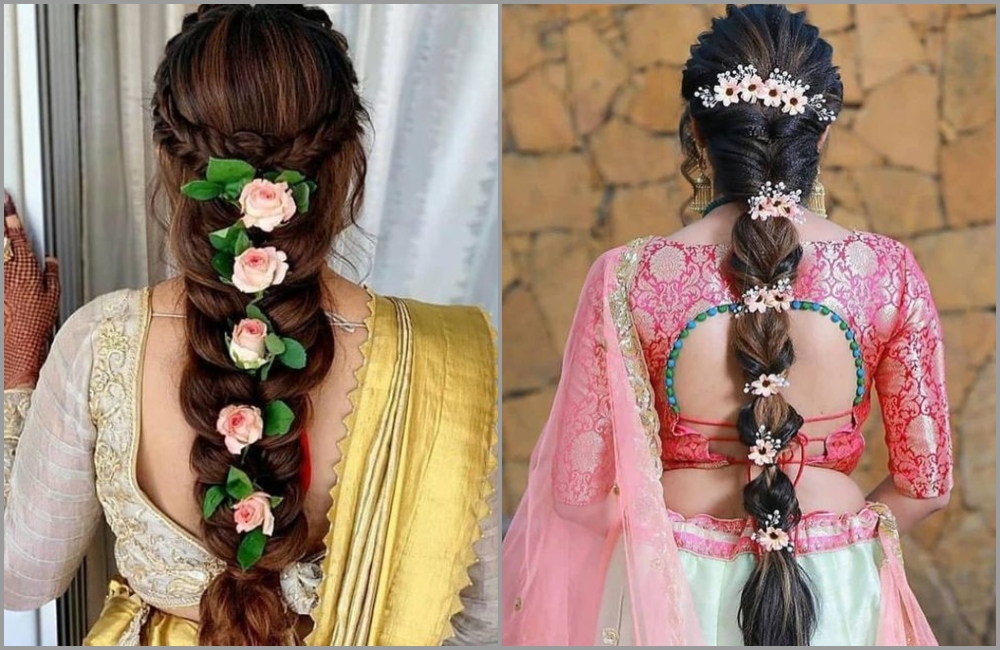 4. Side French Braid
The fusion of traditional attire and modern hairstyle is absolutely mind blowing. The side French braid will add boldness to your simple saree look. If you have a heart shaped face, then you must try this hairstyle for saree.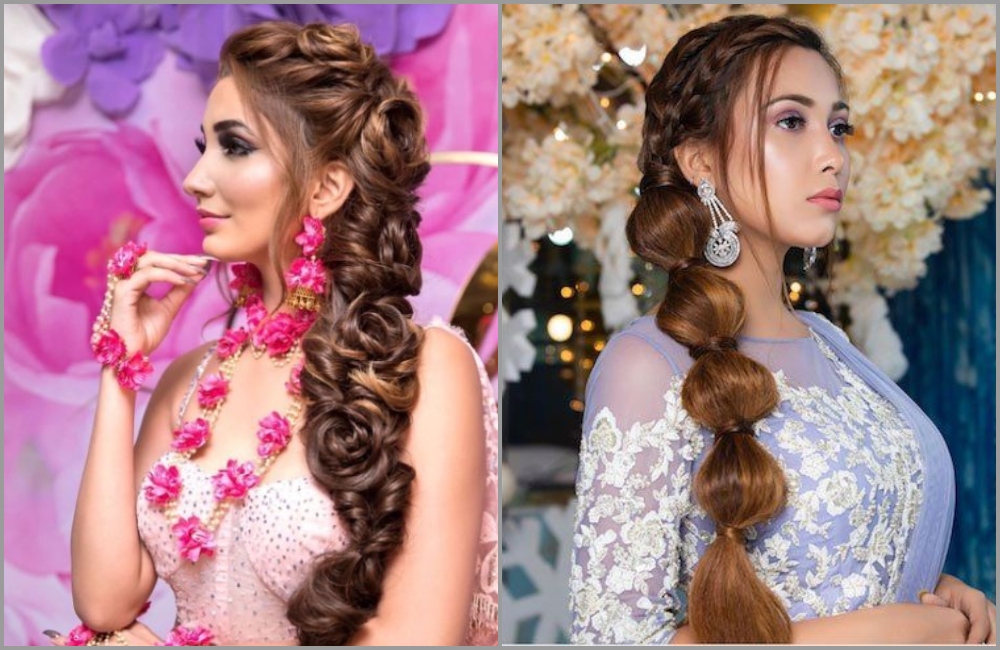 Hairstyle on Saree for Party
5. Crown Braided Bun
The crown braided bun is little messy in style and if you have an oblong face shape, then it's simply perfect for you!For an ethereal look, you can try the crown braided bun with a designer saree to finish off the look.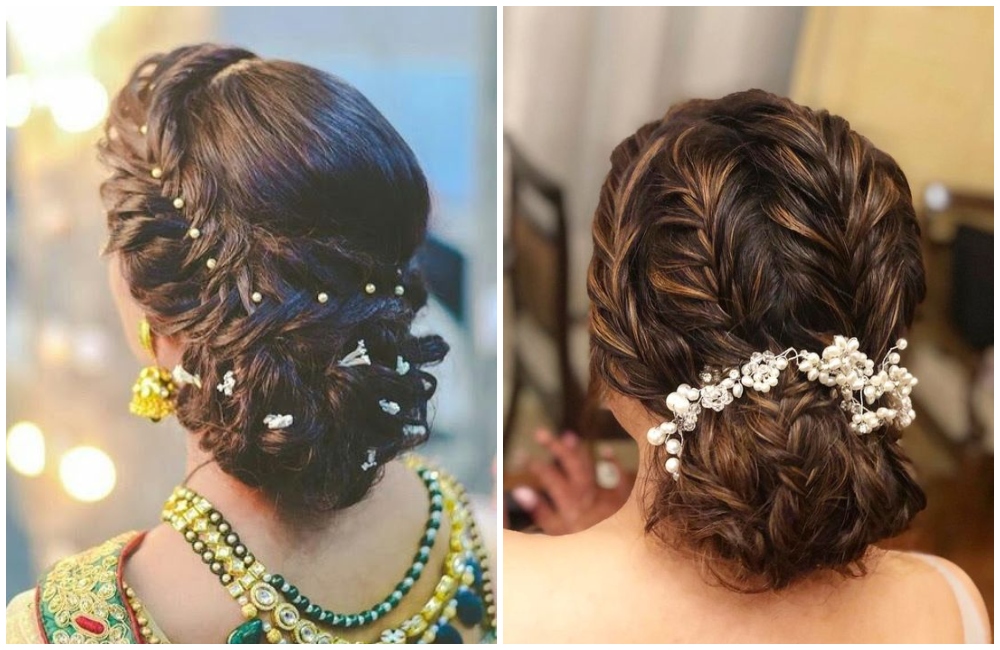 6. Gajra Bun
The combination of traditional saree with traditional Gajra bun is what you need to add elegance to your appearance. The beautiful garland of jasmine flowers will make your saree look much more stunning and adorable.
7. Bubbly Ponytail
A sassy handloom saree and bubbly ponytail is a pertinent way to complement your saree look. Add a twist and quirkiness to your conventional saree style by trying this beautiful hairdo with your designer and stylish saree.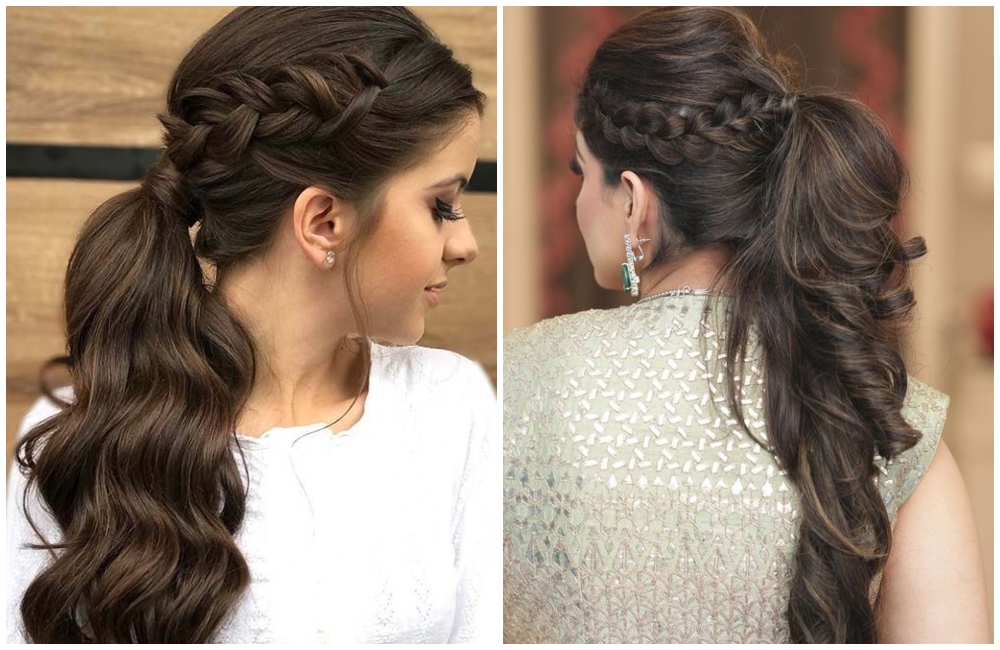 8. Curly Ponytail
You must have bored and tired of the ordinary hairstyle for saree, thus here comes the distinctive curly hairdo. You can even try the curly ponytail with the casual saree look for a stunning appearance on occasions.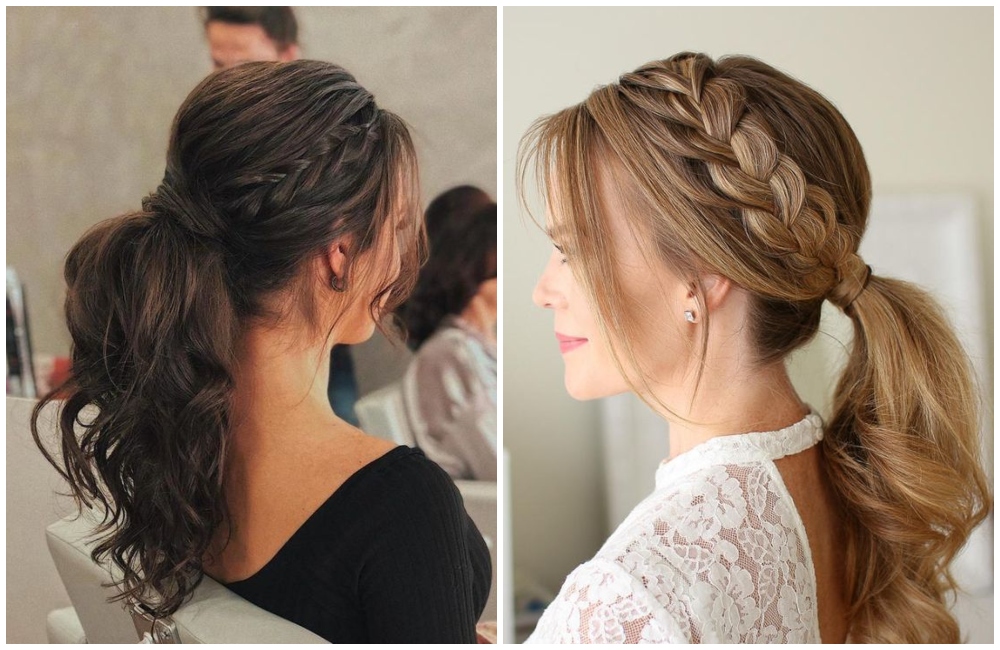 Simple Hairstyle for Saree
9. Swept Back Bun
Swept back bun hairdo is appropriate for those who have heart shaped face. You can try this hairstyle for saree with any designer saree of yours to make a fashion statement on special occasions and parties.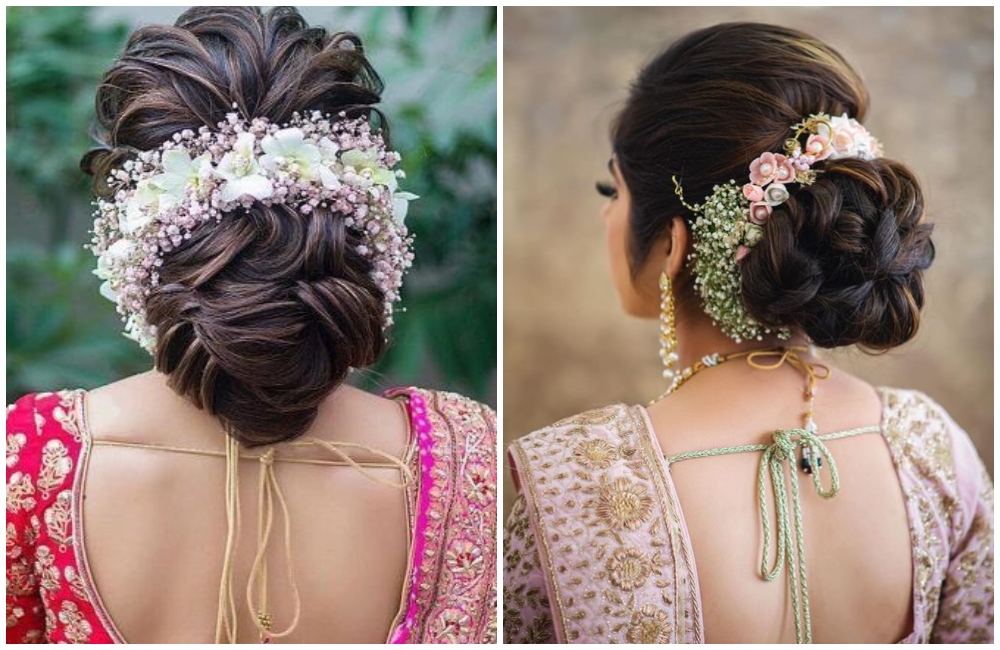 10. Puffed Up Bun
The charming and graceful puffed up bun looks amazing with the saree outfit. Whether it's a wedding occasion or small family function, this hairstyle for saree will make your saree look a befitting one.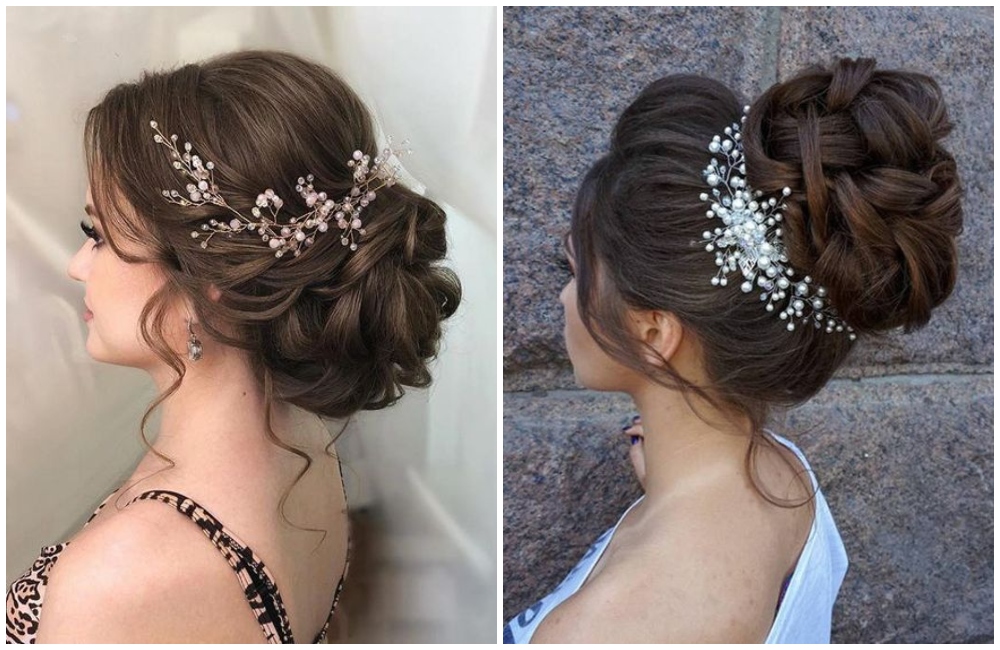 11. Wavy and Curly Hairstyle
For a casual hairstyle for saree, wavy and curly hairdo is definitely the right choice. Wavy hairstyle for saree will surely complement your saree look.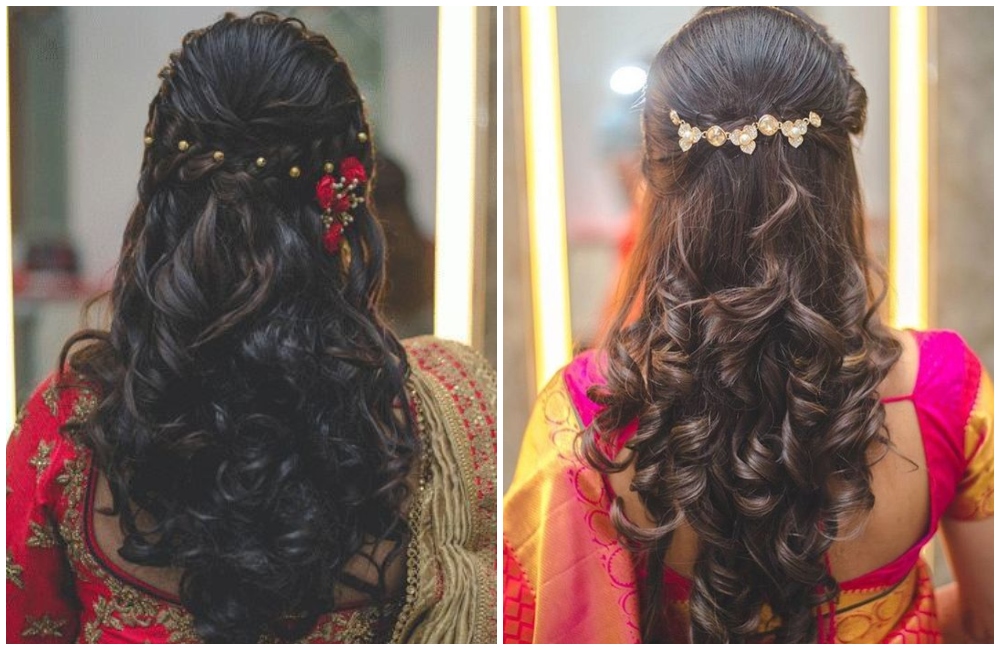 12. Necklace Headdress
To make a fashion statement on special wedding occasions, a traditional Indian saree and necklace headdress as hairdo is effortlessly beautiful idea. You can simply wear a necklace around your head and rock the traditional look.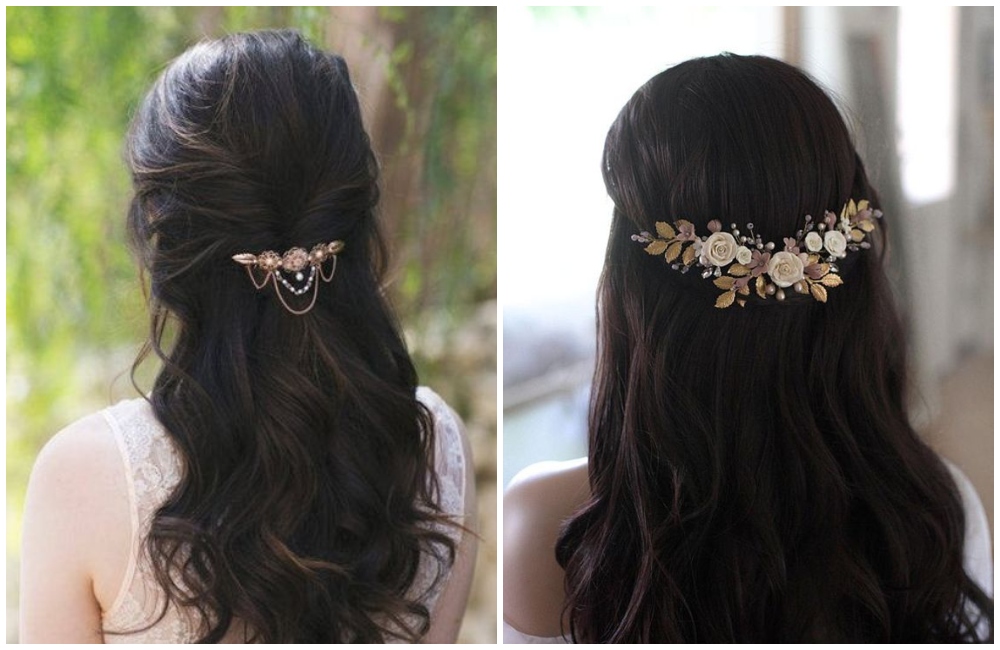 New Indian Party Hairstyle
13. Side Fishtail Braid
Nowadays, side fishtail braid hairstyle is prominent among the ladies. You can try this hairdo to complement your saree look and add little accessories on the braid to enhance the beauty of hairstyle for saree and your overall look.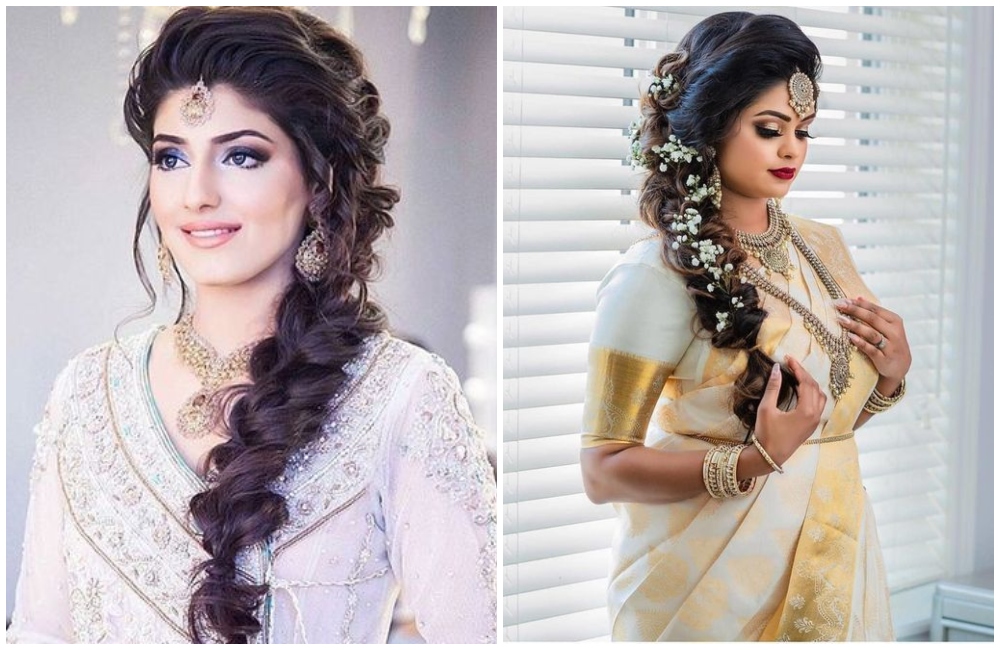 14. Low Side Bun
If you are on the lookout for beautiful and distinctive hairstyle for saree bun, then low side bun can be the solution of your search. You can enhance the beauty of your attire with the low side bun without spending time on it.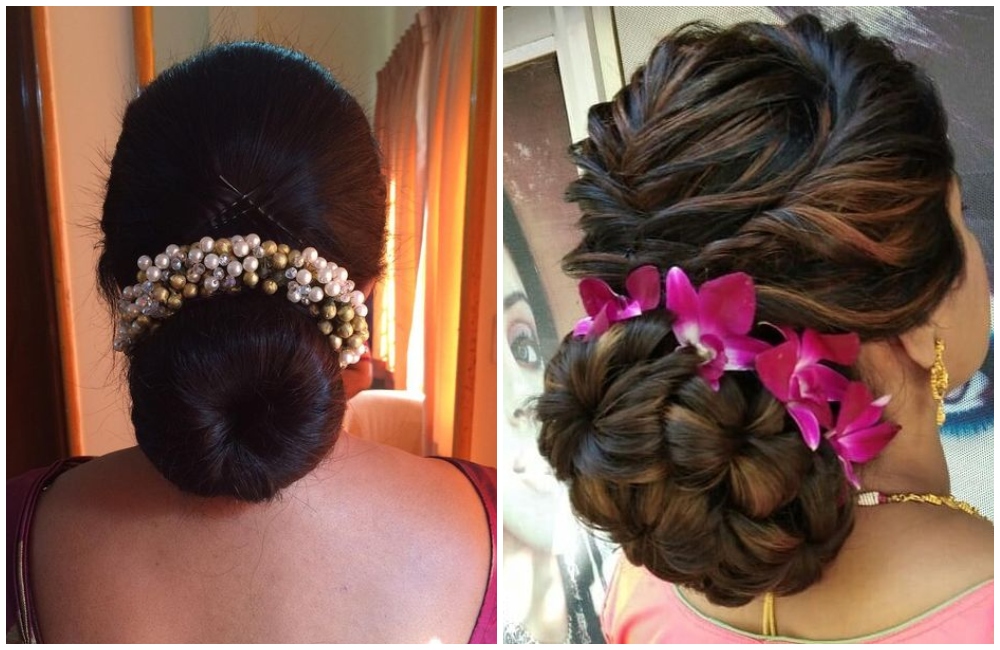 15. Side Loose Curls
Do you want to add an oomph factor to your boring saree? What about the side loose curls? Well, you can't miss this hairstyle as it's easy to style and add glam to your entire personality. Moreover, side loose curls hairdo is perfect for all face shapes, thus you don't need to worry at all.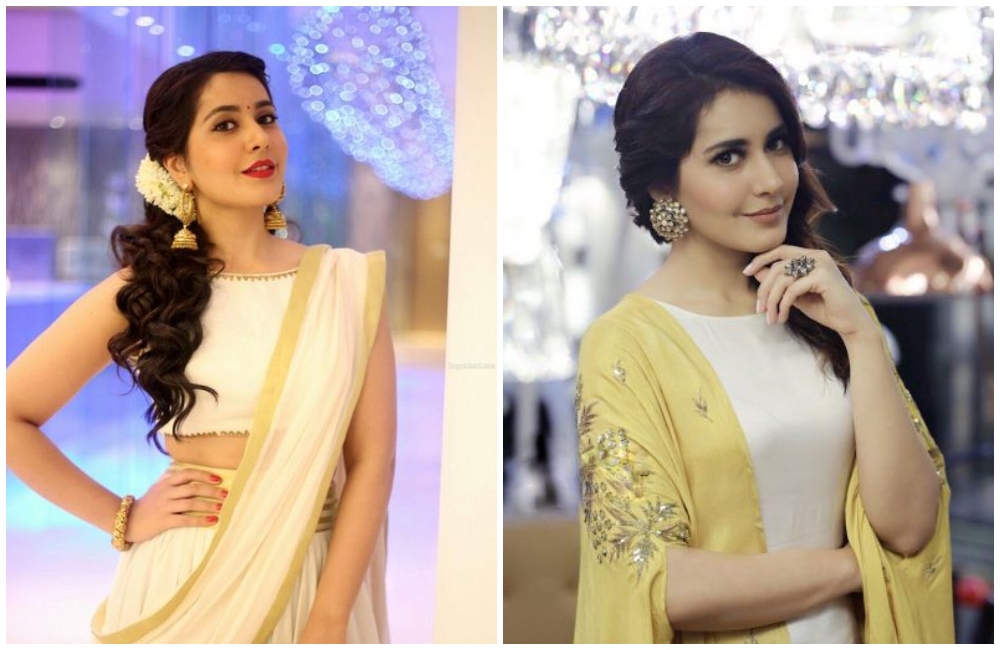 16. Sleek Low Bun
Have you seen Deepika Padukone in different and distinguishing hairstyle for saree? Well, this is one of those common yet stylish hair bun styles, which will add class and royalty to your saree look. Just make sure that you pair it with the stunning and elegant jewellery for a beautiful and gorgeous look.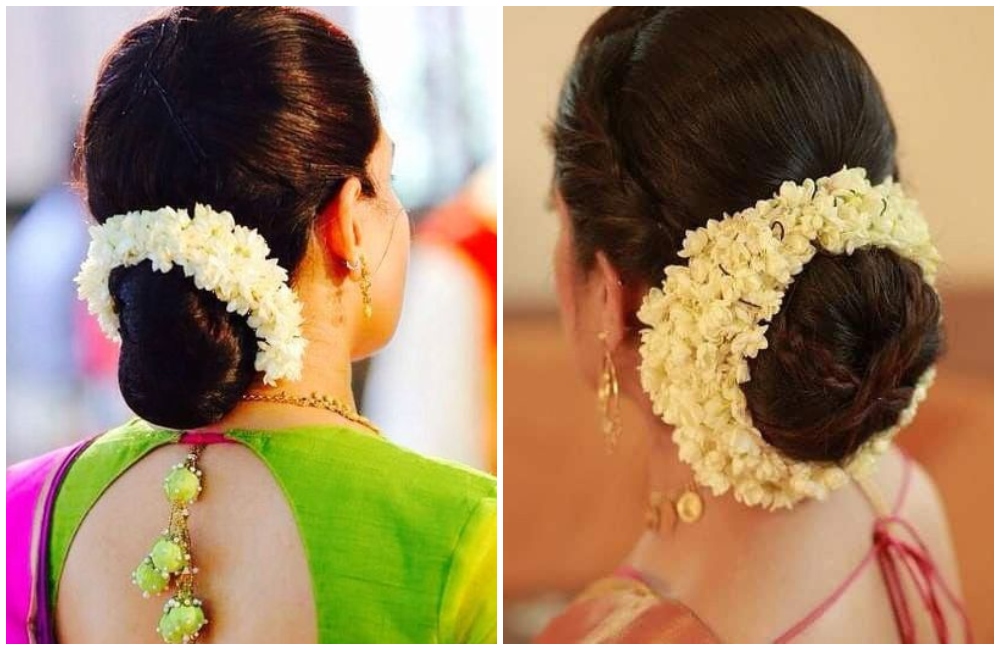 17. Half up Puff
One of the ordinary hairstyles is half up puff, however, you can rock this hairdo while combining it with the loose curls. Yes, the combination of half up puff and loose curls is definitely worthy if you spend time on it.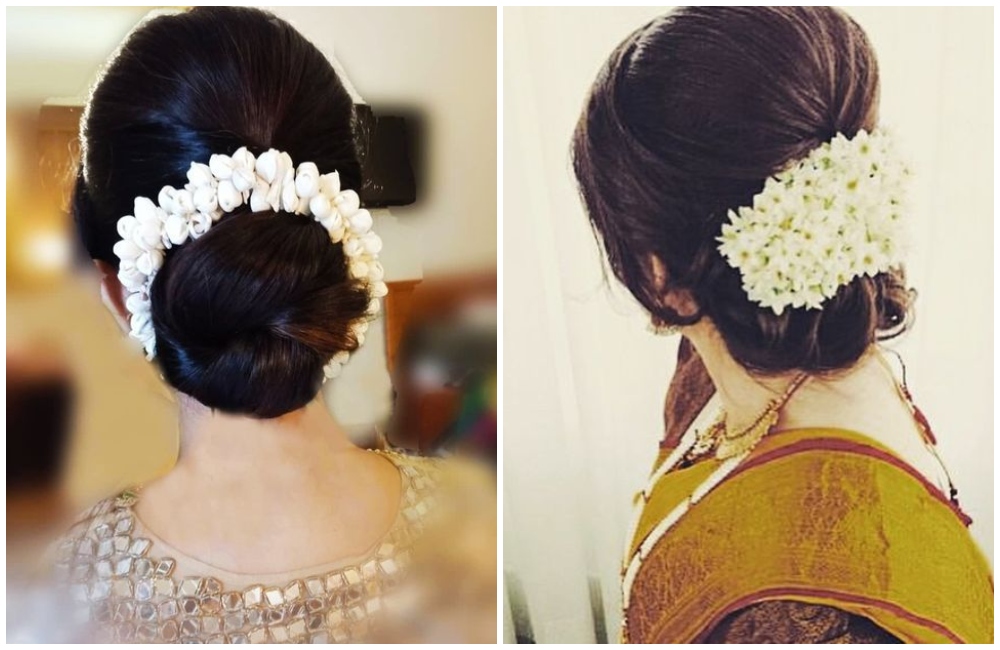 Traditional Indian Women Hairstyle
18. Loose Curls
The sheer elegance and charm can be added with this beautiful loose curl hairdo. If you have a designer and stylish saree in your wardrobe collection, then what are you waiting for! Take it out instantly and style it with the loose curl hairdo to make a bold appearance on special occasion.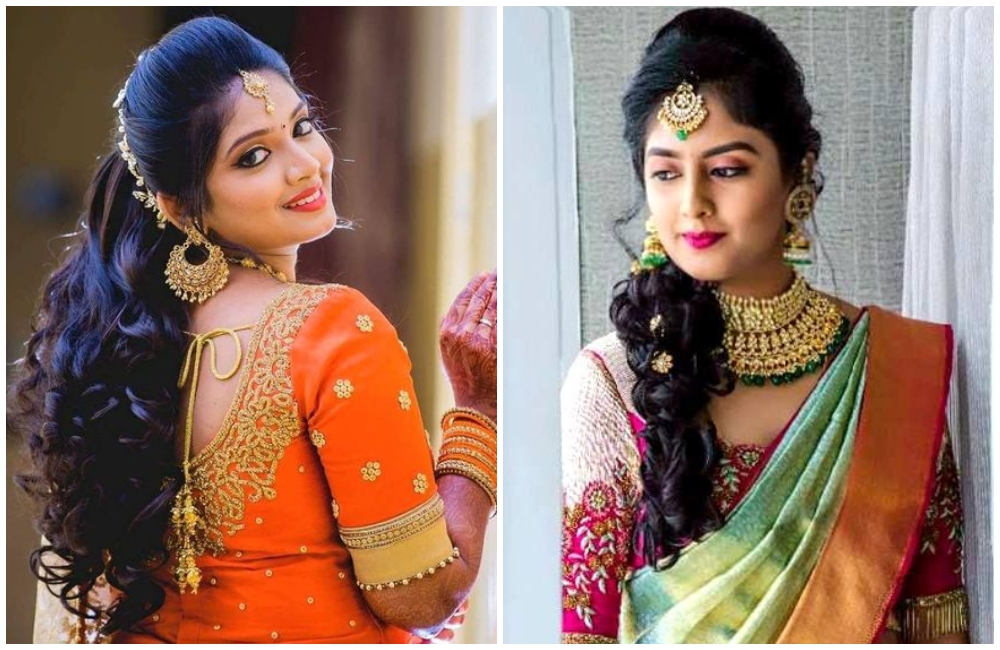 19. Half up Curls
We all usually pick and choose the saree for special occasions and gatherings to rock the traditional Indian look, right? However, we forget that hairstyle which matches with the saree is equally essential. Therefore, if you want to rock the traditional Indian saree, then you can opt for this beautiful and graceful half up curls to flaunt your attire and personality.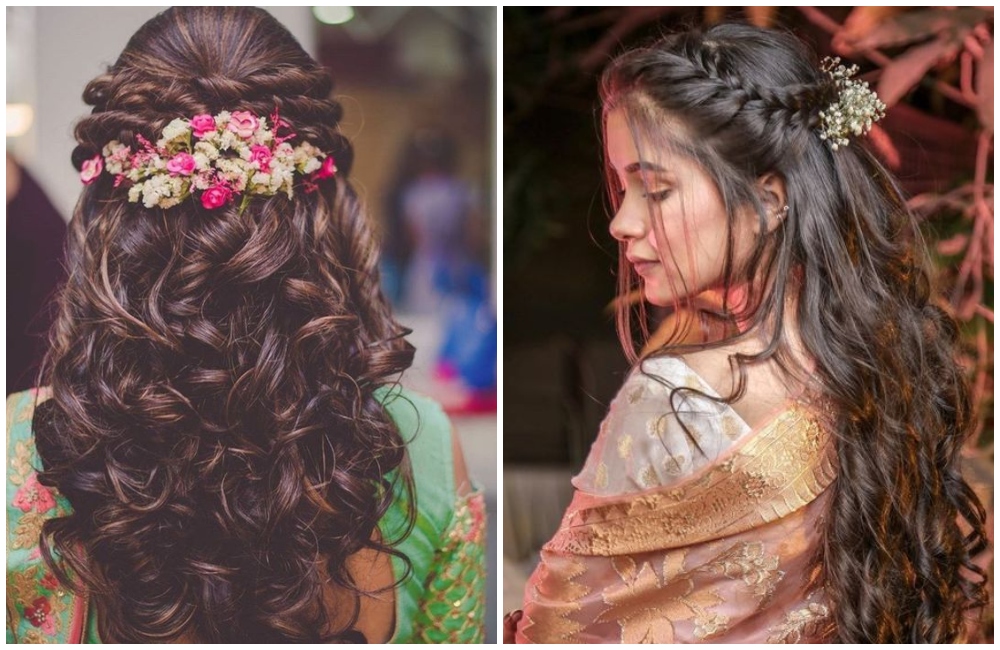 20. Messy Low Bun
What do you need to flaunt your sassy backless blouse with the saree? A perfectly gorgeous hairstyle to show off your backless blouse design is definitely what you need. The chic and sassy messy low bun can perfectly be teamed up with the backless blouse design. To complement your saree outfit, you can go with this chic messy low bun, which is absolutely suitable for every face type.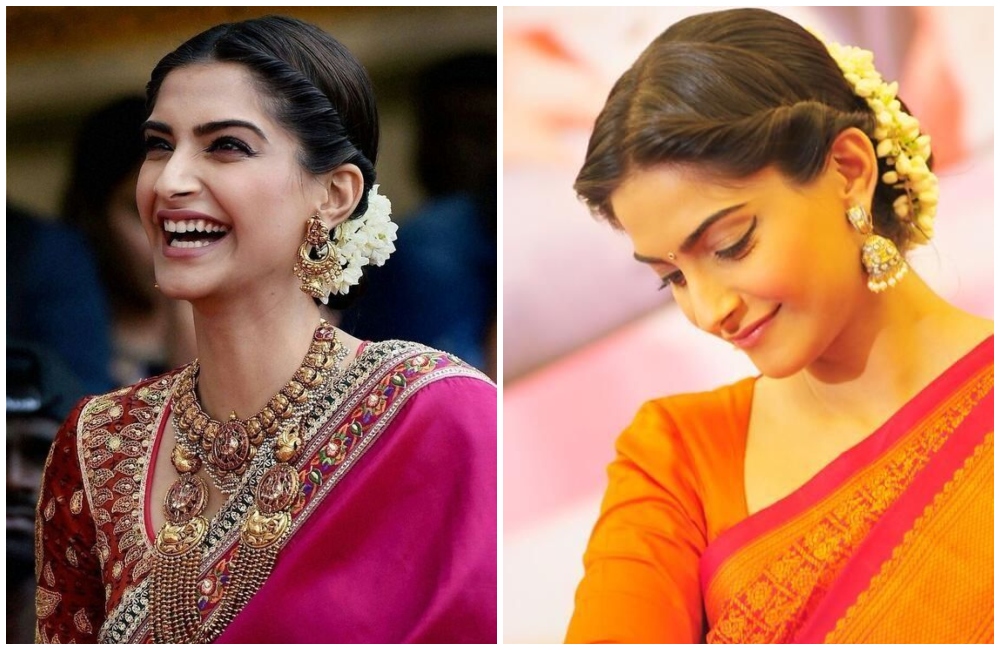 21.Simple Braid
This is the simplest hairstyle takes only 5-7 min to set your look. Many Indian ladies love to wear simple braid with garland. This look makes you feel very decent and gives you a simple but classy look.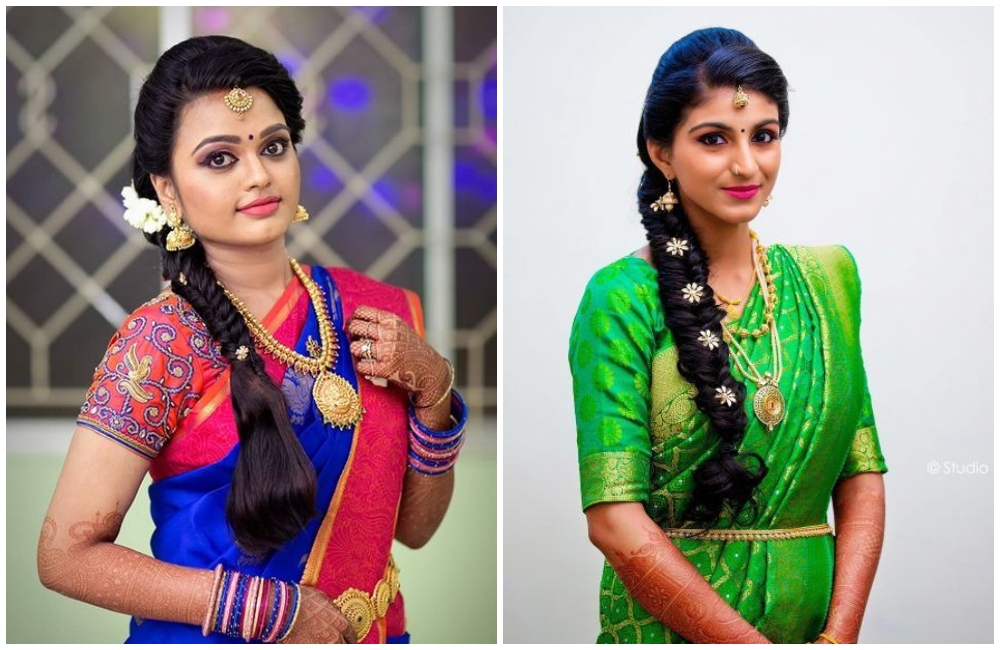 To conclude, these were the stunning and top 20 distinctive hairstyle for saree, which can easily complement any saree look. Get rid of those regular and boring hairstyles and add these modern and stylish hairdo styles to rock your traditional saree look.