It's a big responsibility to choose a good name for your daughter. It will be fun while choosing a name, but it can be stressful too. After all, as a new parent its one of the important decisions for you to make.
If you are looking for a perfect name for your baby girl with a special meaning to honour your tradition and your family, then here is some for you to find a unique name for your daughter.
Baby Girl What's Your Name???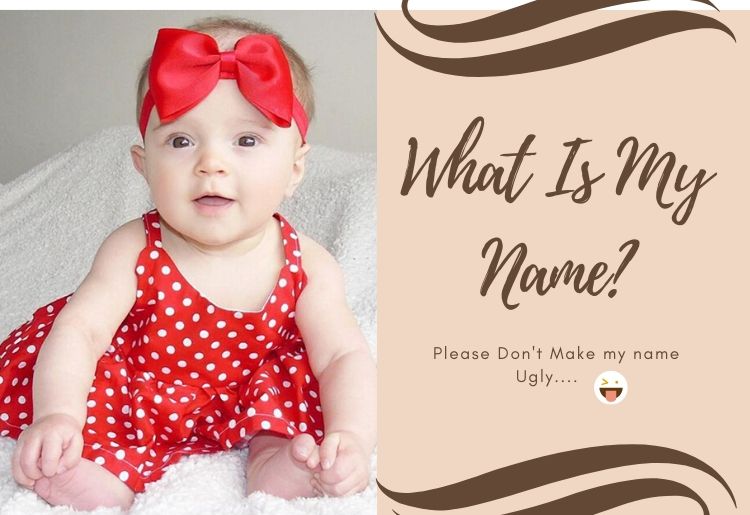 Cute Baby Girl Name with Meaning
Sr No.
Name
Meaning
1
Amodini
The name was originated from Sanskrit which means happy girl. They are pleasurable, fragrant and joyful.
2
Aadya
The word signifies the mother earth, it is also the name of Goddess Durga, First power, Unequalled, The earth.
3
Kayra
It is a Latin word. It means someone who is peaceful, lady like, unique. The name was used in reference to love the mankind as it means someone who is merciful and kind.
4
Prisha
It means talent given by god. They are considered to be the powerhouse of energy. People with the name starting with P usually have more enthusiasm and energy and have a creative mind. They like to solve problems on their own and are very thoughtful in nature.
5
Sanskriti
It's a Sanskrit name which means the first and the excellent. It has another meaning as in the mother earth. The name refers to the sanskriti -Shakti which means that the power from which the birth of the universe took place.
6
Shanaya
This name was originated from Sanskrit and is known as the first ray of the sun. It also means a gift from god, beautiful and lucky.
7
Aadvika
Aadvika stands for being unique in all aspects. Their creative works are outstanding, and they are strong minded. It also stands for having a promising nature with a loving character.
8
Siara
The name stands for something pure and holy. The name has a deep inner desire to inspire. They choose careers that place them in the limelight but are often reckless with money.
9
Takshvi
The name is usually used in Bengali and is not very common. It means bold and materialistic. They enjoy love and power. They are good in business with a high intellectual thinking and are trustworthy.
10
Anshi
It is originated from Sanskrit and means that they are the gift from god. They are passionate towards their own work with a very strong mind. They have a promising nature but are stubborn sometimes.
11
Riya
In Sanskrit Riya means "singer". It means gem or the Goddess Laxmi. Their personality is everything to do with wealth and power. They are hard driving individuals and have a good strategic mind.
12
Ishanvi
It means the goddess of knowledge and the one who is determined and independent. They have a down to earth personality and does not have trouble in making new friends.
13
Dhruvi
It means a faithful person or a polar star. The origin is from Hindi. They have a lot of energy and is firmly fixed on one thing when they set eyes on it.
14
Kashvi
It means someone who is very bright. Their luminous character is very pleasing and are considered to be deep thinkers. They tend to be analytical and quite intelligent.
15
Ruhi
It means the one who touches the heart with their beautiful and pure soul. They name is originated from Sanskrit and has a very spiritual value. It also means to prosper and thrive wherever they go.
16
Avika
It means that the one who has a charismatic personality. It also means a diamond. They are bright like a sun and has a cheerful character.
17
Niva
The name is originated from Hebrew which means "to talk". It is also one of the 1000 names of Narmada river.
18
Parnavi
The first sound which was produced when the whole universe was made is known as Parnavi. They are determined and try to do the impossible.
19
Janvika
It means the one who gathers knowledge. They are the dispeller of ignorance.
20
Mahira
The origin of the name is not certain. The name means someone who is very talented and gifted. They are often very lucky and powerful.
21
Anvi
It is one of Mahalaxmi`s name. It is known as the goddess of forest and the one who fulfills your dream and desire. They are born leaders and has a charismatic personality.
22
Nainika
It is derived from Sanskrit and the meaning of the name is "the one who has beautiful and attractive eyes." It is also known as "the pupil of the eye." They have a very shining and unique eyes.
23
Veronika
It is a Latin name which mean someone who is truthful and honest. In the biblical version she is someone who handed her handkerchief to Christ while on her way back to Calvary. The likeness appeared on the handkerchief and therefore the name was given.
24
Advita
It means the first one or the number one. They are unique and are very passionate. They have a promising nature and prefer working and solving things on their own.
25
Neha
It means someone who is admired and affectionate. They are the bright one and are the shower of affection and love.
26
Pavika
It means the Goddess Saraswati with a pure soul. They are very good at balancing the inharmonious situations and is inclined to help people.
They have an outstanding capability of love and creativity. They usually devote themselves in helping other people.
27
Tiya
It is derived from Sanskrit which means "a bird". Their imagination is great and are very constructive in their occupation. They have a patriotic character and love where they live.
28
Adrija
It is the name of goddess Parvati which means the mountain or the one born in mountain.
29
Viha
It means and angel or and heaven. They are very ambitious and have a sole goal to fulfill their dreams. They are humorous and have a tendency to live in the moment. Their imagination is so high that they try to create their own unique world aroung them.
30
Keyara
It means someone who is small with a dark hair. They are beautiful and strong. The name also has another meaning which is "the beautiful river".