To match with the latest trends and fashion in mehendi designs, finger mehndi design is something worth to consider! From simple to intricate, there are numerous designs and patterns available in mehndi designs including the flowers, swirls, spirals, heart shaped motifs, paisleys and elephant motifs.
Nowadays, finger mehendi designs are getting more popular and trendier along with maintaining the level of simplicity! It takes less efforts and time to design the mehndi and also, they look great when teamed up with the right nail paint or nail art!
Hence, check out the 9 unique and amazing collection of finger mehndi designs that will make your ethnic attire look beautiful!
1. Lacework Style Finger Mehndi
To get the perfect combination of elegance and grace in finger mehndi design, you must design you finger with the lacework patterns. Just make sure that the nail paint is applied perfectly and then start with the gorgeous lacework Mehendi design. You can plan to team it up this lacework finger mehndi with the heavy traditional outfit!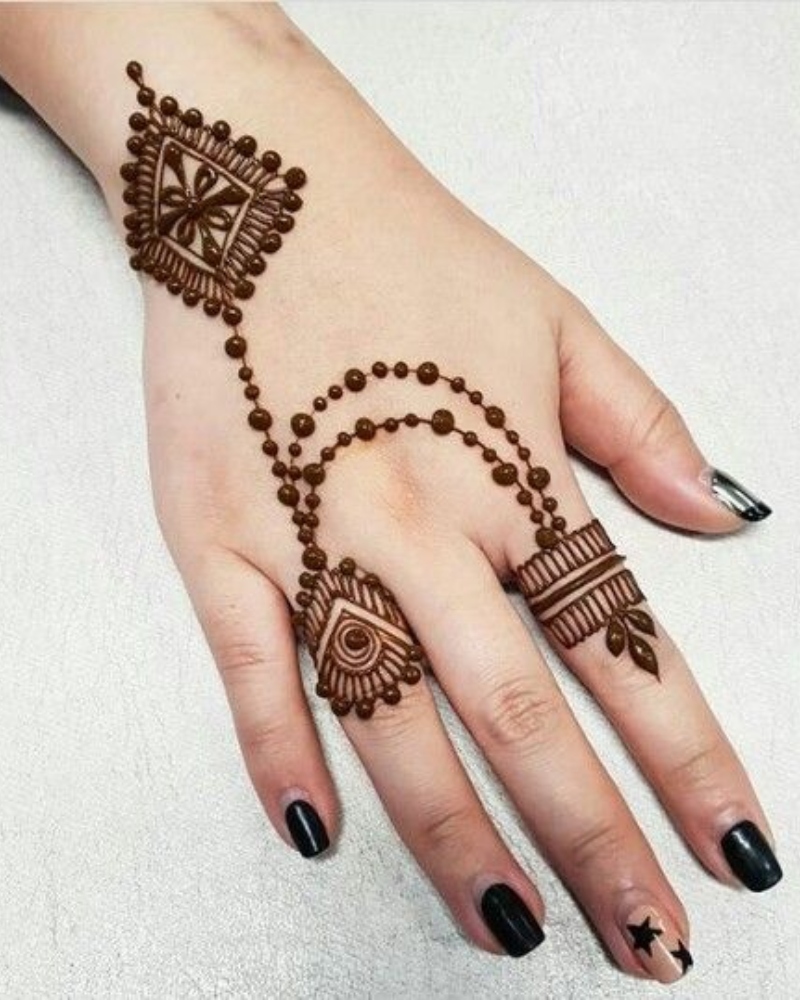 2. Dotted Style Finger Mehndi
To go with the trend, you can choose to go with this contemporary style finger mehndi which is elegant. This is one of the modern and classy finger mehndi designs that you can opt to go with traditional as well as western outfits. In dotted style Mehendi, you will get some amazing patterns along with the curves and lines.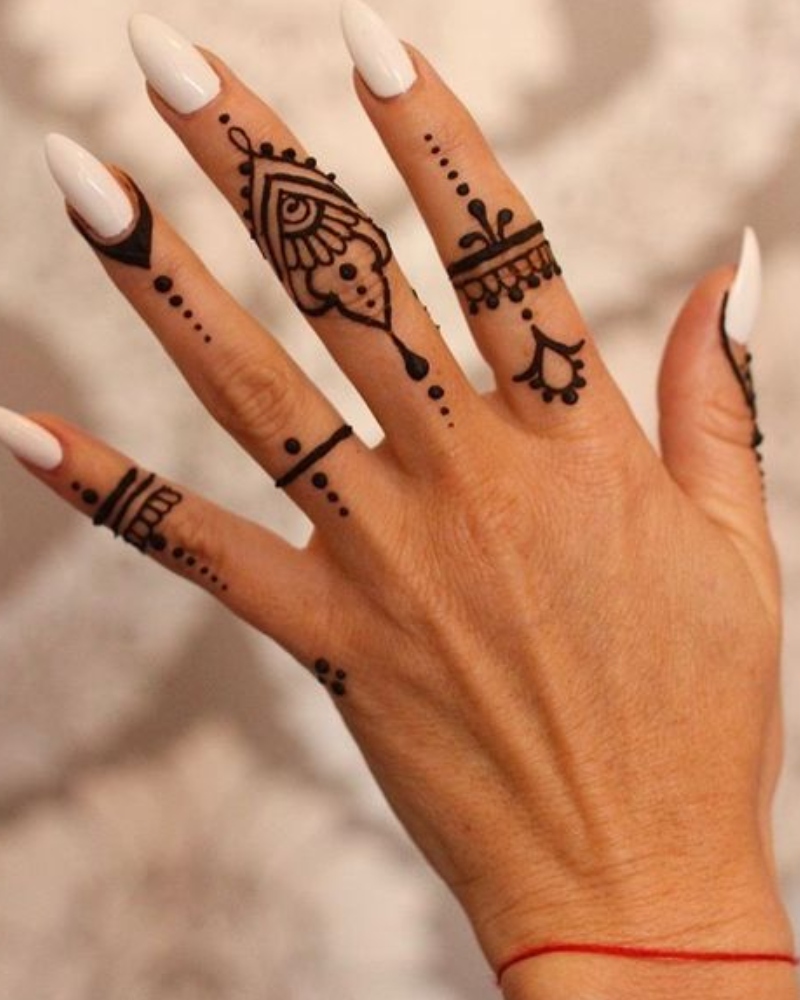 3. Finger Band Finger Mehndi
To make your finger mehendi look stunning, this finger band is definitely perfect! For modern woman, this mehendi design is absolutely gorgeous, which is a perfect combination of traditional flower motifs along with the western band pattern. This is one of the highlighting finger mehendi design that can go with the party wear or casual outfits!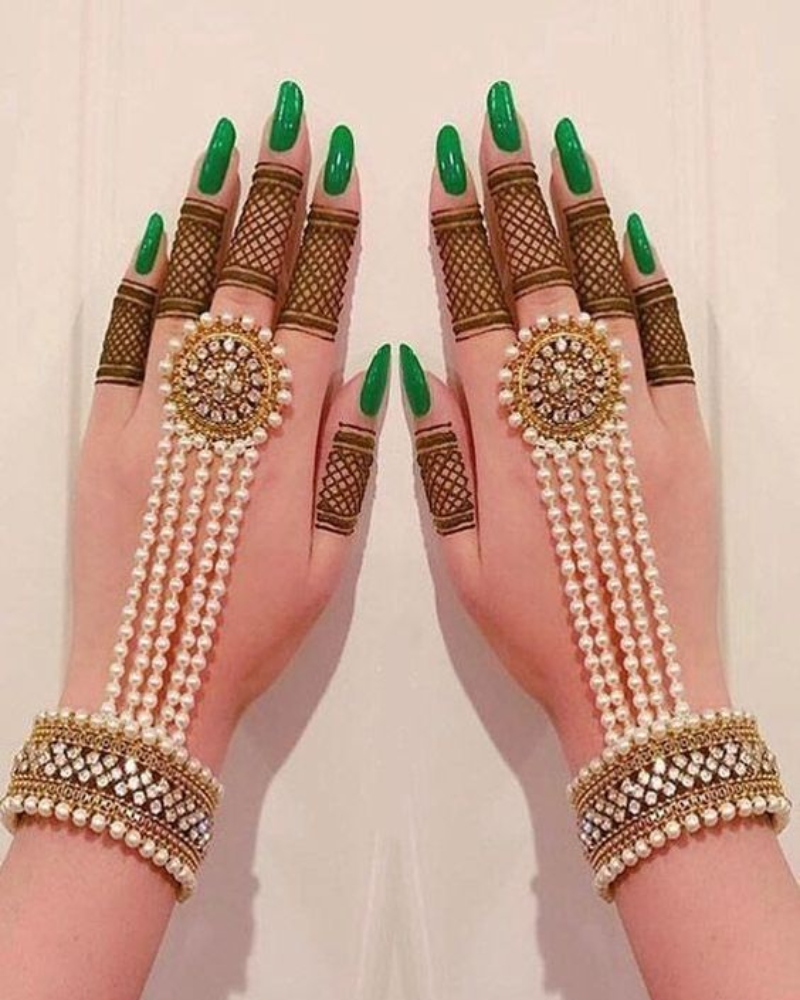 4. Floral Finger Mehndi Design
Floral patterns in finger mehndi designs are every girl's favourite. With amazing designs in floral motifs along with the leaves, dots, lines and spirals is definitely a great choice, especially for those who love to keep the minimal mehndi design!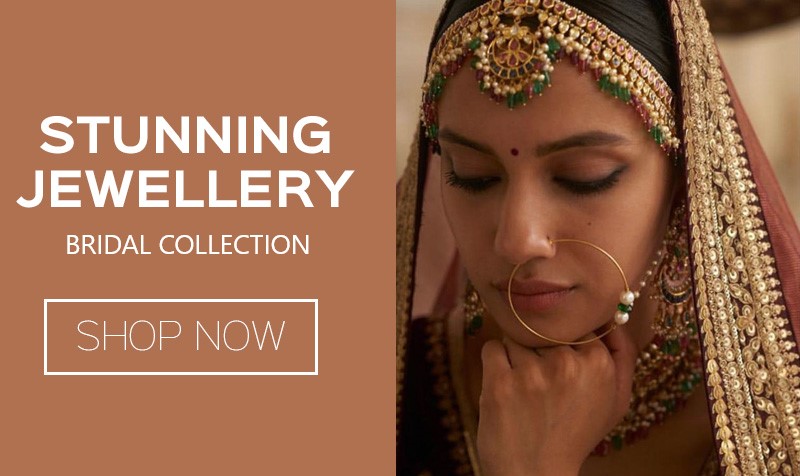 The prominent plus point of floral finger mehendi design is that they are evergreen and never goes out of trend! You can style it with the ethnic wear outfits along with the traditional hand jewellery of course. Therefore, go ahead and adorn your hands with the beautiful floral finger mehendi design to loo gorgeous.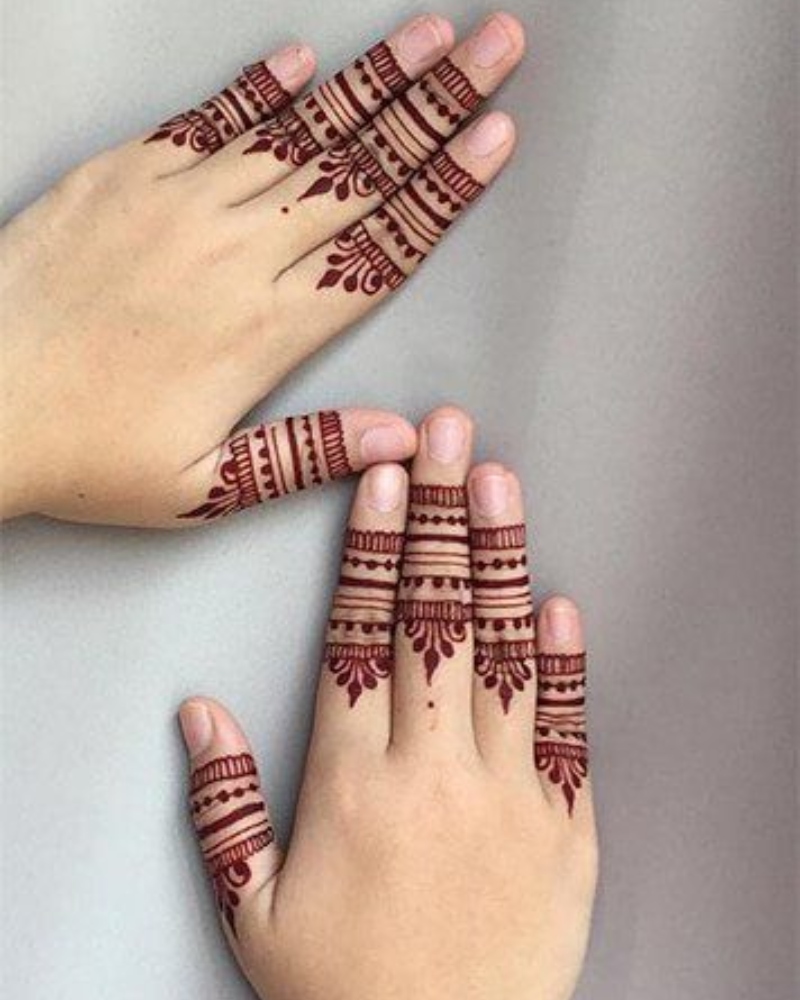 5. Jewellery Pattern Finger Mehndi Design
Here comes another amazing finger mehendi design i.e. jewellery pattern, which is already trending in fashion. Whether you're wearing a traditional attire or a western one, you can easily team up this jewellery pattern mehndi design. There are mehndi designs done on the fingers along with the chain connected with the index finger with leafy patterns. Nowadays, such types of jewellery pattern mehndi designs on fingers looks genuinely great! Thus, wear your favourite traditional outfit and style it with this jewellery pattern finger mehndi design to make a royal appearance on any occasion.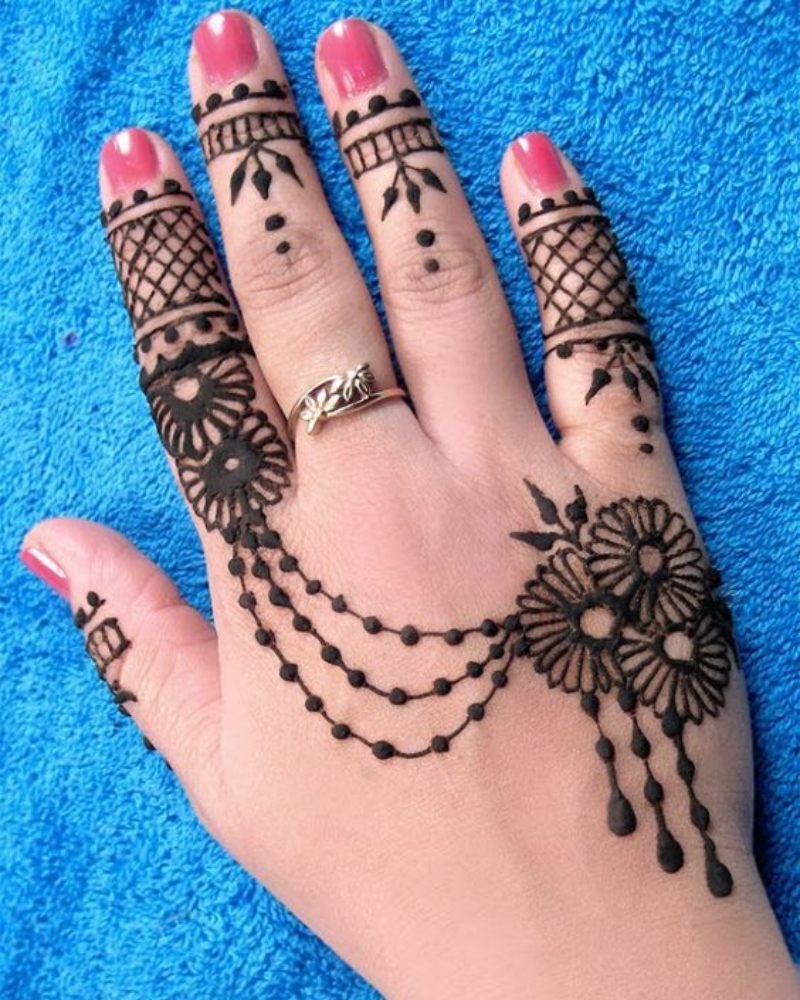 6. Elegant and Detailed Finger Mehndi Design
These days, you will get some stunning mehndi designs, especially for the fingers and one such prominent ones is this elegant yet detailed mehendi design. With lines, flowers, heart and dots, this amazing mehndi design is all you need to adorn your hands beautifully with the ethnic outfits. This is simple and easy to apply mehndi design, which makes it look elegant.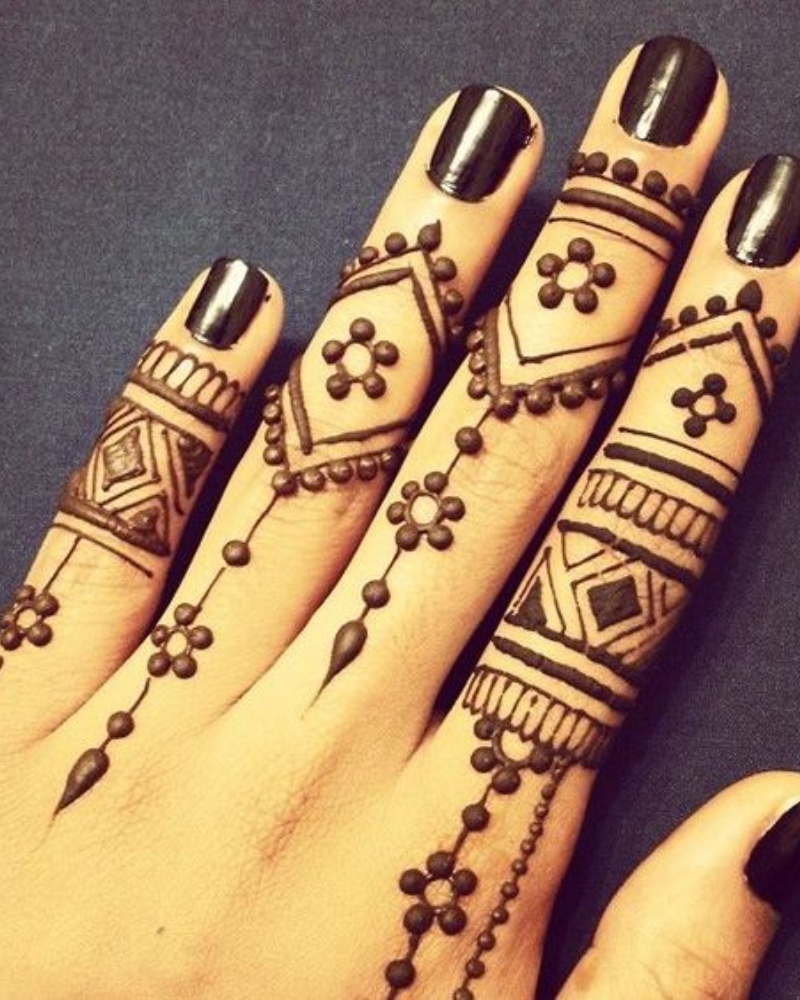 7. Arabic Style Finger Mehendi Design
Arabic Mehendi designs are already popular and looks mesmerizing when they are applied on hands and feet. And, if you chose to go with the Arabic finger Mehendi design, then it's a perfect choice! With all those details, intricacy and gorgeous flowers, this Arabic mehndi design for fingers is an absolute stunner. Just make sure that you go with the trendy mehndi designs to make your hands look beautiful while using the traditional mehndi.
8. Shaded Style Finger Mehendi Design
Oh, here is one of the most beautiful finger mehendi design in shading style that gives you mehndi a bold and dark look and feel. In finger mehendi design, you can go with the trendy pattern designed on the tips while shading it beautifully either in dark or light. You can go with this shading style mehndi design along with your Indo-western outfits too! So, for special wedding occasions, festivals and parties, shaded style mehndi design is what you should opt to set the style quotient traditional look every time.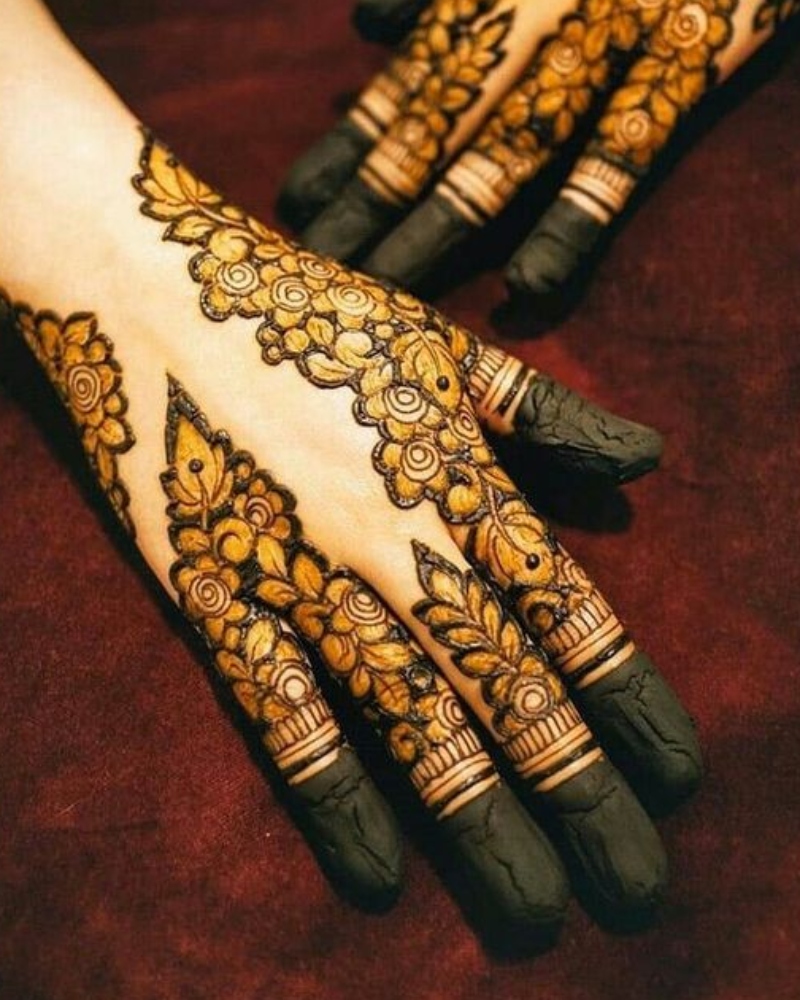 9. Bridal Finger Mehendi Design
For brides, mehendi is absolutely significant. To make your bridal mehendi design look stunning and beautiful, you should go with the amazing mehendi design that are a perfect amalgamation of trendy and traditional mehndi designs. You can either choose to go with the super amazing floral motifs or simply the lines and curves that make your mehndi look elegant.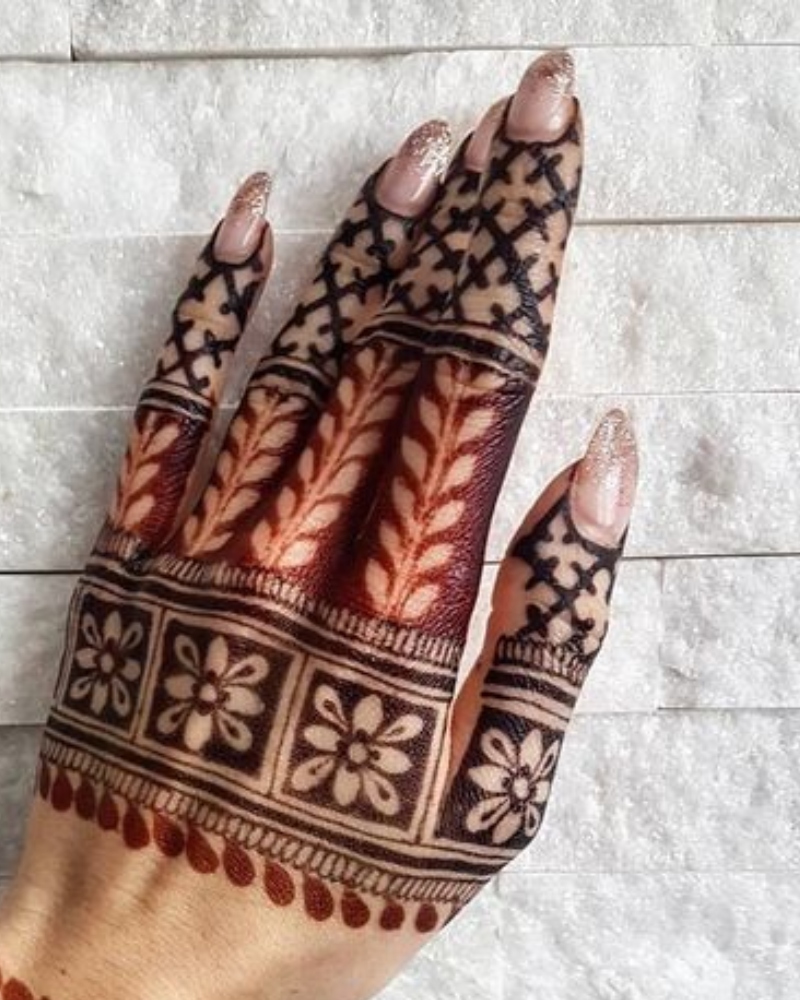 To sum it all up, these are the 9 unique and super amazing, trendy mehendi designs that will make your mehendi look stylish and gorgeous, especially while teaming it up with the traditional outfit!