Mehndi or henna is associated with positivity and luck. It is known as one of the oldest body art by humans. Women and girls decorate their hand and feet with it. Either be a wedding or festival, it will enrich the celebrations. Some of them like its fragrance, while few don't. But with the time, Men also apply it.
Mehndi is religious. For Hindus, it is a very important part of their tradition. Even the Gods and Goddess sculptures are decorated with it. Even for Muslims, it is equally important.
We have come out with 99 Mehndi designs so that you can use it and look much more amazing. Here we go.
BEAUTIFUL COLLECTIONS OF HENNA DESIGNS IMAGES
Multi-Patterned Mehendi
This graceful Mehndi is perfect for the bride and is a perfect combination of modernity and traditions. It contains floral patterns, leaves, jaali, and bold-light strokes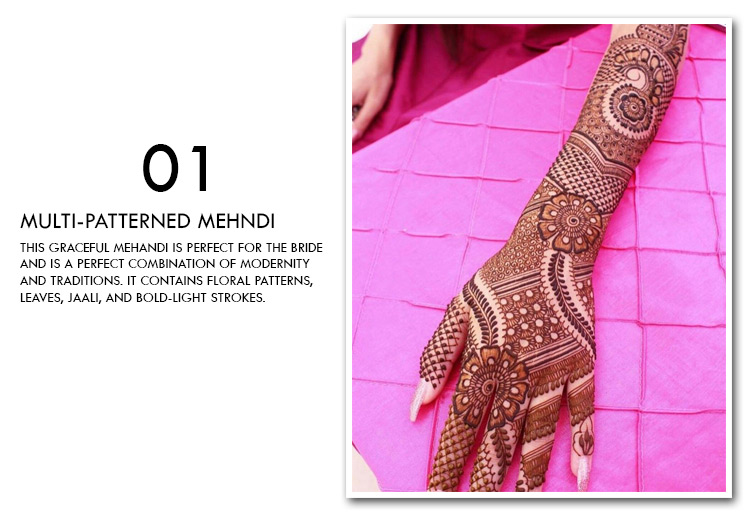 Fascinating Florals
It is the most decent design made up of flowers. These are amazingly joined together and looks very pretty on hands.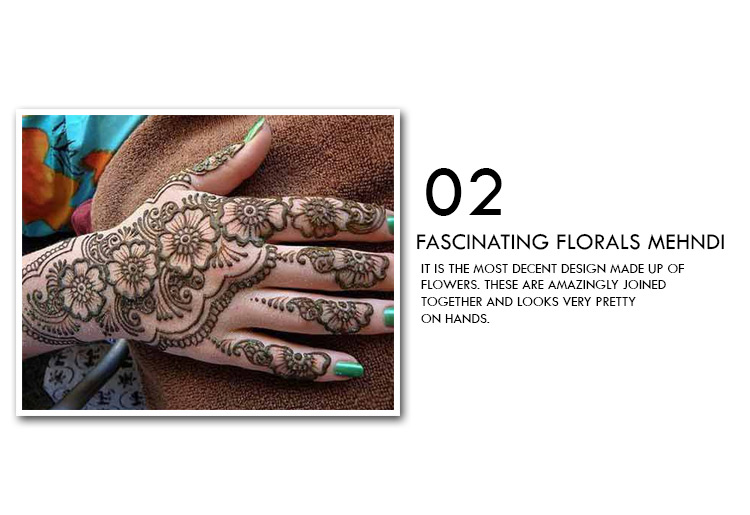 Minimalist Pattern Mehndi
Many people don't like heavy Mehndi . For them, these designs are the best. This minimal pattern Mehndi design looks beautiful and sophisticated.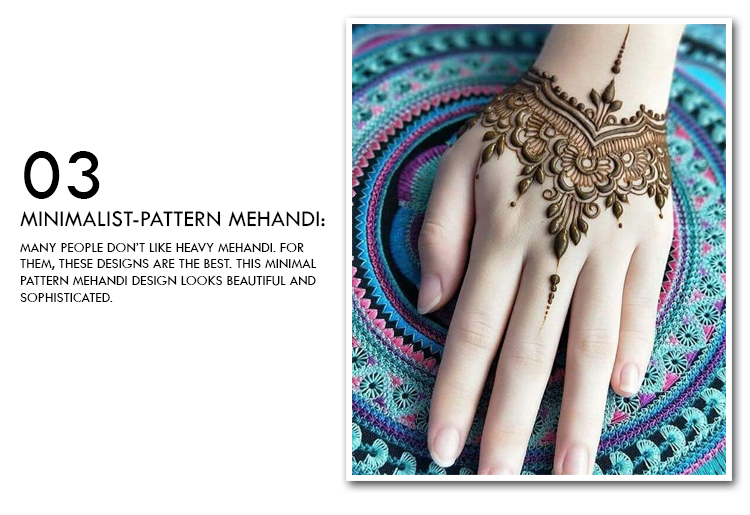 Sheer Mehendi Design
Circular pattern and dots look great together. This Mehndi design is known for its identical pattern. It also has a bracelet.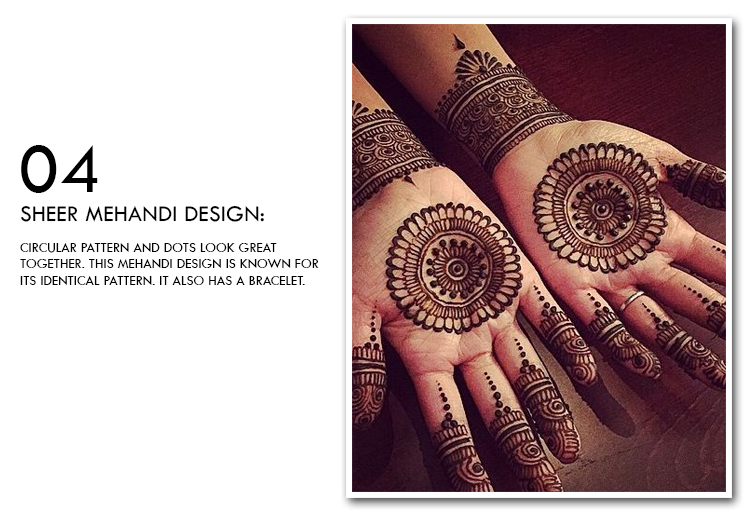 Trail Mehndi design
The Trail on the back side of the hand is common, but what about the front? This uncommon and simple Arabic trail looks great.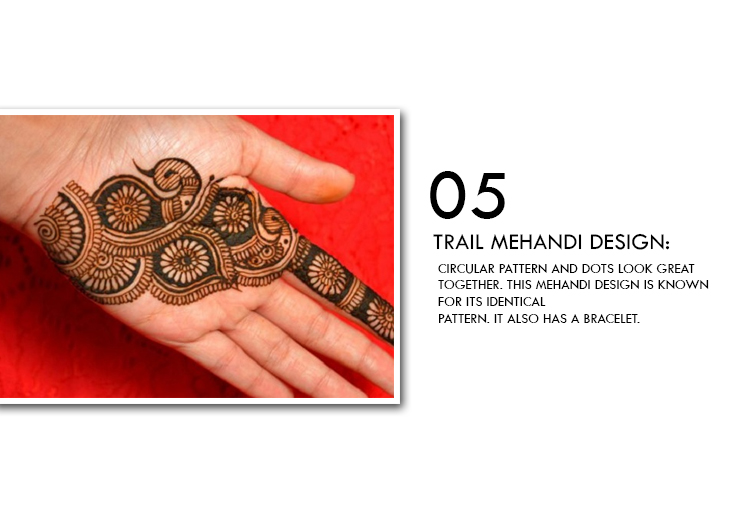 Mandala Mehendi design
Mandala is a spiritual design and generally used by brides. Brides who don't want a hand full of Mehndi , this design is best for them.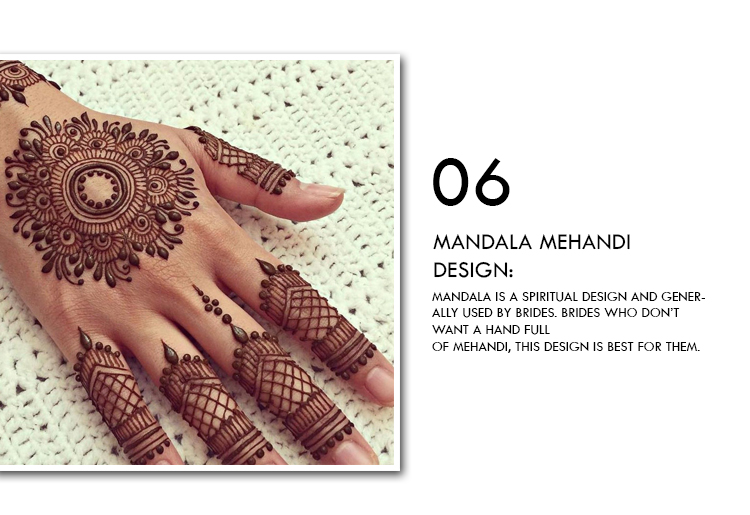 Peacock and Heart Mehndi design
This design is simple but bold and covers the space very beautifully. Peacock and Heart Mehendi designs contain effortless stokes and drawing.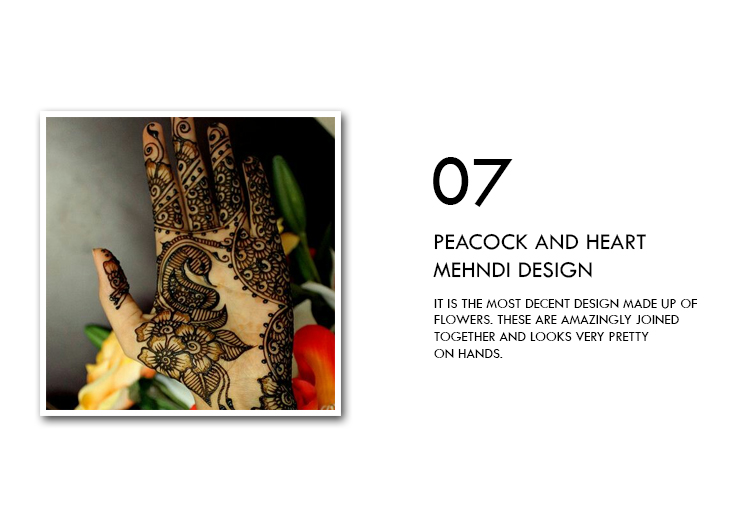 Raja Rani Designs
Raja Rani Mehndi designs are very difficult to draw. It requires a lot of creativity. It contains face details of Rani and Raja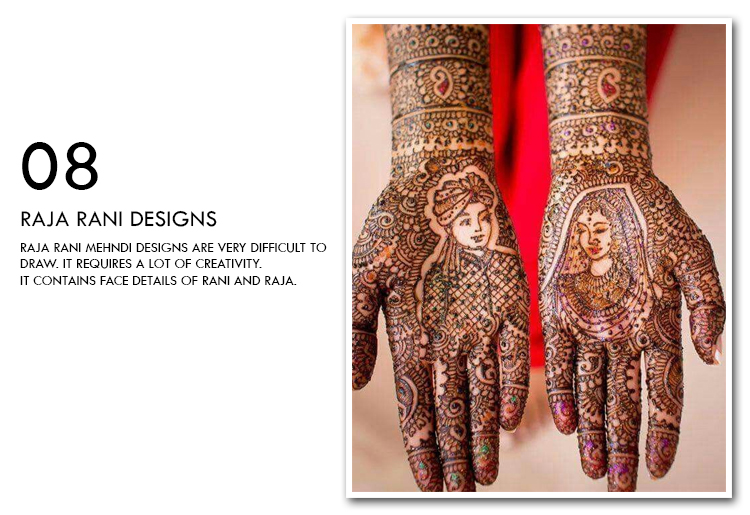 Diminutive strokes Mehendi designs
It is also a bridal Mehndi design and looks very minimalist. When it is drawn outside of the foot, it looks very beautiful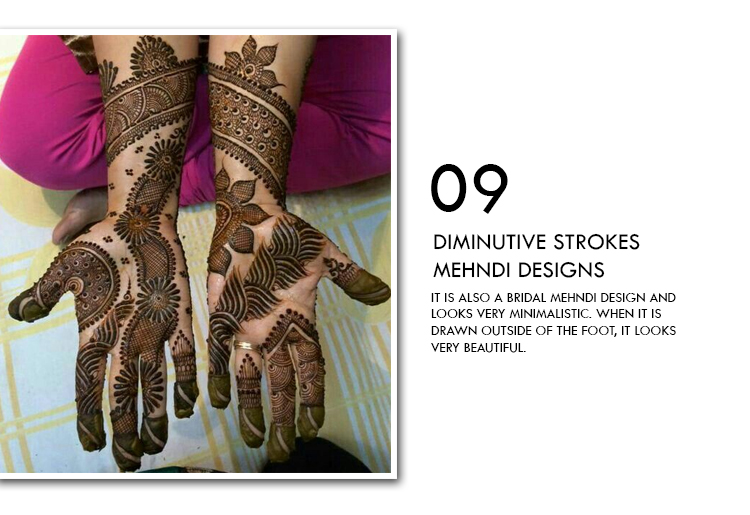 Traditional Mehndi design
Marriage is known for a few special moments like sindoor and mangalsutra or varmala. Getting these moments drawn on your hand is even more beautiful.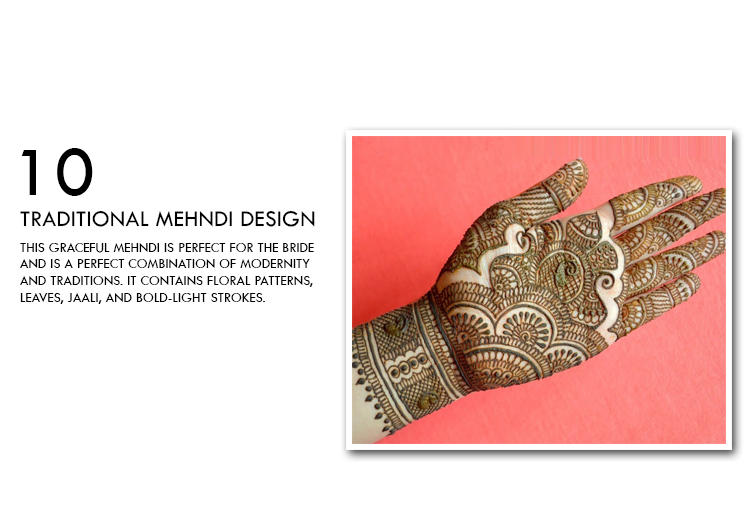 Love story Mehendi designs
With time, Mehndi has become an art. People love to have unique Mehndi designs and that's why they love to get portrayed their own love stories. It looks beautiful.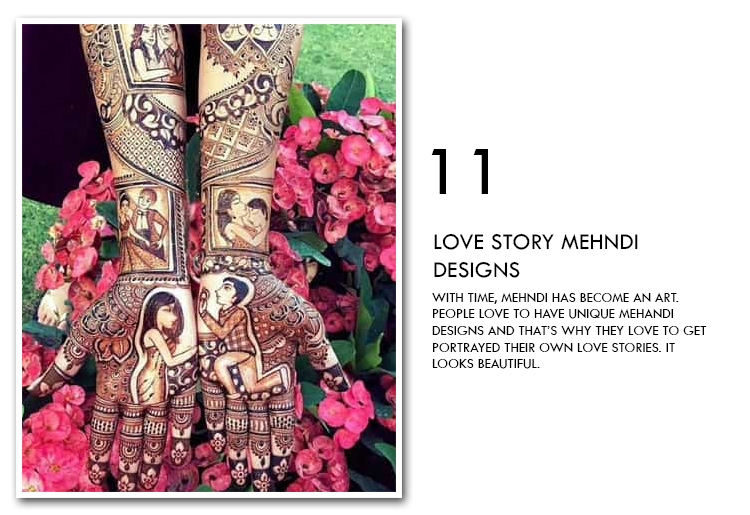 Rajasthan Mehndi Designs
Rajasthani Mehndi Designs are known to be very neat but complex. It is one of the most popular designs among women. It is picked by most of the brides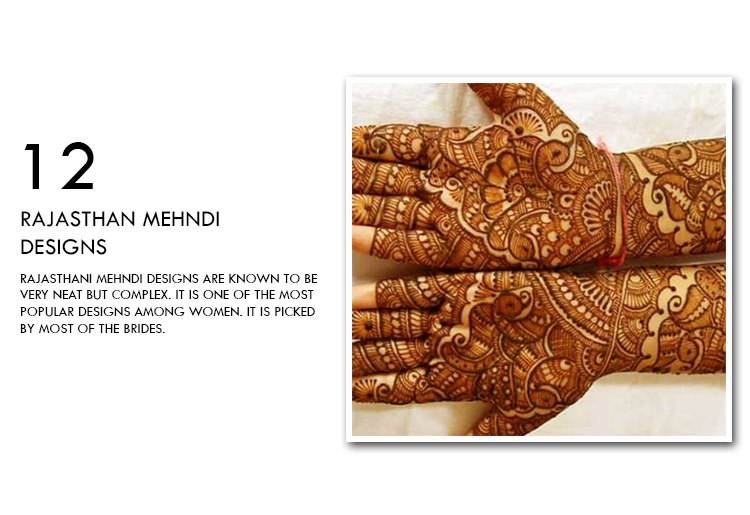 Multi-coloured Mehendi Designs
People usually get bored after putting that brown colour Mehndi on their hands. They are looking for something different. That's what Multi-coloured Mehndi has become so popular. It includes stones, glitter and colours in it.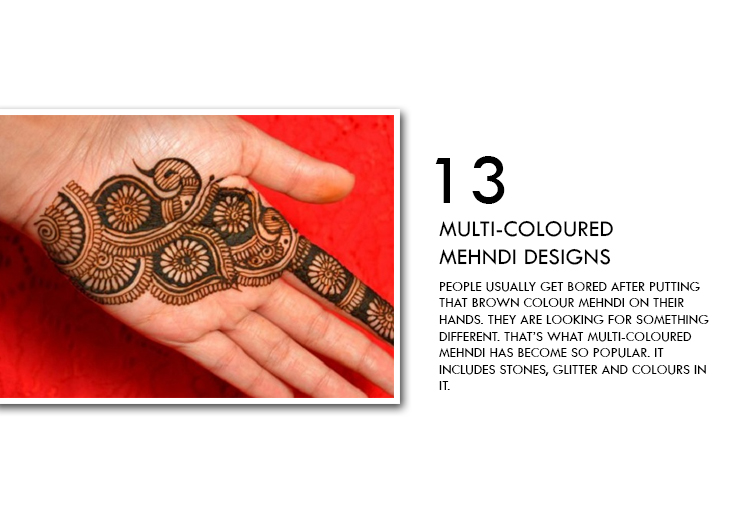 Gujarati Mehndi Designs
Gujarati Mehndi Design is very eye-catchy and ethical. People want it to have on their hand. It is simpler than others and looks very clear.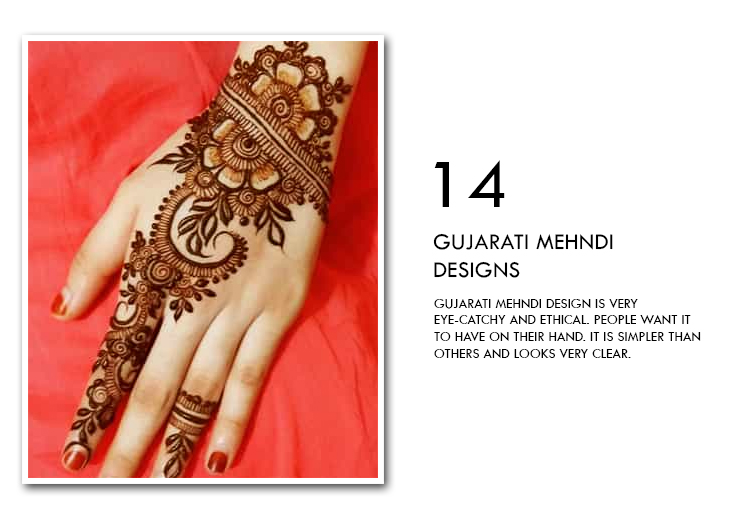 Jewellery Styled Mehendi
Nowadays, people avoid to wear heavy jewellery but they love to let it drawn on hands. It looks like a person is wearing heavy jewellery or hand accessories. It can be drawn in the form of hath phool, rings, harness, and many more.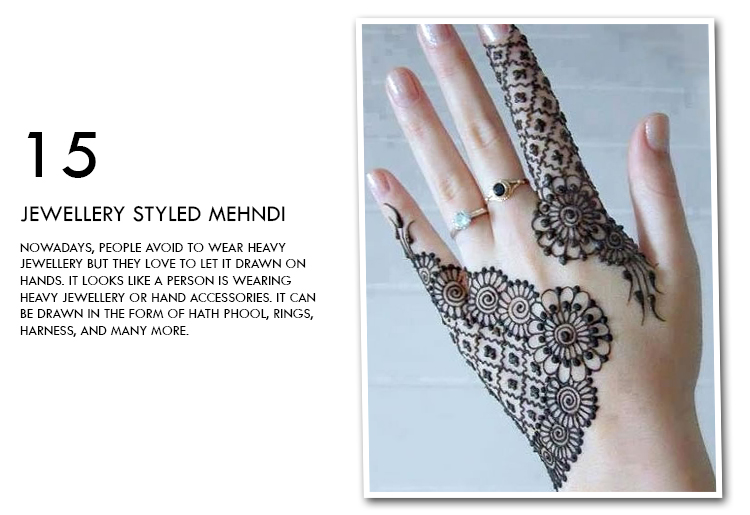 Mughlai styled Mehndi
At the ancient time, Mughals brought Henna to India. This was the time from when applying Mehndi over hands came into the trend. Of course, the first is always unique and special for people.
Finger Mehendi Designs
Are you not into heavy Mehndi ? This Mehendi design is very casual and gives special details to figures. These are easy to make and looks beautiful.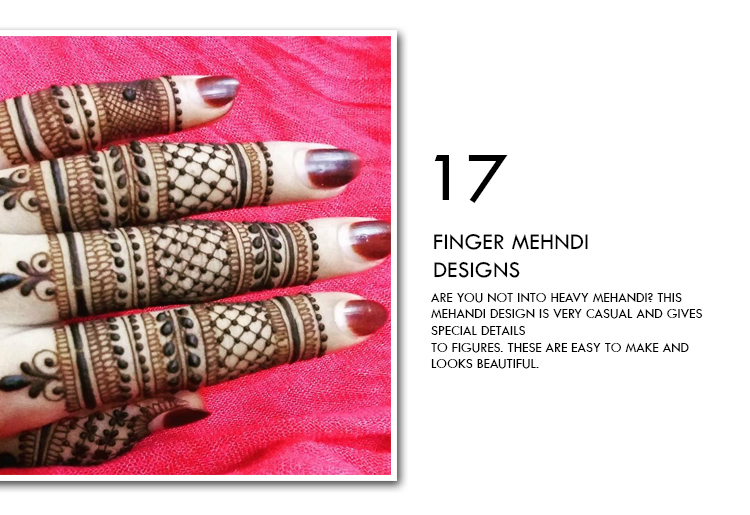 Mylanchi styled Mehndi
Mylanchi Mehndi is unique and looks amazing when applied during the important and celebration occasions. This pattern includes some small detailing's. It is enough to rock any event.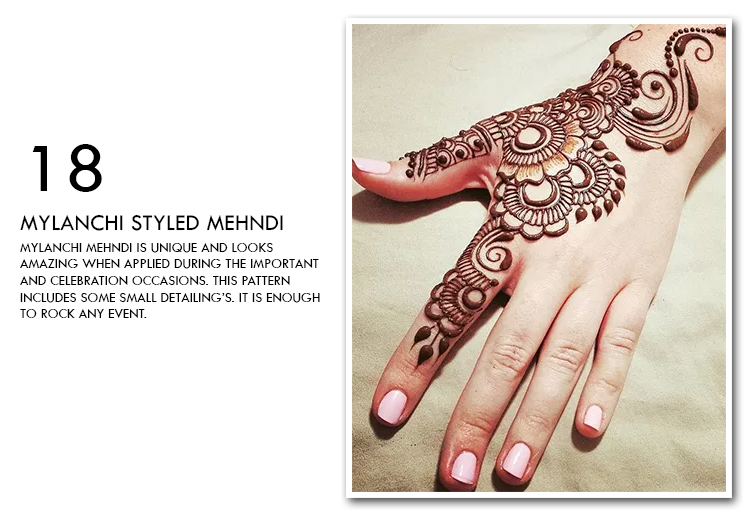 Pakistani Mehendi
Pakistani people love Mehndi equally as Indians. Their designs are very pretty and arresting. They use different Henna than us. Try their full hand Mehndi designs and embrace any traditional festival.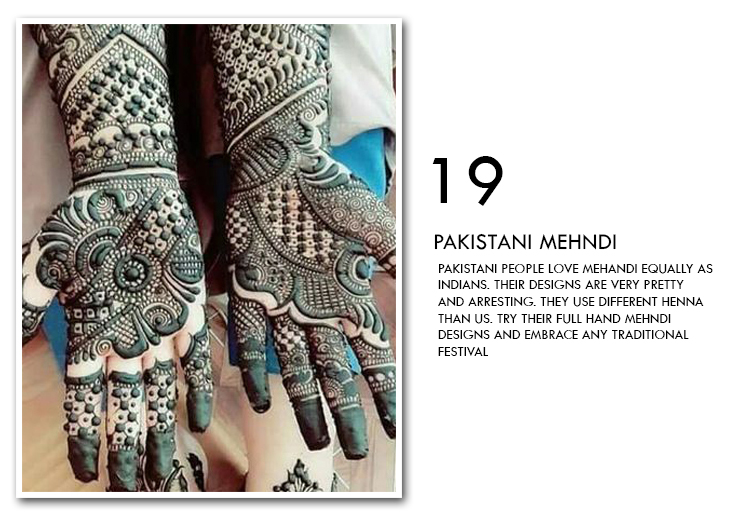 Elephant styled Mehndi
If you love to have something different on hands, try elephant-like patterns. Try this trendy design and have the most different look.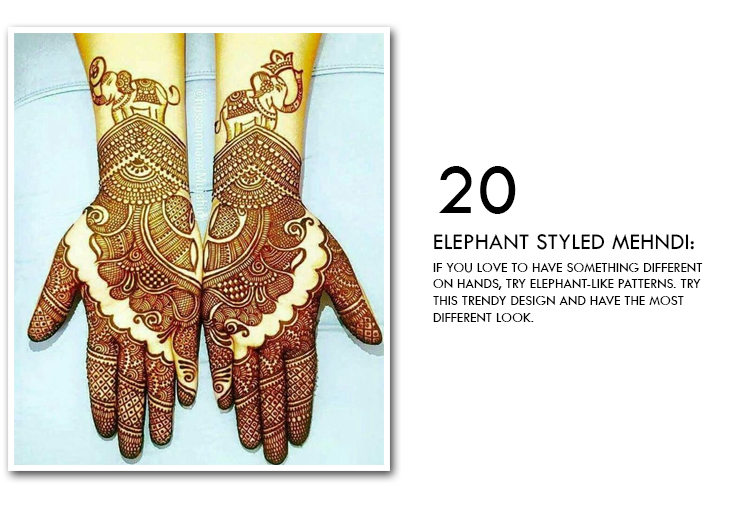 Unique elements Mehendi
This Mehndi design is unique in every prospect. It has the elements of Warli painting and elements like earthen pots, swings, birds, and dotted patterns.
Motifs and checked patterned Mehndi
Motif and spread-over checked pattern is a great Mehndi design. A Mehndi artist can play with the designs and still, it will look amazing.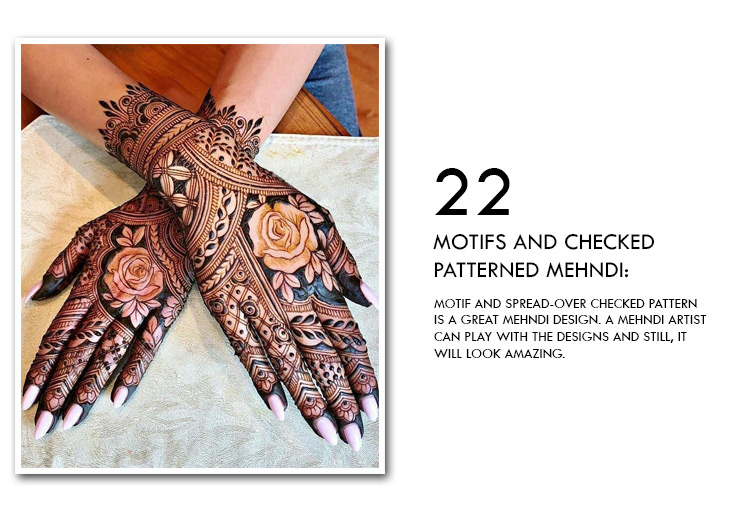 Arabic Mehendi design
Arabic Mehndi design is inspired by the western world. It is very easy to apply and is very trendy when compared with Indian Mehndi design. This is in the form of a trail and applied diagonally over the wrist.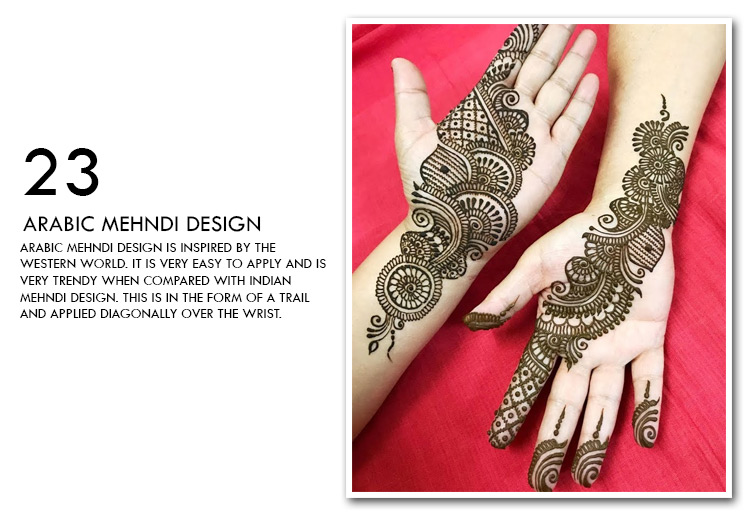 Border Mehndi design
Border Mehndi designs are mostly the choice of college girls and for someone who is totally fashionable. These amazing designs go well for any type of function.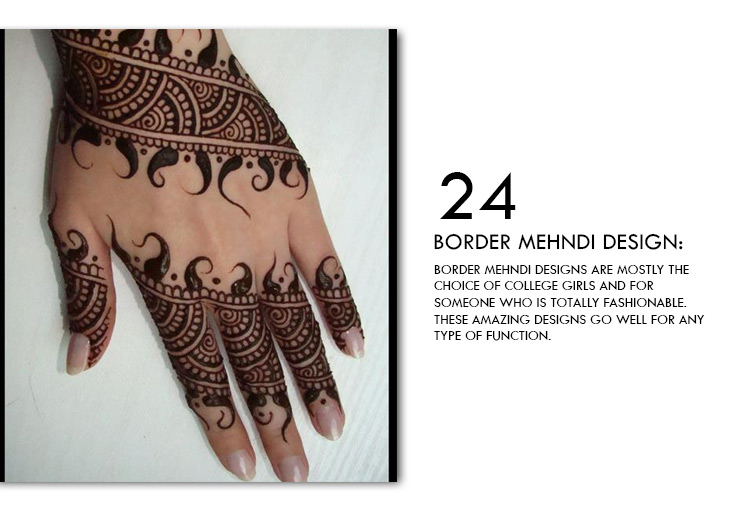 Jhumki Mehndi design
This different and simple Mehndi design with flowers and jhumkis theme enhances the beauty of hand. Interesting gaps and borders enhance the beauty of any Mehndi design.
Princess feels Mehendi designs
Mostly Brides prefer this Mehndi design. This amazing Mehndi design has a castle and a sketch of a prince-princess. It will make you feel like a princess. You can also get it personalized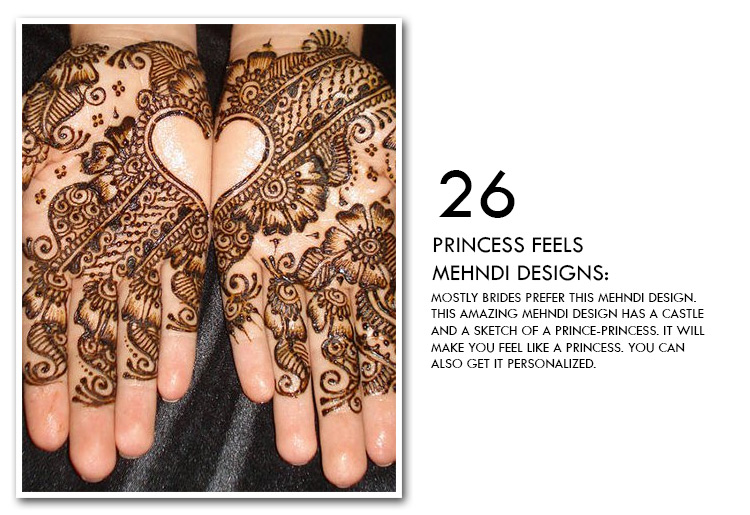 Marathi Mehndi designs
Marathi Mehndi are generally very complex in nature and covers the whole hand. Mehndi has a great value in Marathi Culture. It is used in every special event.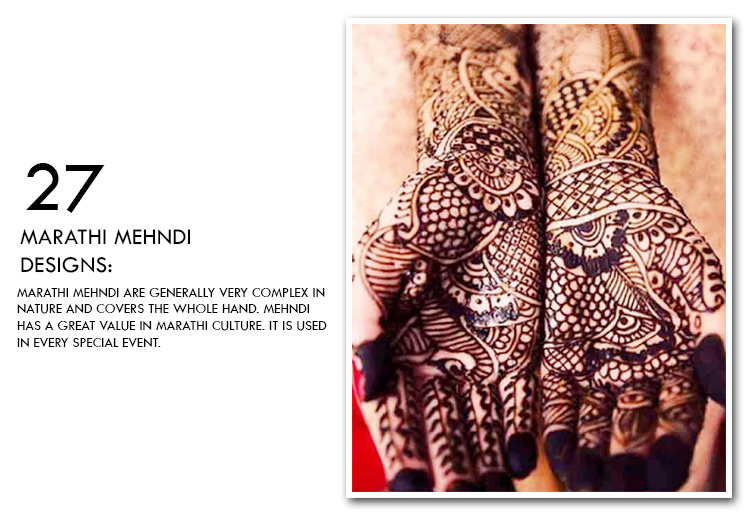 Circular strokes Mehendi design
It is a very simple Mehndi design made from various circular strokes and easy ring-style pattern on figures. It is a great option for someone who loves the minimalist design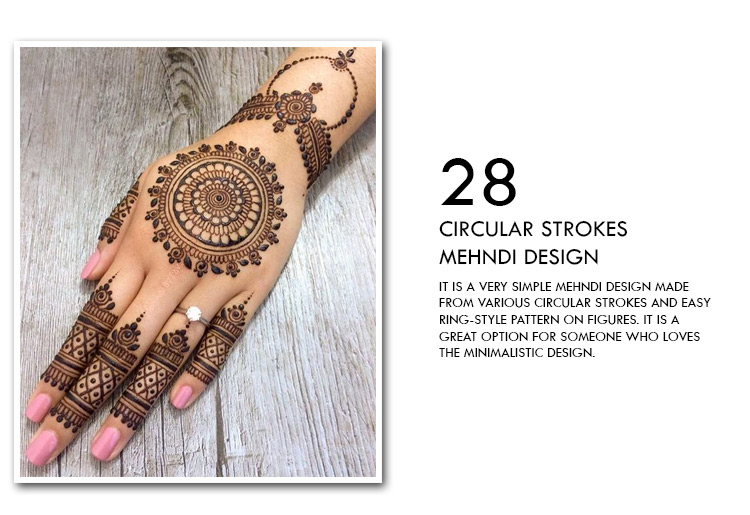 Eid Mehndi
As shown in the image, Eid Mehndi is the perfect choice for a girl who loves mirrored images in 2 hands. Try this kind of Mehndi design and beautify your hands.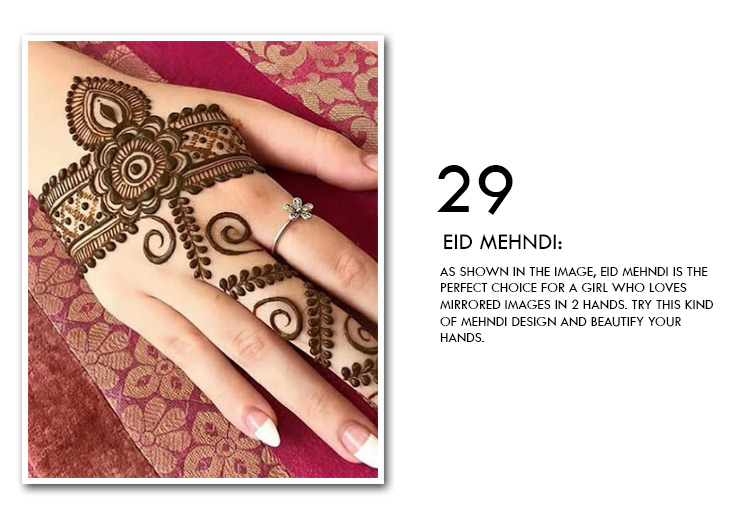 Wedding Feelings
This simple Mehndi design with many bride-groom and marriage elements is perfect for a bride who doesn't like much Mehndi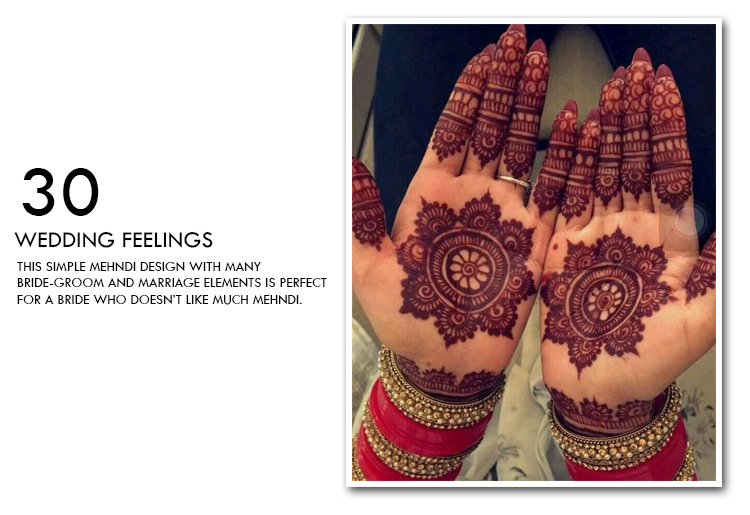 Bangle Mehendi
Bangle Mehndi is a great combination of bangles and bracelets made up of Mehndi . Try this Mehndi design and enjoy the minimal though amazing look.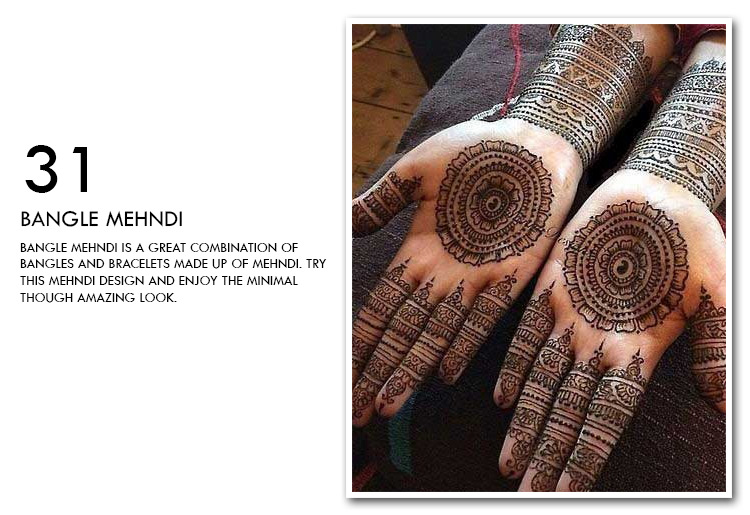 Paisley Mehndi design
Paisley is very common in Indian Mehndi designs. One woman can enhance their hands by only drawing this Mehndi on their hands. It is simplest though delightful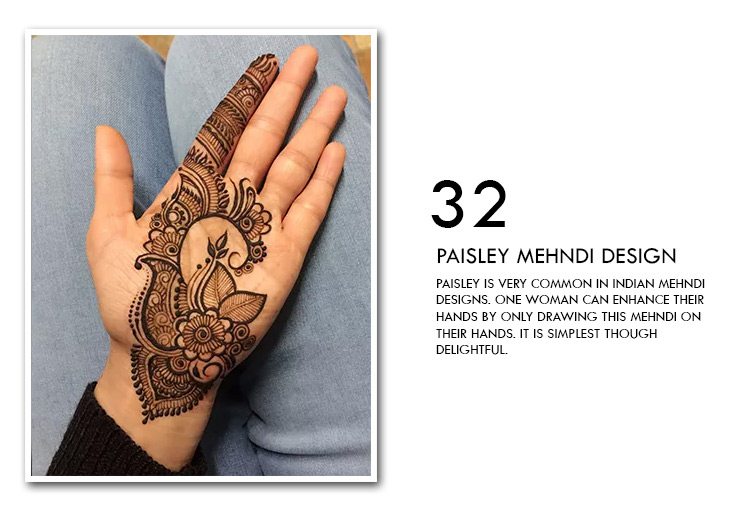 Bel Art Mehndi
This Mehndi is known as the beginner's Mehndi . It has always been one of the most beautiful designs among women.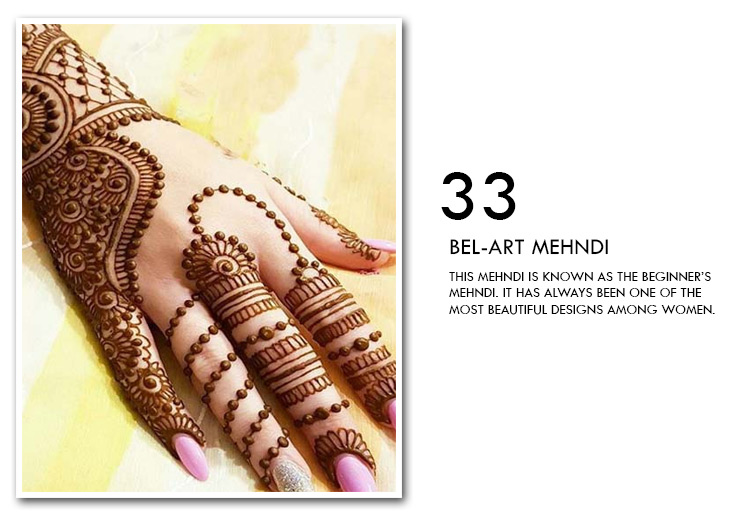 Modern Line Mehendi
Every modern woman loves to have Mehndi on their hands. Diagonal Mehndi is what everyone adores. Line-patterned designs on one's hand are simplest and modish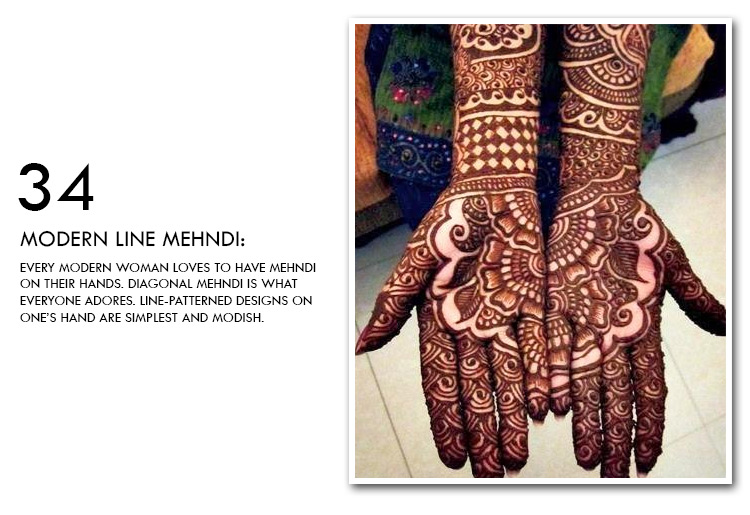 Simplest trails
As you know, a trail is also one of the simplest and amazing Mehndi designs, it also best for a beginner. It will glorify your hands in the simplest way.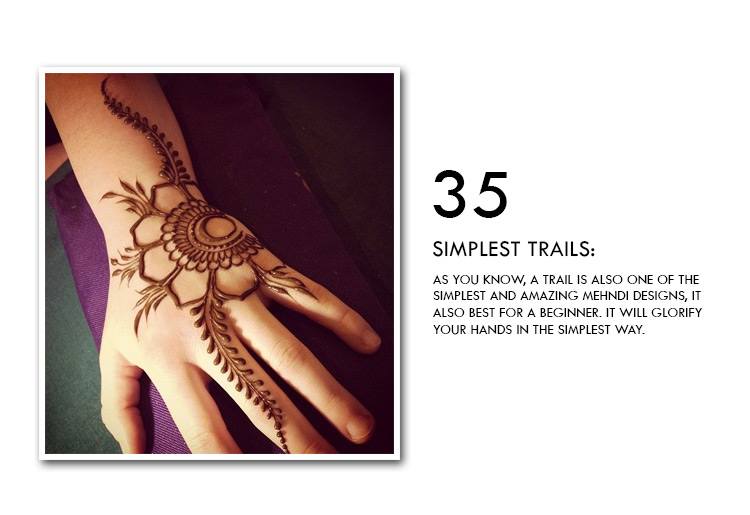 Trifling backhand Mehndi
This Mehndi is another minimalist and beautiful Mehndi design. It glorifies a woman's hand. A lack of neatness design can decline the beauty of this particular design.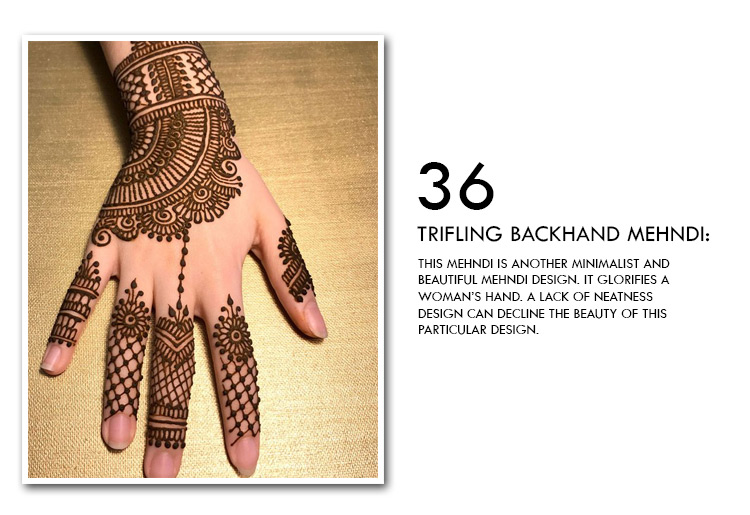 Smartest Mehendi design
A floral pattern is your love? Though you don't like the heavy Mehndi patterns? You can try this Mehndi design. Simply draw florals to cover your hand and attach them all with the help of spacious lines. Add tiny dots to it and enjoy one of the amazing Mehndi .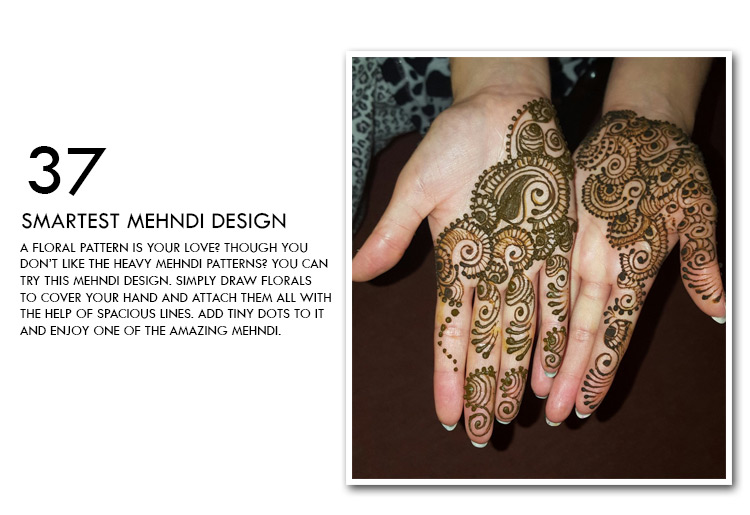 Flowers mesh Mehndi designs
It is another floral Mehndi design. It will glorify your hands with unique flower and mesh pattern looks in one of the modernistic forms.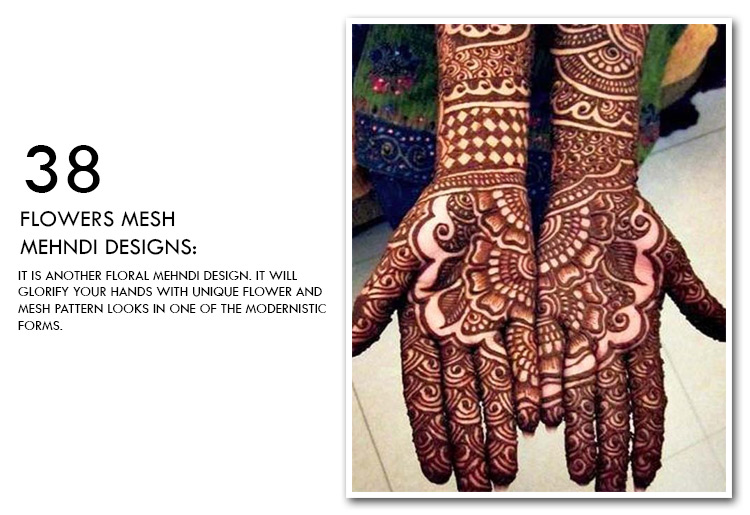 Chinese Mehndi design
Refresh your simplest Mehndi with contemporary Chinese Mehndi designs. It is one of the fashionista design of this season. Mehndi artists need just a couple of minutes to create this Mehndi design on hands.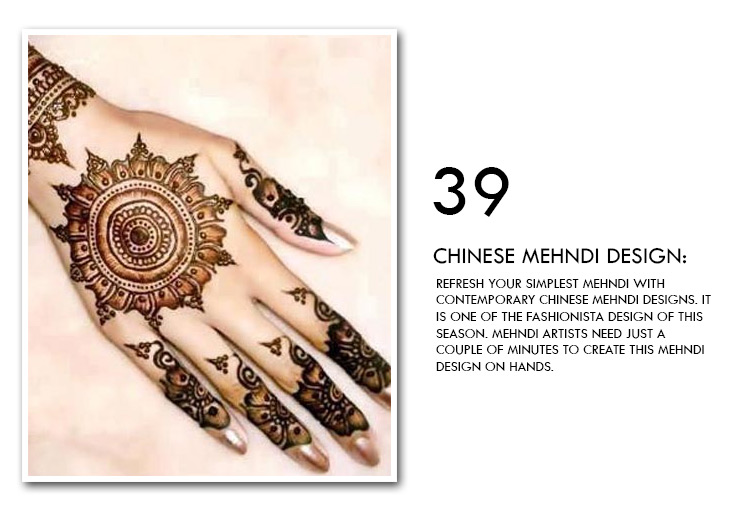 Marwari Mehndi designs
Most of the people believe that Marwari is the ones who come out with Henna. Their designs are known for their artistic patterns, captivating designs, and deep red colour.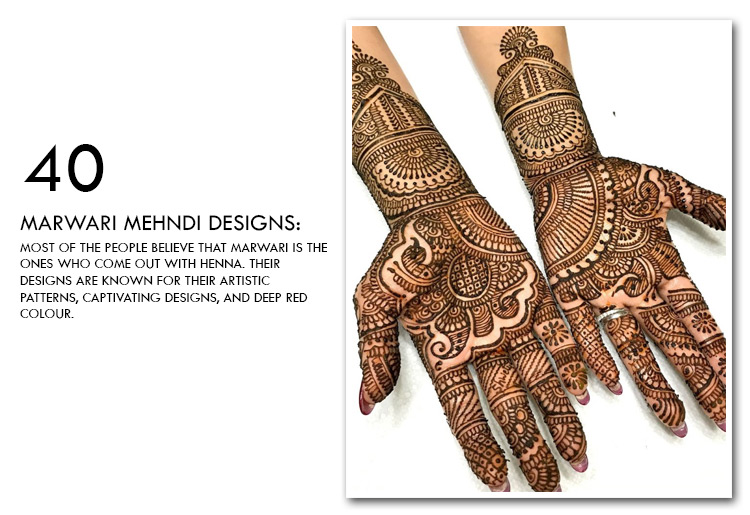 Name Engraved Mehndi design
Not everyone is into permanent tattoos and though want to engrave one's name on their hand. This Mehndi design is one of the options for you. It is a pain-free and beautiful way to do so.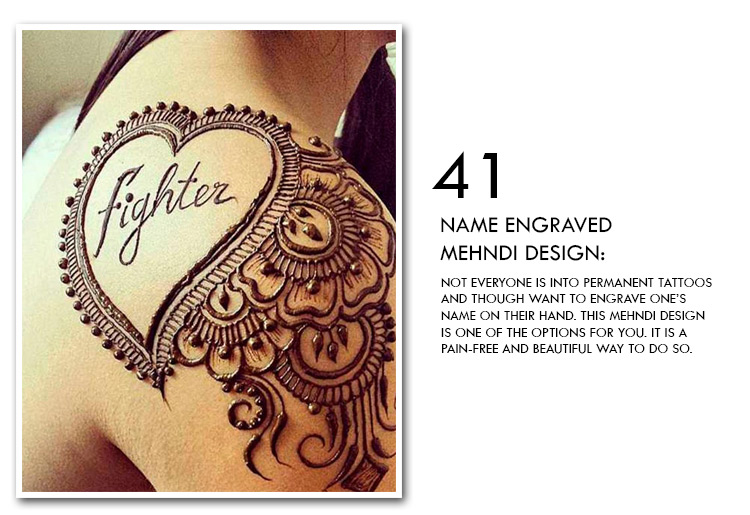 Diamond Mehndi design
Diamond Mehndi designs are what every women love. In this, diamond motifs and patterns are drawn on the hands. This design is perfect for wedding and festive season. It is one of the famous design of 2018.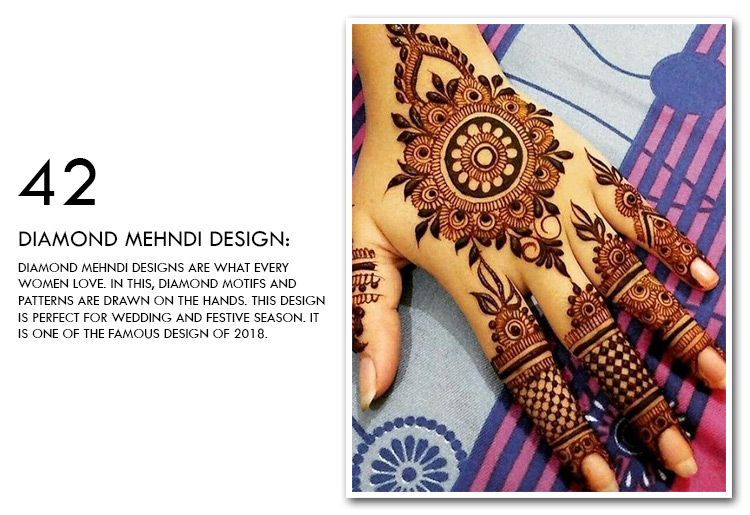 Bollywood styled Mehendi
Bollywood is known for their best dressing and fashion trends. Women usually get attracted to it. Mehndi is also one of the parts of it. Having a Mehndi design like one's favourite actress is their dream.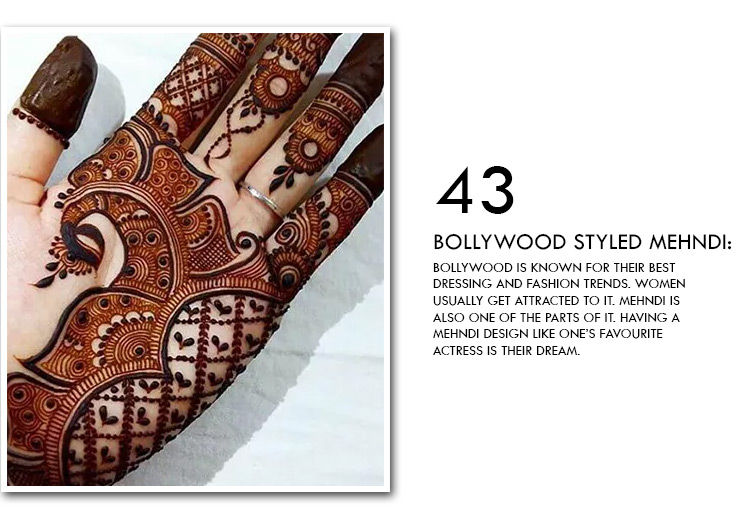 Mylanchi styled Mehndi
Mylanchi Mehndi style is unique and looks spectacular when worn during important occasions and lavish celebrations. Try this Mehndi and rock any function by becoming the star of the event.
Bridal Legs Mehndi designs
Leg Mehndi is what every woman loves on their marriage. And of course, if it's about the bride, the perfecting is the key to success. It requires extreme neatness and accuracy as most of the time the Mehndi on both legs are same.
Half Leg Mehendi
Again, there are some women who don't like Mehndi , but on their big day, they want to apply some Mehndi on their legs. Half Leg Mehndi is something they can go for. A newly married woman can also go for this design
Royal Mehndi Designs
Drawing royalty through your beautiful Mehndi is something that enhances your ethic saga. Play with some royal designs and enhance your simplest look.
Lace inspired Mehendi design
Lace can enhance any cloth. Similarly, Lace design can enhance any Mehndi Try this lace inspired Mehndi and enhance the beauty of your hand.
Symmetrical Mehndi design
Mehndi is all about creativity. However, making the same design on both hands is a task. This Mehndi design is all the same on both hands. It is hard to make but looks beautiful.
Bracelet Mehndi designs
Same as bangle Mehndi design, Bracelet Mehndi design is all about minimalism. It will help you to get rid of chunky jewellery as this Mehndi will give an illusion of bracelet.
Moroccan Mehndi design
Moroccan Mehndi design is a great combination of squares and diamond shapes. It has many lines which make it different from others.
Geometrical Mehendi Patterns
You must know that geometry is all about shapes. So if we talk about geometrically designed Mehndi , it also contains many shapes like square, triangle, rectangle, lines, diagonals, etc. This Mehndi design is different from others and is more on the modern side.
Theme based Mehendi Design
This Mehndi is all about your personal life. In theme based Mehndi design, you can ask the artist to draw your own story on your hand. This Mehndi also include bride and groom faces.
Glitter Mehndi
Mehndi made from Heena is mainstream, so why not try something different. Glitter is very in right now. Making use of glitter in Mehndi is perfect for a young girl or fashion expert. It will go perfectly with your glittery outfit.
Traditional-Arabic Mehndi design
This Mehndi design is a perfect combination of traditional and Arabic styles. These two are the best Mehndi designs in the whole world, hence combining the two will definitely enhance your look.
Feather featuring design
Freshen your ethnic design by wearing a beautiful feather featuring Mehndi design. It is a great combination of the modern and traditional look. Feather always make your look elegant
Uneven Style Designs
It's not important that a woman will always like the symmetrically patterned Mehndi . Try uneven styled Mehndi will give it an asymmetrical look. It contains many elements.
Calf and tip Mehndi design
Again, if you are not into jewelry, you can go for this Mehndi design. It will give an illusion of a ring and bracelet. It gives a look of minimalism.
Outline Mehndi Design
Outline Mehndi design is all about outlines. Here, the main designs are remain blank which makes it simple. It is generally made from a cone with a thick opening
Tattoo Mehndi designs
Tattoos are generally permanent. But Mehndi is another way to get a temporary tattoo. Other than hand and legs, Mehndi can also be applied to other body parts. It will give an illusion of permanent tattoos.
God featuring Mehndi
One of the most common and spiritual Mehndi designs in the world is the one featuring god figures. It is the best for festivals and small family parties.
Back Paisley Mehndi
Having a paisley Mehndi on your back is a way to go step forward. It is a western way of having a Mehndi , but it is very in right now.
Traditional Payal Mehndi
Some Mehndi designs are totally unique and can't be copied. This Mehndi design is one of them. It gives an illusion that a woman is wearing heavy payal.
Butterfly Mehndi
Butterfly Mehndi is the best for a beginner. It gives a freshness to the ethical fashion. It is simple yet beautiful.
Chain Mehndi with dots
This design is easiest to apply and looks very minimalist and beautiful. Go for such patterns and let the dots and chain rock for you
Shoulder Length Mehndi designs
It is a dream of many women to get a heavy Mehndi on their hand. Those women can go for shoulder length Mehndi . This design is incredible and covers your full hand
Kerala Mehndi
Kerala Mehndi design is on more on the traditional side and complex. It contains a lot of elements which makes unique yet beautiful.
Jain Mehendi design
Every religion has their own speciality. In the Jain tradition, people focus on more details. When it comes to Jain Mehndi design, they are very beautiful and comprehensive. It is easy to create and looks appealing.
Jodha Akbar Designs
Same as prince-princess Mehndi design, here the whole focus remains on Jodha Akbar theme. It looks very beautiful and mostly preferred by Muslim brides.
Dome Shaped Mehndi design
Dome gives an illusion of beauty and simplicity. These designs are full of antiquity and elegant. This pattern takes no time to make.
Star designed Mehendi
Flowers are very common, so why not go for stars? It gives a look of modernity and will make you glow.
Floral with net Mehndi design
Florals and net designs are very common. Just imagining how great it will be to combine both of these designs together? It will look amazing and give and illustrating look.
Diagonal floral Trail
The diagonal trail gives an illusion of fullness. Nowadays women are looking for more simple and full Mehndi designs, and this diagonal floral trail is perfect for them.
Leafy pattern Mehndi design
This Mehndi design looks like a piece of jewelry. It is a great combination of leaf strings, coil patterns and flowers, applied with great perfection. It looks very elegant and gorgeous.
Minimalist and simple Mehndi design
This Mehndi design is very simple. It looks very elegance either applied on hands of legs. In total, it doesn't give an illusion of fullness.
Multi-dimensional Mehndi pattern
Like geometric designs, it is also unique in nature. It contains many patterns which make it unique. You can never make symmetry between the designs on both hands.
Visual Mehndi designs
This Mehndi design is very simple and spacious, though it gives an illusion of fullness. It is low in maintenance and dries very fast.
A Spread of charkha Mehndi design
In this Mehndi design, many charkhas or circles are combined together. It looks very beautiful and elegant. This Mehndi is a great combination of western and Indian designs.
Glittery but not all Glitter design
This Mehndi design is a great combination of glitter and Mehndi . Glitter is applied on some part of Mehndi while combining with the glitter. It looks amazing on anyone's hand.
Travelling Mehendi designs
Are you the one who loves to travel? You can go for this Mehndi design. World map or travelling inspired Mehndi will definitely make you feel minimal and adventurous.
Lotus Mehndi designs
Lotus is a symbol of worship. Having it as a Mehndi will glorify your look. It is a symbol of positivity and wealth. Combining it with floral motifs will definitely enhance your look.
Half coverage Mehendi design
Half coverage Mehndi design is very elegant and beautiful. When it is drawn of the toes, it will give a look of fullness. It is a perfect way to put Mehndi on feet and staying minimalistic.
Combination of Work & Strokes Mehendi design
There are many options when we talk about Mehndi designs. Combining strokes and dots with some high designs will give a beautiful look. Sometimes repetition can be beautiful.
Feet jewelry Mehndi
Jewelry Mehndi on hands is very common, but have you tried it on feet? It will look so amazing and elegant. And will look an illusion of jewelry
Dot and choker design on feet
An attractive mandala in the center connected with dots looks very beautiful on feet. It will enhance your feet in the same way like it enhance your hands
A Symmetrical Mehendi design on legs
Symmetry Mehndi designs are on feet looks like you are seeing your one foot in the mirror. It looks very beautiful and magnificent.
Simple trails for kids
When it comes to the kid, it is very important to draw a simple yet beautiful design. It will enhance their hand and in a simple way.
Cartoon Mehndi designs
Children love cartoon characters. When it is drawn with the help of Mehndi , it will be adored by them. Ask a child which character they like the most and draw it on their hand.
Groom-bride Twinning
Nowadays, the groom also applies Mehndi on their hands. Twinning the design with your future husband will look very beautiful and adorable.
Matching Hands-Legs Mehendi
Matching hand and feet Mehndi is very much in trend right now. It gives an illusion of symmetry. Such designs can enhance your bridal look. It is also perfect for newlyweds.
Superhero logo Mehndi designs
Are you a superhero fan? What about having his logo on your hand? I know it's amazing. This Mehndi design just includes the logo of your favourite superhero.
Ring and Mandala Mehndi
This minimalist Mehndi design contains a ring and mandala together. It looks so great on everyone's hand. It is a good option for someone who doesn't like heavy Mehndi .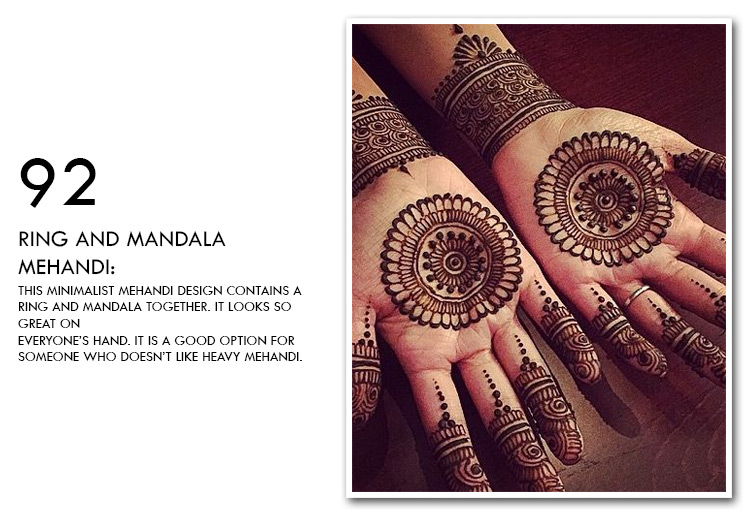 Minimalistic around nails Mehendi
Are you not into back Mehndi ? This Mehndi design is perfect for you. Here, you have put a little amount of Mehndi on your hand without even disappointing anyone.
Relation embedded
Are you groom or bride's mother or sister? This Mehndi design is something for you. Embed a message on your hand and rock the show.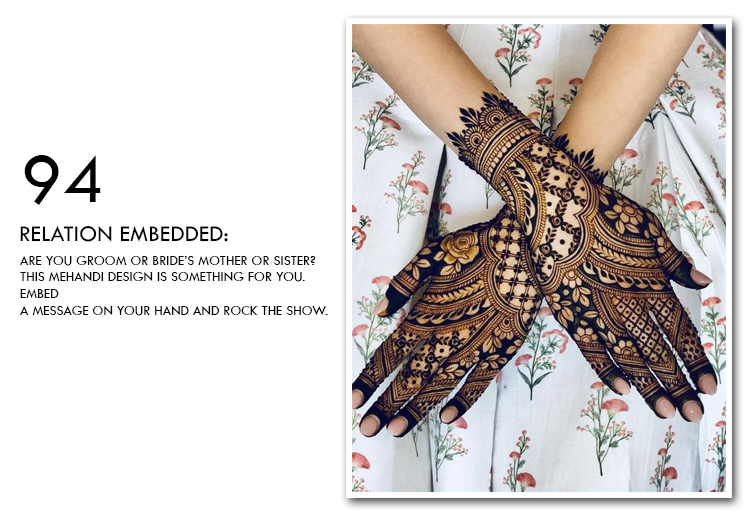 Patriotic Mehndi
Do you love your country? Ask the Mehndi artist to draw your national flag or some of India's related thing on your hand and rock the whole wedding season. This Mehndi design is also perfect for any Cultural event.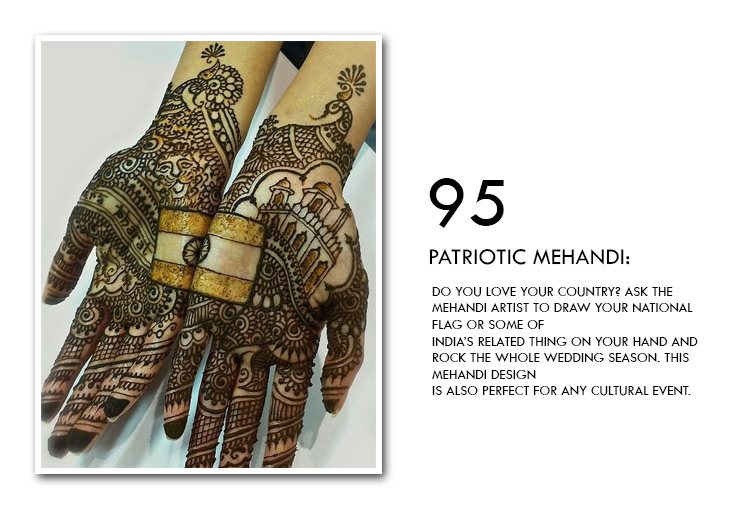 Cultural Mehendi design
This Mehndi design is best for someone who is very much into worshipping. Ask the Mehndi artist to draw an Om or Satya on your hand and show your love towards God.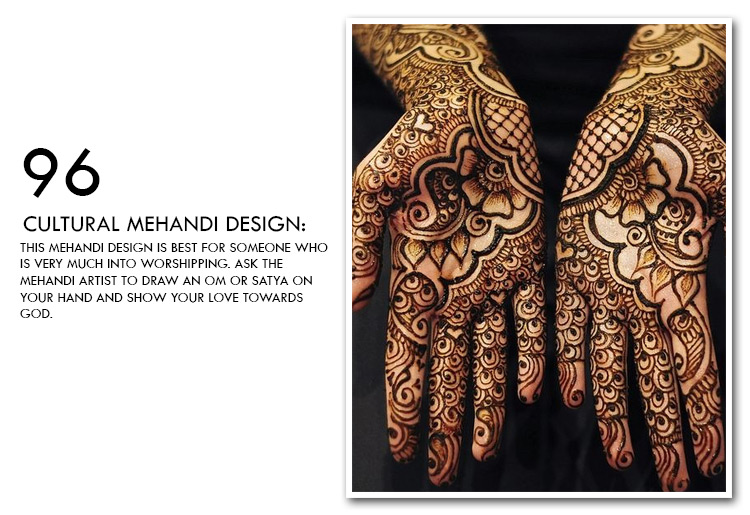 Dreamcatcher Mehndi design
Dreamcatchers are very in right now. It is said that dreamcatchers have the power to make your dreams come true. It's the reason why many people love to draw it on their body. Draw it on your hand and show love your love towards western-Indian culture.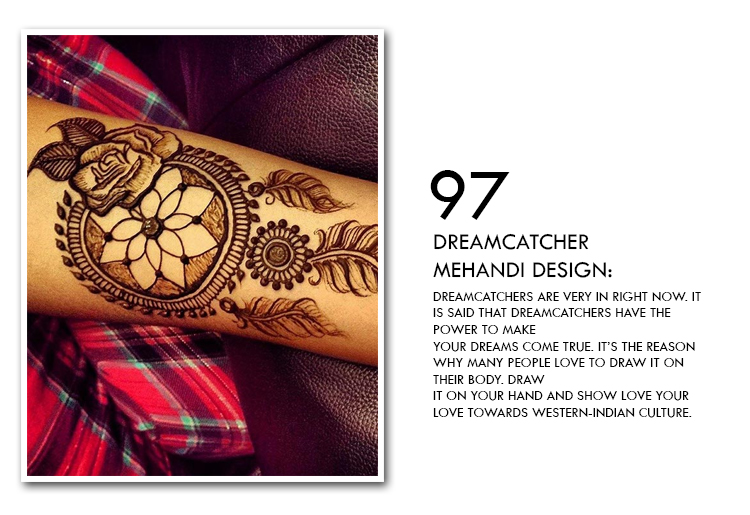 White colour Mehndi design
Is white your love? Then go for these Mehndi types. This Mehndi is made up of white colour and it really enhances the beauty of your hand. Be yourself and rock the whole show. You can also combine some other elements with and boost the white colour of Mehndi
Simple yet beautiful Mehendi design
Mehndi is your love? This Mehndi design is all about simple designs filled with Mehndi . It looks amazing on anyone's hand, especially someone with broad palms. This Mehndi design will make you look different from others.
This is our collection of 99 wonderful and delightful Mehendi designs. Do you like it or do you want to add something on the list? Please share your views in the comment section.